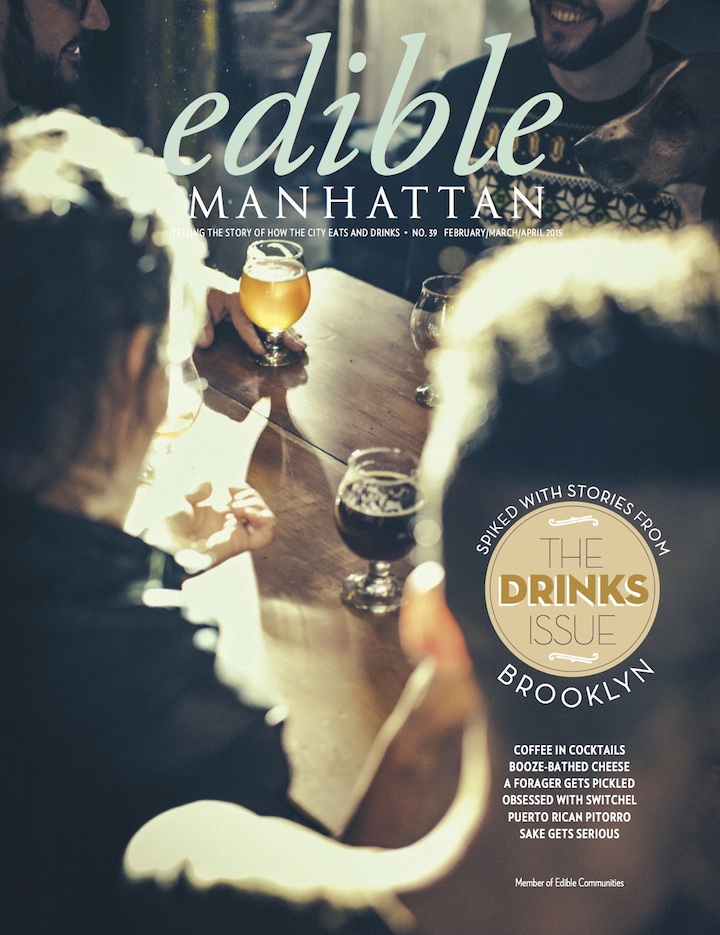 For the first time, we've combined our annual drinks issue to bring you stories from both Manhattan and Brooklyn. You can browse the full Manhattan-centric table of contents here. Check out even more stories from this issue over on Edible Brooklyn.
Here's the issue's opening word  from our print editor, Gabrielle Langholtz:
Five years ago, in Edible Manhattan's first alcohol issue, I published an op-ed calling for the return of America's ancestral drink. The top of the page read "Never mind the tea party — it's time New York staged a hard-cider revolution."
After all, writer Sara Grady reminded readers, our nation was founded on the stuff. "In the pre-refrigeration days of the 18th and 19th centuries," she wrote, "all cider was fermented, and early Americans — including children — drank hard cider thirstily…. Cider and rural life were inextricably linked."
But as the 20th century dawned, Americans moved to cities, left cidermaking behind and developed a taste for beer. Prohibition delivered the final blow: Orchards nationwide fell to the axe or hastily rebranded the apple as something to eat, not drink. These days, when Americans do drink apples, it's as overly sweet juice — usually from concentrate of fruit imported from China.
As a nation, we forgot about our real cider roots — but Sara's op-ed called on us to remember. In part because New York State is a leading apple grower, ripe for a cider revival that would bring important income to upstate agriculture. But also because this traditional drink, especially when made from the tart varieties known as "cider apples," isn't just the stuff of revolution — it's also a revelation.
Which is why I'm so happy that, five years later, Sara's efforts (based at Glynwood in Cold Spring) have bloomed. Her annual October "Cider Week" has gotten New York cider on more shop shelves and beverage lists each year, and urban drinkers are developing quite an appetite for our forefathers' drink. That demand has spurred supply — last week Sara told me that the number of producers is growing faster than that of any other beverage industry in the state. Which, when you consider the craft distilling boom, is saying something.
Now Sara's hard at work building the budding New York Cider Association, to tackle everything from collaborative marketing to the pursuit of state support. Meanwhile many local orchards have planted special cider-specific tree varieties in recent years, and their harvests will soon find their ways into eager presses. The movement is quite literally bearing fruit.
Which means it's time for a party — and we're throwing one.
On Wednesday, March 18, our Good Cider bash will convene over a dozen producers from across the state, pouring all styles of cider. It's sort of a coming out party for a drink whose time has come again.
Meet me there, and we'll turn that old doomsday saying on its head. Let's know our drinking history — and be fortunate enough to repeat it.
Gabrielle Langholtz, Editor