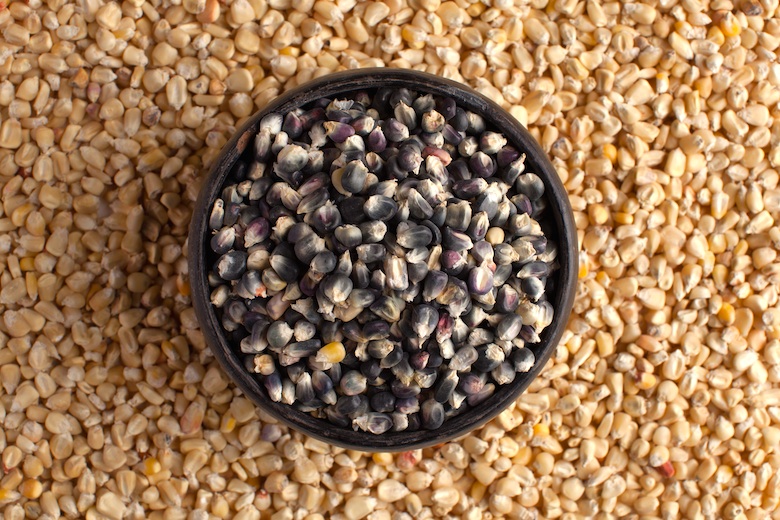 We've been psyched about Masienda's heirloom corn distribution (did you read our feature?) ever since last summer's Masafest, their Rockaway-based extravaganza. And now you can try their corn every day of the week at FONDA Restaurants, with one catch: you may get a different variety at each visit.
FONDA just announced a unique relationship with Masienda — they are committed to purchasing the best available corn in any given week. This could mean red tortillas on Monday and blue tortillas on Friday and a different masa recipe for each strain. While this presents obvious challenges to the chefs at FONDA, it also means that they're supporting a wide variety of farmers from across Mexico. "Not knowing what color or variety is next puts a challenge on our nixtamal (masa) maker," head chef Roberto Santibanez told us. But "the product is so much better all around, and we are happy to know that we are helping my country's farmers."
Masienda imports 18 varieties of landrace corn from Mexico. "Landrace" refers to locally-adapted, open-pollinated corn that exists in distinctive varietals. And now FONDA will be using their corn exclusively, which means they'll be producing over a million tortillas sourced from small-scale independent Mexican farmers. If you're feeling smug about your heirloom tomato literacy, this project offers a new challenge: You can experience the nuance of each variety without leaving the city. Stop by any of the FONDA restaurants in the late afternoon and smell the masa as it's being made.