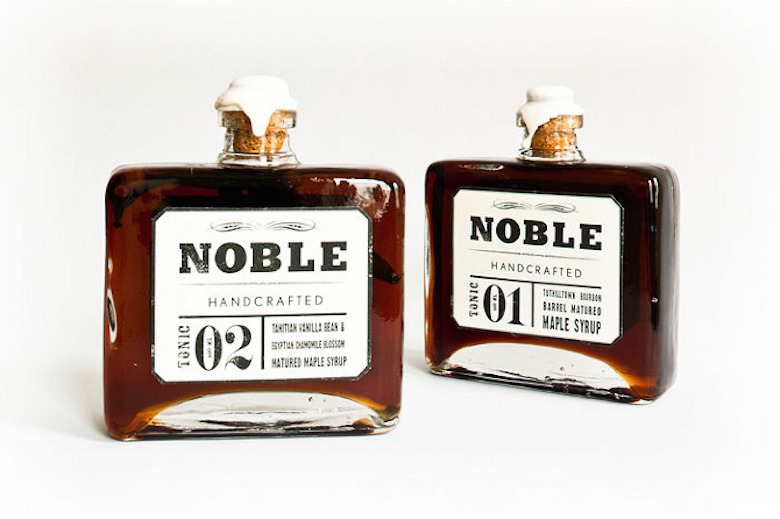 I usually turn up my nose at maple syrup produced anywhere but New York. While Vermont and Canada make much a marketing ado about their sweet stuff, I'm politically partial to the liquid gold tapped just upstate.
But even the most die-hard locavore, trudging through drifts to hang taps in a stand of sugar maples this morning, would stop in her snowshoe tracks at the mere mention of a Canadian import recently released by Mikuni Wild Harvest: maple syrup aged in Tuthilltown bourbon barrels.
Yes, it's as good as it sounds.
Mikuni was founded a decade ago as a trader of boutique foraged wild foods—think mushrooms from morels to matsutakes, plus fiddleheads, ramps and truffles—and has since expanded into artisan-minded sustainable edibles like domestic caviar, dayboat-caught salmon and heirloom grains from Cayuga Organics. With offices in Vancouver, Seattle, New York and Las Vegas, they sell to the continent's top toques, and their Gotham client list includes kitchens from Per Se and Momofuku to Roberta's.
The company's new "noble" line features things to drizzle and smear, like a maple syrup infused with Tahitian vanilla beans and chamomile blossoms, and a French chardonnay vinegar aged with a spicy Egyptian lemon. But I'm swooning over an elixir I first heard about while visiting Tuthilltown up in the Hudson Valley last summer. The distillery is beloved for its award-winning vodkas, whiskeys, rum and eau de vie, but I'm especially obsessed with their "baby bourbon," so my mouth started watering when owner Ralph Erenzo mentioned that he was aging maple syrup in his old bourbon barrels.
Those Mikuni masterminds fill Erenzo's old charred American oak barrels with syrup from sugar shacks in the wild maple forests of Quebec. What eventually emerges has an unmistakable kiss of liquor—nothing you can't drizzle before noon, but it makes for a delightful, barely boozy breakfast, not to mention a beautiful glaze for pork or endless applications in the cocktail shaker. (Mikuni then puts the barrels through a third tour of duty, this time filling them with sherry; after six–eight months, it takes on notes of both bourbon and maple.)
Of course we wish Mikuni would use an amber ingredient tapped in the Catskills, but we'll bite our tongue this time, and then get back to licking our lips. $24.95 a bottle at mikuniwildharvest.com
Photo courtesy of Mikuni Wild Harvest