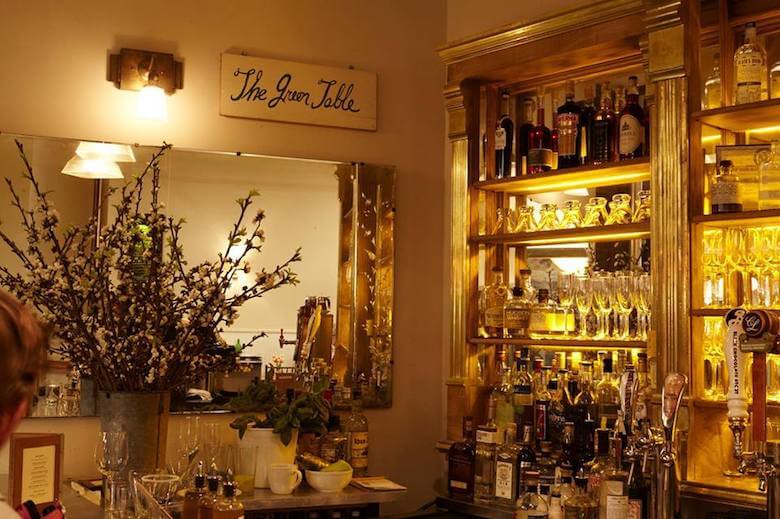 Last Tuesday, July 24, Stone Barns Center for Food and Agriculture held a women in food networking lunch just a few miles north of the city near Tarrytown. Among the assembled change makers was Mary Cleaver, the iconic activist, caterer, restaurateur and farmer who has been pushing for locally and sustainably grown food for the past four decades. The event was a powerful display of solidarity. Less than an hour after the event ended, an email blast landed in many of our inboxes, announcing in bold green all-caps: "THE GREEN TABLE IS CLOSING THURSDAY, JULY 26th."
Many of us knew about the pending closure, and Cleaver had even mentioned her plans at the lunch. Her message was positive, asking customers to stay tuned for new developments and announcing her interim plan to open Cleaver Counter, a more casual, six-month pop-up along the Ninth Avenue entrance to Chelsea Market later this summer.
https://www.instagram.com/p/BloVzrpBbwP/?taken-by=greentablenyc
Yet for longtime supporters of Cleaver, one of the original 1996 tenants of the market, it felt like the end of an era, and a reminder that surviving for 40 years in the competitive New York food landscape takes a special kind of gumption. Especially if you're determined to live your values, as Cleaver is. Reached by telephone, Cleaver said that after a two-year search, she's finally found a new space that fits her company's needs, "a 6,100-square-foot garage in Gowanus that will support a green roof for stormwater remediation." Her plan is to open more kiosks like her Table Green in Battery Park, using her new space as a production and catering kitchen.
Though she runs a $4.5 million business, Cleaver is looking for help financing the build-out of her new commissary. "Potential bank lenders are eager to invest in startups," she noted, "but less so for longtime, established businesses." Plus, they want to see a quick payback. As a certified B Corp dedicated to harnessing business to solve social and environmental problems, Cleaver's time table is longer. Her concerns are less about making more money but about succession planning so all of her employees will be taken care of when she eventually steps down from day-to-day operations.
Cleaver reminisced about the changes she's seen at Chelsea Market. When she moved her Tribeca-based catering business into the space 22 years ago, the neighborhood was heavily industrial, the center of late-night truck deliveries and demimonde carousing. Developer Irwin Cohen wanted food manufacturing businesses in the old Nabisco factory space. Today there is no manufacturing left in the market or the neighborhood.
Cleaver's food systems awakening occurred even earlier, in the late '70s, when locally grown tomatoes were impossible to find in New York City. This outraged her, though not many others. She began to agitate for local produce in the city. Opened in 2003, her restaurant The Green Table was "another way of showing where food came from."
"On a personal level," says Cleaver, "there has been simultaneous mourning, pain of pulling up roots, and joy in the freedom of embracing the future." She's been heartened by the "loving barrage of responses" her email blast elicited. In an era when "70 percent of seeds are owned by three companies," she adds, "we need to be in the game: We're working hard to support the regional and farm food economy—that's vital work."