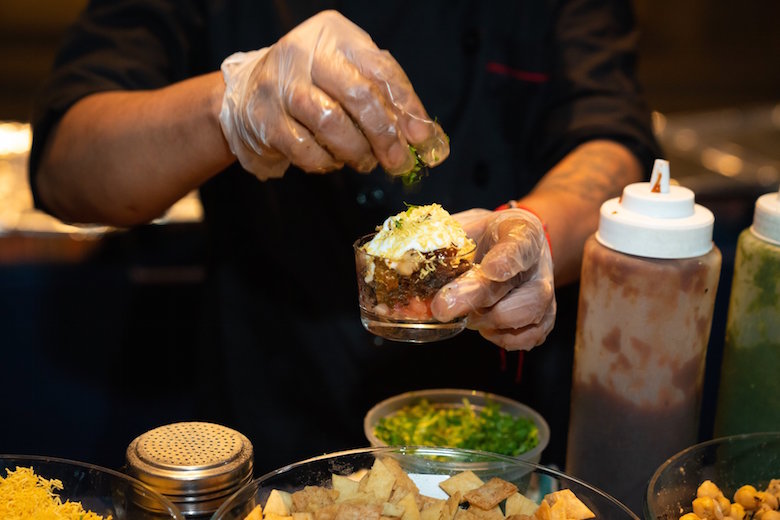 In a monthly column, Natalie Pattillo will talk to various figures involved in the connections between food and social justice in New York City.

Sakhi for South Asian Women, a New York City–based organization serving survivors of gender-based violence since 1989, believes that food justice cannot be ignored in the movement to end sexual and domestic violence. Sakhi, which means "woman friend," offers services including—but not limited to—legal assistance in immigration-related matters, transitional housing, emergency financial support, court advocacy, translation assistance, and access to medical care. 
Thanks to much deserved funding and tireless work, Sakhi's vision of supporting those who have witnessed and experienced trauma is coming to life even more. Two months ago, the organization launched the Food Justice Program, a trauma-informed resource that is available five days a week to those who are in need of immediate access to items such as rice, ready-made meals, diapers, bottles, and formula. The program, which is a first for Sakhi, and the first such program for South Asians in Manhattan, provides the opportunity for their clients to select as many dry goods and hygiene products they need from the office as they are arriving or leaving the office, without having to ask.
This week, they also publicly announced that their services will be expanding to Queens and Brooklyn with two more offices respectively opening in 2020 and 2021; each will have their own Food Justice Program. Edible Manhattan spoke to Kavita Mehra, the executive director of Sakhi, to learn more about this initiative. 
Natalie Pattillo: What is the genesis of the Food Justice Program?
Kavita Mehra: It was clear to us that there was a level of food insecurity happening in the community, especially with clients who are living in crisis and might be forced to live in shelter. Whether it's a city shelter or a shelter with a partner organization, there are definitely government agencies that would underwrite the cost of food as well as provide mechanisms for one to have access to food with special benefits. But we realize that more and more clients came to us for more immediate support. This isn't a recent trend. This is probably a trend that's been happening during the trajectory of Sakhi. Because poverty in America looks very different than it did even 10 years, and that the wealth gap continues to exacerbate in our country, what we see is a greater amount of need and disparity around socio-economic experiences. We will never stop providing immediate crisis support to clients in whatever form that might be—whether that be cash assistance or purchasing immediate food. Part of it was really looking at the trend and looking at what our community needs and what they are asking of us. The Food Justice Program actually wasn't in our Fiscal 2019 budget. For those who are experiencing trauma, for those who are living in temporary spaces, or even for those who are living in their own homes and don't have access to consistent food, it just seemed like such an easy solution for us. It's such an easy thing for us to do — to find  partners who could help with in-kind support. It wasn't an expensive endeavor to initially launch. I think that the fact that we can only continue to grow makes it a vital program. It just made a ton of sense with just looking at where the trends were. 
N.P.: I understand that sometimes if you're coming from a different country or have a different cultural background, access to different types of foods in the U.S. like your own country's food can be even an extra barrier. I'm sure folks can go to Little India, but those prices aren't as accessible to someone who is trying to get their immediate needs met. Are cultural staples also available?
K.M.: We have non–South Asian food and we have food that is cooked within the South Asian community. It's all dry foods and shelf life products because we can't keep fresh produce in our office. We have lentils and rice—but rice that is often cooked in South Asian households versus, let's say, rice that's not cooked in South Asian households. We'll eventually have spices. We have dry goods that can be made by just adding boiling water because if individuals are living in shelter, there's no place to cook. It's a bit of both. For immediate crisis situations as well as for individuals who are living in a place where cooking is possible, we want to be able to provide both forms of options. 
N.P.: What has the general response been like from survivors?
K.M.: Because it's rolling out and very new, we're in the process of introducing it to the community and to those that we serve. We have a very fluid space. It's not something that we monitor on a day-to-day transactional level. But what I've seen so far is that there has been a positive response to it.
N.P.: Why is food justice so vital for survivors of abuse, particularly with South Asian women living in New York City?
K.M.: Oftentimes, individuals who come forward to share their experiences of intimate partner violence are also laden with a significant amount of shame. It takes a leap forward to move past that sense of shame. If one were to add on layers of food and housing insecurity and lack of access to medical care or fundamental basic needs, that is only exacerbated, particularly around food because there is a deep sense of shame around not being able to access food because it's such a fundamental part of our day-to-day. For the South Asian diaspora, and for many immigrant communities, shame is only exacerbated when you add on the additional layers of not being able to access one's basic needs. 
N.P.: How would you all like to see the Food Justice Program grow? What can readers do to help?
K.M.: The growth of it will definitely be in our satellite sites will be larger than our current space. In our satellite sites, we hope to have more robust options. The way that the community can help the Food Justice Program and Sakhi is through consistent support around doing food drives or in-kind donations. In particular, food drives that are targeted towards very specific needs. We have so many young mothers who are in need of diapers, formulas, and baby products like bottles, nipples, and pacifiers. For instance, we had a client who only had one bottle for her newborn. Just one. That's all she could afford and that's all she had. We have clients who live in shelter with newborns that are anywhere between 6 to 8 weeks old. Those shelters aren't providing diapers or formula so we're obviously stepping up. We have a wish list that we often share with individuals who are interested in specifically supporting the program. 
N.P.: I know many of our readers really love to host bake sales or food drives for issues that they care about and then donate all of the money they raise to the organization. I'm wondering…is that something that Sakhi could benefit from?
K.M.: Absolutely! Then from larger institutions, we can create curated list of needs for the Food Justice Program. In a perfect world, we'd like to find a partner who would take us on to help with in-kind support over the course of six months to provide and ensure that each of the locations are fully stocked.
This interview has been edited for clarity and length.