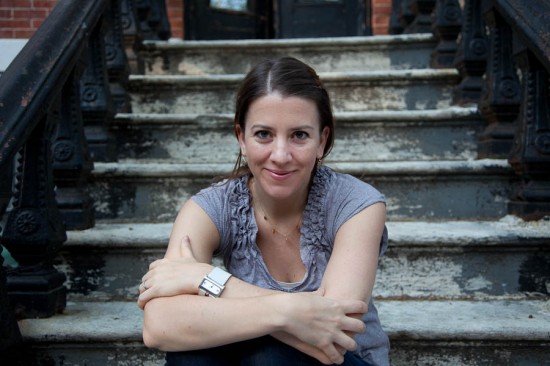 Edible Institute is less than one month away. Locals like Mark Bittman and Jane Black will be in the house, along with over 80 Edible publishers from across North America. We hope you'll join us over discussion, debates, panels and delicious food and drink at the New School.
Along with our other guests, we're honored that Anna Lappé of the Small Planet Institute will be there to deliver a keynote address. We caught up with the former New Yorker to learn more about why she's coming to Institute, her personal projects (including a "SeaCSA" that she's started with her husband) and where she likes to eat in the city.
Edible Manahttan: Why are you joining us at Edible Institute?
Anna Lappé: On a personal note, I am a huge fan of the Edible Communities. I have such an affinity for the network of magazines and the communities that have formed around them. The importance of connecting to where food comes from is such a strong element of community identity. I love is that it's really a celebration of the local community and an acknowledgement that this movement looks different, tastes different and is different in everywhere you go.
As I've been traveling around the country for the past decade, for research and events, some of my best moments have been with folks who have brought Edible into their own communities.
EM: What speaker or session of the Edible Institute lineup looks particularly interesting to you?
AL: I wouldn't want to highlight just one. In my experience, even though I know a lot about this topic, going to something like Edible Institute means that while I'm speaking, I'm also attending. Events like this are a huge part of my own education; these kinds of gatherings are essential to help us understand where we are as a movement, where we're headed and the challenges ahead.
EM: What topic or conversation stands out to you as powerful?
AL: I feel like what is powerful — and most needed — is to think broadly about how we, as communicators, are telling the story of food. We need to think about how we can do an even better job of sharing, whether through Edible magazines or through our own venues. These kinds of convenings allow us to have the time to discuss and reevaluate ourselves as storytellers, so we can keep growing and progressing. Think about how much progress we've made — and how much more we can do together!
EM: Tell us about a personal food-related project you're working on outside of your publicized work.
AL: I have a couple of personal food-related projects going on right now. First, I have two daughters, a two-year-old and a four-year old. My older daughter is starting public school this fall. As a new public school mom, I'm excited to support nutrition services in our district to promote nutrition and healthy food in schools.
With our recent move to California (after living in NYC for 16 years), I'm excited to grow my own food! I have a raised bed and a number of mature fruit trees: three apple trees, two plum trees, a lemon tree, a pomelo tree, even some grape vines. The two-year-old grabs fistfuls of kale out of the garden. It's really cute.
Also, since the move, I've been connecting with local food producers. We are members of a produce CSA and receive a box fresh from the nearby farm every week. We also are committed to eating only seafood we know is sustainable, which can be near impossible to do while eating out or even buying fish at a typical grocery store. So my husband and I decided to be the hosts of a seafood CSA called Siren SeaSA. Last week, we received a big haul of fresh crab and had a grill out. We're also supporting a baker who opened a community bakery, and are about to announce fresh bread to the CSA for a 'loaves and fishes' twist! On a personal level, it has been really fun.
EM: Where is the "food world" headed?
AL: I'm definitely not the oracle or anything, but I feel like I am seeing a few major shifts. One, the tide is turning around sugar. We're deepening our understanding of what food means, turning away from the mantra of "all calories are the same" and instead recognizing that certain calories function differently in our body and that can trigger diet-linked disease. Framing this change around nutrition and calories will be the framework for policies and guidelines — we'll start to see changes in the marketing of sugary drinks and food labeling regulations. We'll also see a maximum on allowed added sugars in school lunches. At least, that's my hope.
Two, there has been this shift over many years toward strong regional food systems. We can see these trends in farmers market numbers. In the '70s, there were just several hundred markets in the nation; now there are 8,144, by last count. CSAs have seen exponent growth, too. These regional networks are developing and strengthening. That development, plus new technology that facilitates relationships between producers and buyers, will really shift how we interact with our food.
Third, the realities of global climate change will touch down in communities in a very real way; we'll start to see organic practices as not just a hippy-dippy good idea, but as a trend we need to embrace to create climate resilient food systems.
EM: Tell us a few of your favorite places to go while you're in New York.
AL: My number one recommendation is The Green Table, in the Chelsea Market. The founder, Mary Cleaver, was ahead of her time: she's been a restaurateur and caterer for decades, and she's constantly asking questions and learning. She's the real deal.
Also check out Haven's Kitchen in Union Square. Ali Cayne has created an inspired, beautiful storefront café along with fabulous community cooking classes. Plus, Ali is an emerging leader in the good food movement in New York City and beyond.
And if you can, definitely grab a bite at Northern Spy; they care deeply about where their food comes from and it's ridiculously delicious.
Join Anna and other food and drink leaders at Edible Institute. Reserve your place here.