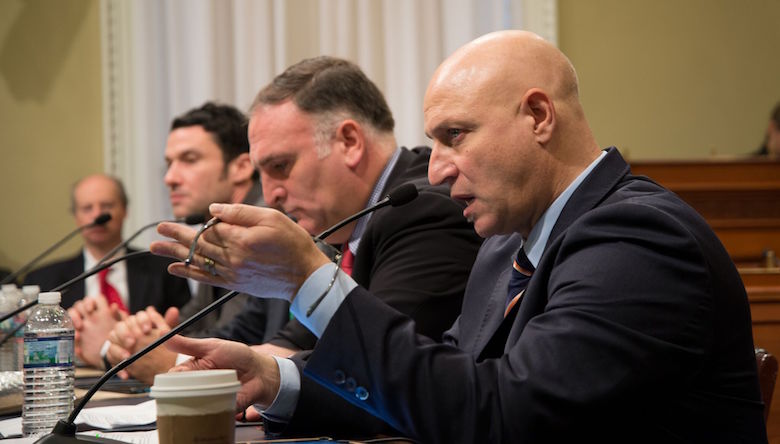 Michel Nischan grew up in a family that relied on food stamps during hard times. Son of a school lunch lady, Tom Colicchio realized he should be doing more than fundraising for food banks when his wife made a documentary on American hunger that proved charity couldn't solve the problem. And Bill Telepan saw the anemic salad served in his daughter's public school cafeteria and knew he could help students eat healthier—even in the poorest neighborhoods.
When I first volunteered with New York City–based Hunger Free America more than a decade ago, chefs were already raising money for feeding charities around the country.
But over the past several years, many have moved beyond purely charitable support to become public champions of Americans who struggle to feed their families. These freshly minted activists are debating naysayers on TV talk shows and lobbying their elected officials. They're learning the ins and outs of laws governing school meals and know that food stamps are now called "SNAP." They're writing op-eds and tweeting.
Longtime DC politico Katherine Miller is founder of Chef Action Network, a nonprofit that helps chefs find opportunities to use their newly acquired lobbying skills. She credits established anti-hunger nonprofits like Share Our Strength with seeing chefs' advocacy potential and beginning to educate them back when they were primarily engaged in fundraising. "They were the first to recognize that people would pay to see chefs," she says.
It's expected that chefs, the rock stars of our time, get involved in the issues of the day like many celebrities—and nothing hits closer to home to someone who cooks for a living than imagining a life without good food. And as chefs were in ascendancy, so U.S. hunger was also rising, as were the number of attacks on government anti-hunger programs like SNAP.
Hunger is often under the radar for Americans who don't experience it. Yet it affects many people you wouldn't expect. While you won't see hungry families starving in the streets here, you will find a mom who works two jobs and begins the month by giving her kids fresh produce for dinner, but when money or benefits run out at the end, is forced to serve SpaghettiOs because it's in the free bag of groceries given out by the local church. Or sometimes she has nothing at all because the charity simply ran out of food.
It may surprise you that over 48 million Americans, including one in five children, can't afford all the food they need. In New York City, the numbers are staggering: 1.4 million of our neighbors and one in five kids lack sufficient food. Walk by any of the more than 1,000 soup kitchens or food pantries in our city and you'll find lines of people stretched around the block. Charity can't keep up with the growing demand, even as Congress proposes further cuts to the already-thin help the government provides.
As Tom Colicchio marvels: "I believe that food is a right and if 50 million Americans can't afford food, what can I do about that?"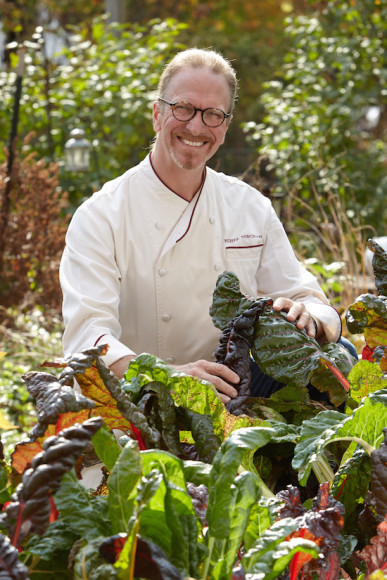 Many chefs come from decidedly working-class backgrounds, growing up in a time when if you worked hard and played by the rules, you could usually feed your family. And because they have also run small businesses and have to tightly budget their every food purchase, they identify with folks who are trying as hard as they can to make ends meet.
There's also the fact that many chefs are engaging personalities and come into frequent contact with the public. Chef Bill Telepan, co-founder of the nonprofit Wellness in the Schools, thinks easy access makes chefs the perfect advocates for hunger issues. "We're more accessible than movie stars," he laughs. "You can actually come into our restaurants and see us. You don't know where Brad Pitt lives, or if you do, you're not allowed to go into his house."
Sometimes the do-gooder spark comes from their parents, as it did for Michel Nischan, who received the 2015 James Beard Foundation's Humanitarian of the Year award partly because of his successful efforts to increase the amount of fresh produce that SNAP recipients can buy at farmers markets.
"My parents struggled with poverty, but we always had good food," he recalls. A chef for some 30 years, Nischan left that world to devote all his time to working on sustainability and hunger at his Connecticut nonprofit, Wholesome Wave.
Established anti-hunger groups laud these new activists. Share Our Strength's Josh Wachs considers chefs essential to their legislative agenda. "They're not your usual suspects or standard K Street lobbyists. They're able to connect on a number of different levels with legislators."
Even the James Beard Foundation now offers intensive policy and lobbying training to chefs. Amazingly, hundreds are on their waiting list even though the program is just a few years old.
And training these culinarians for what they can expect can help them become comfortable with their new roles and, ultimately, more effective advocates. Chef, TV personality, restaurateur and MSNBC food correspondent Tom Colicchio remembers his first political action—testifying before a Congressional committee, his first time on Capitol Hill—as an experience that "scared him to death."
But what about the elephant in the room: restaurant wages?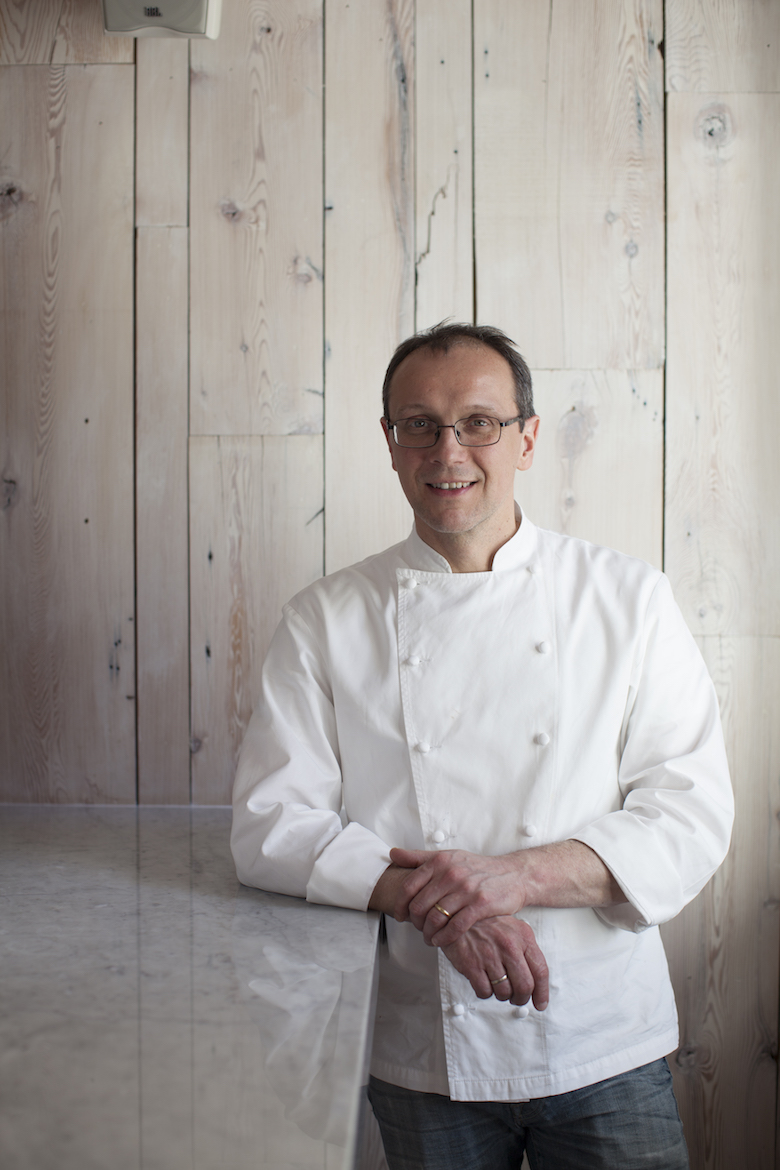 Listening in on a conference panel discussion a few years ago, Colicchio had heard enough. After a Wal-Mart executive discussed the corporation's embrace of organics, the chef raised his hand and asked: "When a large population of your employees can't afford the food you're selling without government assistance, is that sustainable?" And after successful pressure from unions, activists like Colicchio and the public, Wal-Mart subsequently backed off their longstanding opposition to minimum wage hikes and even raised their workers' pay slightly.
But how would Colicchio answer a similar question on restaurant wages?
"Our industry has a problem. If you look at where jobs are growing in this country, the restaurant and hospitality industries are leaders but they're often low-paying jobs because typically they're unskilled, which is why I've supported a higher minimum wage." He even publicly went after the National Restaurant Association—the other NRA—which opposes government-mandated wage hikes. And the popular chef and restaurant owner walks his talk: Last year, in opposition to the lower wages for tipped workers in New York State, he eliminated tipping at his flagship New York City restaurant, Craft, instead opting for higher pay for his staff and raising menu prices to cover the costs—effectively giving his employees more reliable income.
Colicchio's outspoken advocacy has not gone unnoticed by detractors. Not long ago, the Wall Street Journal published an op-ed by Julie Kelly that argued celebrity chefs should just shut up and cook and stay out of politics.
Repeatedly calling out Colicchio by name—"So, Tom, with all due respect, please stick to your pots and pans"—she drew the wrath of advocates across America, who strenuously defended chef activism.
One such defender is USDA's Kevin Concannon, who has a twinkle in his eye and an optimistic spirit. It's why he's spent eight years as President Obama's chief of the nation's nutrition programs like school meals and SNAP—during turbulent times for the benefits he administers.
"When chefs weigh in, they are rightly viewed as experts on the importance of food in all of our lives," he says.
Others in Washington agree. Take staunch SNAP supporter New York Senator Kirsten Gillibrand: "[Chefs] bring an incredible amount of passion, knowledge and personal experience to the table."
Massachusetts Congressman Jim McGovern is a hero in the anti-hunger world for his commitment and for the passionate "End Hunger Now" speeches he's given in the House nearly every week since 2013. He agrees with Gillibrand.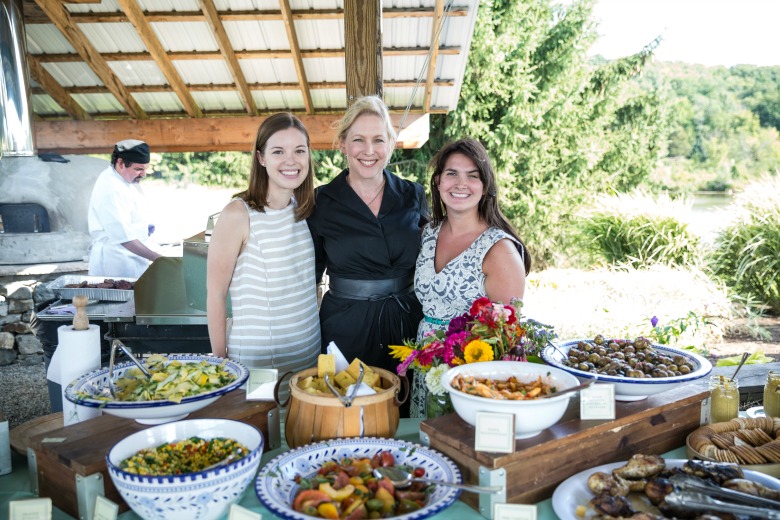 "Notwithstanding the fact that I deplore some of the actions that Congress has taken to cut SNAP and other food and nutrition programs, I think it would be a lot worse if it weren't for this push-back led by prominent chefs," he says.
McGovern pointed out that chefs get meetings where nonprofit advocates can't. "When they come on the Hill, everybody—including some members who have lousy voting records on issues of hunger and nutrition—are waiting in line to get their pictures snapped with them," he chuckles.
Another thought: How can home cooks and enthusiastic eaters join chefs to help end hunger?
Just about every chef activist emphasizes the importance of contacting elected officials. But the most forceful proponent of this tactic comes from within the Congress itself: Rep. McGovern.
"A phone call or letter saying, I'm disappointed that you voted to cut SNAP, I'm disappointed that you want to lower the nutrition standards for the meals my kids are given at school. Please change your vote," he says emphatically. "The only way to combat the big money of the junk food industry is old-fashioned grassroots organizing. Going and talking to your representative, sending an e-mail, making a phone call. If people don't do that, then things aren't going to change."
Some chefs caution newborn activists to temper their expectations for overnight success. "When I got into this thing, I thought why can't poor kids in schools have access to food that's good for their bodies and also inexpensive?" says Telepan. He's tried many tactics, from living within a SNAP budget for a week to lobbying Capitol Hill. Initially, he'd assumed quick solutions follow common sense. But Telepan knew he'd changed after a meeting with school officials where a mom demanded immediate removal of fried chicken from the menu. He found himself thinking, "Lady, it doesn't happen that fast." He leaned forward toward me, tapping slowly on the table between us. "It's. Really. Like. A. Fucking. Glacier."