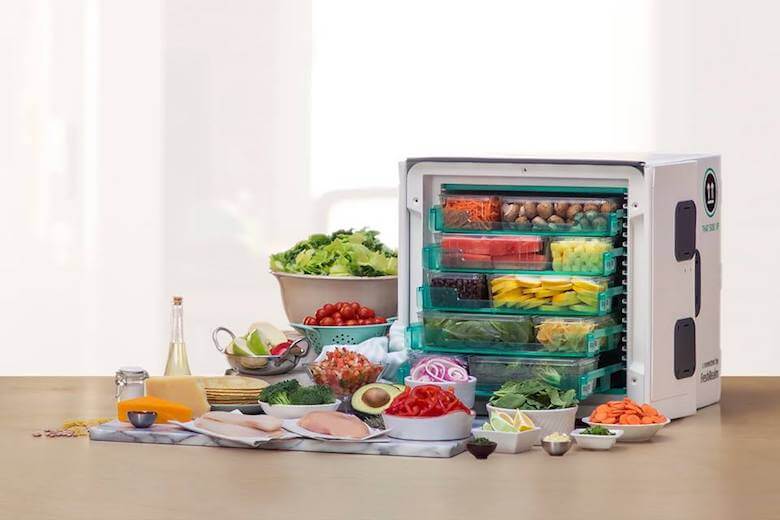 Editor's note: We kicked off our first annual Food Loves Tech event last summer in Chelsea—here's a recap. We're bringing a taste of the food and farming future back this weekend, but just across the East River at Industry City. This story is part of an ongoing series about technology's effects on our food supply. 
Meal kits are quickly becoming their own industry rather than the sturdy arm of the grocery space. Despite Blue Apron leading with a dismal IPO in June 2017, with stock prices dropping to $10 per share even before public trading began, the meal kit space is actually thriving. Perhaps it was Amazon's purchase of Whole Foods by Amazon that spurred a flurry of brick-and-mortar grocers purchasing online-only meal delivery companies and sent other meal kit companies like HelloFresh planning their own IPO.
The BlueApron IPO was weak but it struck fear in traditional grocers. Delivering a week's worth of fully prepped and ready-to-cook meals to one's doorstep is a terrifying possibility for grocery stores that rely on indecisive shoppers to browse their aisles and buy indiscriminately. Sure, the indecisive home chef that loves a kitchen-sink dinner recipe is not going anywhere. But, for meal kits to survive in our increasingly on-demand society, where anything can arrive at your door with one mouse click, these companies must explore new avenues that will engage the free-wheeling home chefs, drawing them away from grocery aisles.
After seeing the popularity of Blue Apron, HelloFresh and others of that ilk, retailers are introducing seasoning and sous vide kits, waste-free kits that include their packaging, and frozen and prepared smoothies that arrive in their serving cup. Here are a few of the most exciting meal kit and meal kit adjacent companies entering the space:
https://www.instagram.com/p/BFt7tM0inkc/?taken-by=freshrealm
Take your traditional meal kit company and add in sustainably sourced ingredients and a patented recyclable and reusable shipping container. That's FreshRealm. The data-driven company relies on the numbers to eliminate waste on the production end, getting the most of every cut on their 400+ products. Similarly, each kit arrives in a FreshPorter, in which the company's "proprietary algorithm determines the perfect placement of each ingredient based on its size and temperature sensitivity." The box is then returned, free of charge, to the FreshRealm facilities where it is reused.
https://www.instagram.com/p/BYbs5r4DIEq/?taken-by=realeatsfood
Dinner is six minutes. That's how Real Eats competes with the likes of Blue Apron, who just introduced their own 30-minute meals. Clocking in at 24 minutes under Blue Apron's easiest meals, Real Eats is a sous vide–like kit whose meals stay fresh in the refrigerator in their vacuum-sealed bags for seven days. To cook the meal, you simply place the bag in a pot of boiling water and set your timer. For the home chefs that love trying new techniques but lack the time and money to invest in them, companies like RealEats offer the perfect introduction.
https://www.instagram.com/p/BaZ-HUaAqgN/?taken-by=rawspicebar
To combat pre-ground, stale and expensive supermarket spices, Raw Spice Bar offers a quarterly subscription to freshly mixed spices for every kind of cook. Before ordering, you'll take a quiz that allows Raw Spice Bar to tailor your kits so that their spices don't join the island of lost spices in your pantry. You'll receive six spice mixes every three months, plus recipes that include each spice and offer enough variety that you won't need to cook the same thing twice. If you find a spice you can't live without, you can buy it separately from your subscription while still trying new additions to your repertoire.
Even with all these new additions to the market, meal kits only fill 2% of the grocery market, with 89.9% of grocery spending still taking place in brick-and-mortar retailers. Though, if Amazon's shake ups and meal kit IPOs tell us anything, it's that prepped but raw meals are the best way to engage consumers who still want to cook and try new options without cutting into their packed schedules.
SaveSave