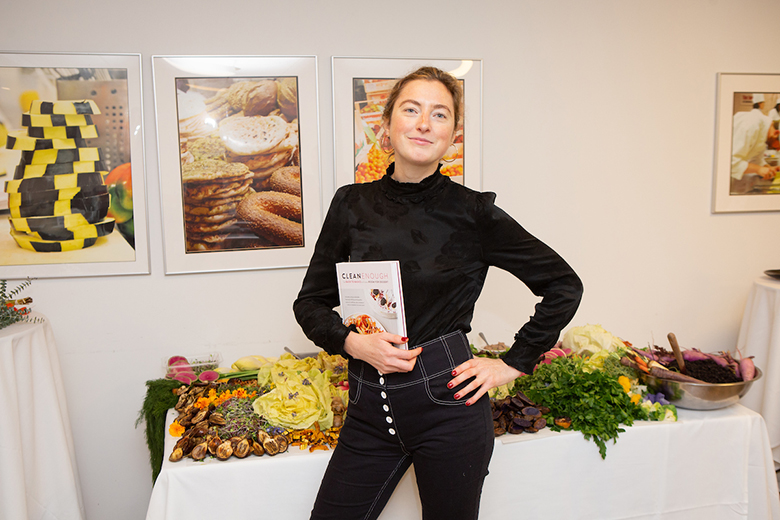 As food and beverage director at Equinox and author of the soon to be released cookbook, Clean Enough: Get Back to the Basics and Leave Room for Dessert, Katzie Guy-Hamilton knows we eat with our eyes first. And as a longtime photographer for outlets including ours, The James Beard Foundation and The New York Times, Clay Williams has also forged a career from creating compelling images with food—allowing it to pop from a plate and all the way through to a page.
But pros aren't the only ones taking styling and photography seriously nowadays. With smartphones accompanying us wherever we go, there's ample opportunity to document the most enviable parts of our day. And much of the time, that revolves around spotlighting the incredible things we eat.
So are you looking to raise the game on your food IG? These simple pro tips will all but ensure that you stand out on social.
Katzie didn't resort to food styling tricks for her cookbook, preferring to present dishes "true to recipe." Which is good news to everyday diners, who probably don't have glue guns and Scotchgard on hand to preen and primp their meals. So how to get the most from, well, actual edible food?
According to Katzie, it starts with zeroing in on ingredients that are not only delicious but beautiful in their natural form. "I built my Eat the Rainbow Salad entirely around multicolored heirloom carrots," she says. "And although spiralizers and zoodlers are popular, I just use a vegetable peeler to shave them into ribbons before dropping them in an ice bath, so they curl right up like bows on top of presents."
Other ideas for making a standard salad into a showstopper? Instead of tossing it with dressing, which will make everything look mushy, carefully drizzle some on top, or swoop a dramatic stripe of it on the bottom of the bowl before (partially) obscuring it with veggies.
And herbs are your friend! During a recent styling demo at the Institute of Culinary Education, Katzie took full advantage of the hydroponic bounty of Farm.One. Harnessing technology that allows them to grow 500 different microgreens, edible flowers and rare herbs year-round, in urban environments, and with minimal soil and water, means that diners have a way to add fresh, verdant accents to their food, even in the dead of winter!
Instead of chopping and bruising those herbs, Katzie advises artfully positioning whole stems on top (are they looking wilted and sad? A dip in that ice bath will spring them back to life). "And always use what I call 'feather fingers,'" Katzie adds. "Place your food with deliberate but light motions, which will give it height and depth."
In the same way Katzie is committed to keeping things real, Clay does most of his photography on location—often at restaurants—meaning he doesn't have the benefit of fancy lighting equipment, or ideally arranged sets. This means (like the rest of us), he needs to work with what he has and scout the space for what will work best. The most important factor to determine is where the natural light is coming from; he usually sets up by the biggest window. And of course, he tries to take advantage of broad daylight.
That said, while morning/early afternoon light is strongest, it can also produce lots of shadows. How does Clay counterbalance that? "Sure, you can purchase tools like reflectors. But I've also made use of white cardboard, white cutting boards and even white plates, to bounce the light and cut back on dark shadows."
When it comes to setting the scene, Katzie puts a few final flourishes on the food, whether its a brush of olive oil so it glistens, a sprinkle of citrus zest or large-flaked maldon sea salt or a juicy grilled lemon on the edge of the bowl. As for table props, Clay is a proponent of wine glasses, strategically tilted silverware and linen napkins, although he admits they're difficult to position naturally (the answer? Use those feather fingers and throw one down, instead of meticulously arranging it!).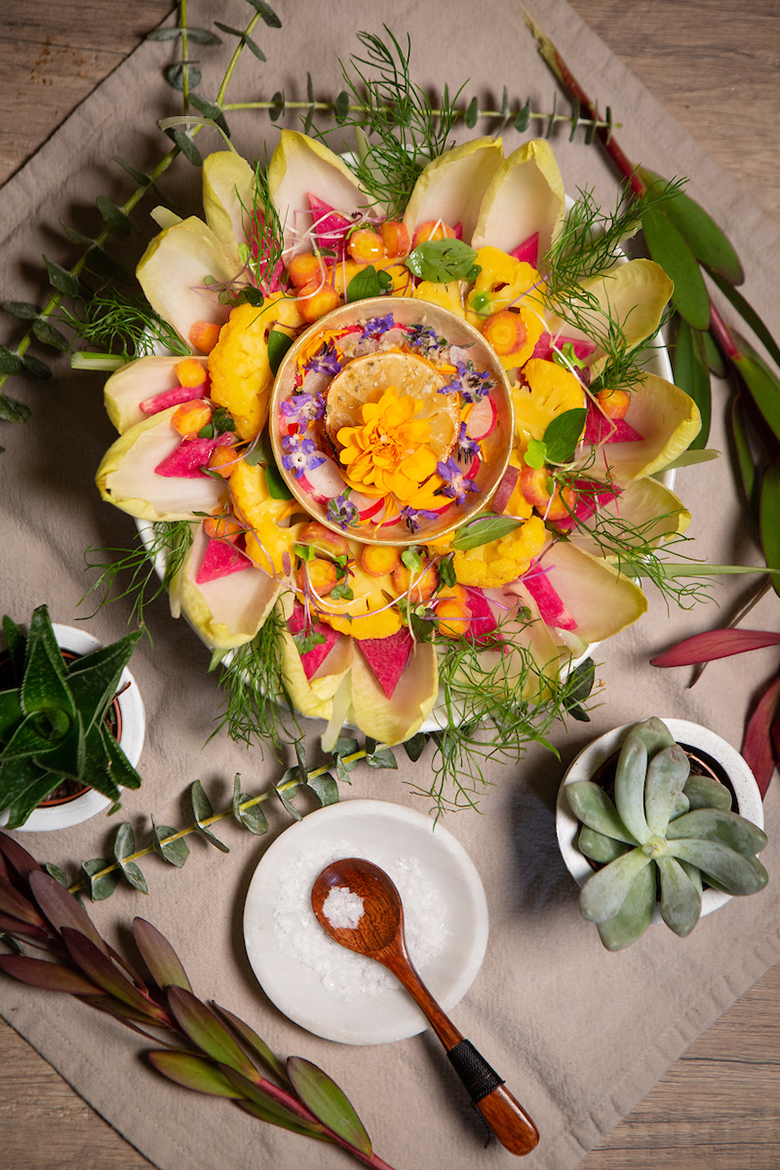 "Also, consider different elements of the dish, and find ways to draw them out beyond the plate and onto the table," Katzie suggests. "Is there a bit of purple from fairytale eggplant? Accentuate that with your linens. Do you have a certain spice in a dish? Call that out, by scattering the table with a handful of whole seeds."
So what about the photo itself? While overheads are popular (especially on Instagram), both Clay and Katzie favor the three-quarter shot. Not only does it add depth to the dish itself, it lets you create an actual story by adding background and environment. "When you shoot top down, you also lose out on some of your best light," says Clay. Afraid of forfeiting that intense, dazzling focus that comes with zeroing in on your food? "Most phones nowadays actually have a focus setting, that simulates using a fast lens at wide aperture," Clay assures. "In fancy photographer speak, it's called 'boket,' which basically just refers to a blurred background that's sharp in the middle. And it's a really great look for food photography."