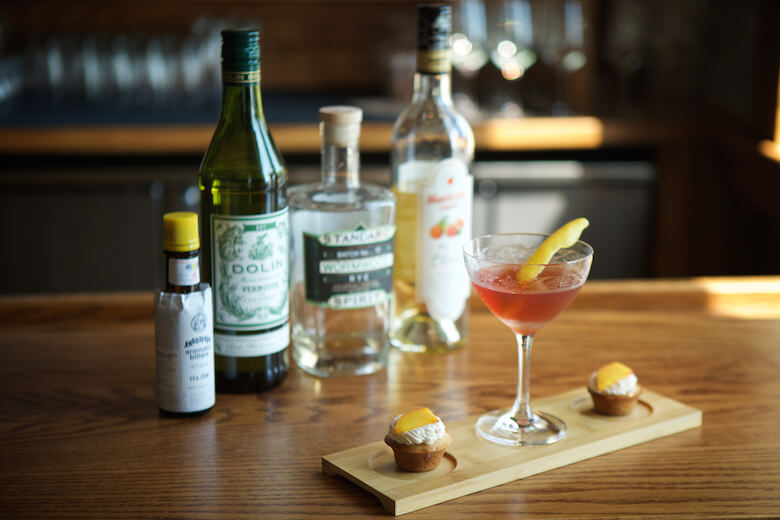 What do cupcakes have to do with booze?  Everything.
Between working at Little Branch and founding the Cocktail Parlor, Courtney McKamey has developed a deep (and deeply unusual) knowledge of cocktails. She serves them neat, up, on the rocks and as pastries.
At the Pier One Harbor House, McKamey gave Edible Collective members insights into the creation of boozy cupcakes. The drink on the menu was also in the cupcakes, and the cupcakes (McKamey promised) had a kick.
For the workshop, McKamey chose one of Milk & Honey's contemporary classics. Michael Madrusan's Sunset Park features rye, apricot liqueur, dry vermouth, and Angostura bitters. It's served up, with a lemon twist.
The Sunset Park has close kin in cocktail history. Madrusan's drink is is a dark spin on the Frank's Special, a cocktail found in Trader Vic's Bartender's Guide, which was published in 1948. That drink had brandy, gin, and a dash of peach brandy.
McKamey chose the Sunset Park for all sorts of reasons, but a key asset is that peaches and apricots are equally acceptable. That frees bakers and bartenders to choose the freshest fruit.
As McKamey talked, Ryan Herzog plied bottles of Dolin vermouth, Standard Wormwood rye, Mathilde Pèche, and Angostura bitters. At the far end of the table, McKamey topped small, innocent-seeming cupcakes with spirited swirls of white buttercream and quarter-slices of fresh peach.
Bartenders sipped and nibbled Sunset Parks, and questions flowed. Was it only the buttercream that was boozy, or did the cupcakes hold liquor, as well? Both, McKamey said. These were not child-appropriate cakes.
There was a pause while bartenders ran silent numbers. Water evaporates at 212 degrees Fahrenheit. Alcohol evaporates at 174 degrees. Cupcakes get baked at—what? 350 degrees? How could there be any alcohol left?
The Cocktail Parlor's pastries are baked at a very low temperature.  Finding out how to do that, like developing cupcakes that taste like cocktails, was a matter of trial and trial and trial and error.
While McKamey talked, she made Heather and Peat cookie dough: Lagavulin whisky, Pedro Ximénez sherry, orange bitters, cayenne, paprika, and an abundance of chocolate chips. Cocktail inspiration: no oven required.
If you want to create high-spirited cupcakes, get ready to test a lot of dough.  The results are buttery, boozy, and rewarding. Just ask a Collective bartender … if you can get one to stop scarfing down cupcakes long enough to talk.
Join the Edible Collective and you'll be joining the Edible Community. The Collective is made up of the people who make what we eat and drink.
The Collective's goal is to create a culture of collaboration up and down the food and drink chain. Think of it as a roundtable where bartenders, chefs, makers and farmers share ideas, education, enlighten and enhance skills.