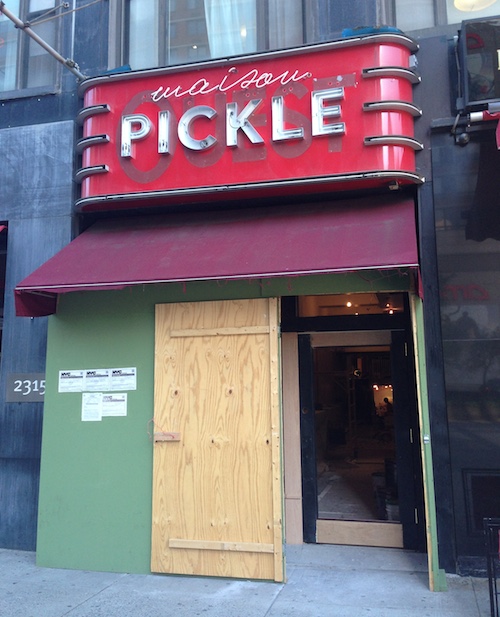 One could argue that Jacob Hadjigeorgis was first. UWS residents would often be seen roaming around downtown to feast before Jacob's Pickles opened in 2011. It invited the whole neighborhood to come eat and be friends; early bird specials and very late night alike. Now he's extending the food culture so beautifully manifested in Jacob's Pickles to a brand spanking new Maison Pickle. This new venture, which will light up it's neon sign very soon, is built for New Yorkers and inspired by a certain idea of America.
"We're searching for that balance of elements at Maison Pickle, that you find in Ken Regen's 1975 photo of Keith Richards cooking breakfast at Andy Warhol's house in Montauk. It's a blend of casual necessity and cool, where Jacob's Pickles can be a little bit country, Maison Pickle is a little bit more rock 'n roll," Hadjigeorgis explains. "I'd like to walk into Maison Pickle on a Thursday evening with Tom Waits or Nick Cave playing on the stereo [or at the bar] and sit with artists like Richard Serra or Michael Heizer," says Zak Ostrowski, a partner at PUNCH (who designed the space, their first in New York).
"I couldn't find this style of food in New York—a sort of back to basics kind of cooking," Hadjigeorgis shares. What does New York care about regional American cuisine anyway? But apparently its residents were just dying for some. Maison Pickle is centered around what some might call a "classic American staple:" the French Dip sandwich. Which means that Maison Pickle will be equally French—meaning not so much. The French dip sandwich, a cheap eat meet culinary trickery, in fact came from Los Angeles. And so, with a little nudge nudge wink wink, the sandwich is getting its first east coast open mouthed kiss.
But Hadjigeorgis is actually more serious than that, he's just spreading some of his own food love. "Everything we do is about bringing good food to good people", says Hadjigeorgis. And he almost just can't help himself. "My father raised me in a neighborhood restaurant in Astoria, Queens," he shares. "It's all about community for us, always has been." Especially in a city where margins have become everything for the two Pickles it's about guest experience above all. And so, we'll line up to visit.
But it's not just a homey place to eat comfort food and drink cocktails (their big focus), it has a garden component around the block that has Hadjigeorgis truly excited. "The garden is actually initially what drew us to the space, especially this block in the city that has been ignored for so long." he says. Now they are using the space to source its ingredients in the restaurant as well as a place to teach kids about agriculture.
And somehow the rest of the neighborhood now can't stop coming; April Bloomfield's new hot shop White Gold and Mermaid Inn's pizzeria are two new additions. "We find that people come from all over the city and the world to eat. It's a destination itself," smiles Hadjigeorgis. "It's finally part of people's itinerary."
Images courtesy of Maison Pickle.