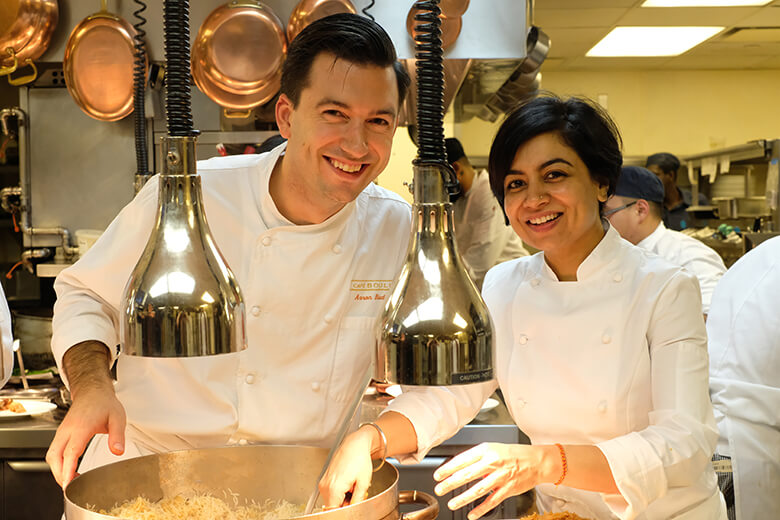 The morels had been smuggled in, joked chef Daniel Boulud at his Upper East Side Café Boulud. Or perhaps it was the truth. What was certainly indisputable was the beauty of their flavor as prepared by Mumbai's Amninder Sandhu, chef at Arth Restaurant and Lounge, one of India's most famous restaurants. "Stuffed Kashmiri Morels," they were called on the menu. Smoked duxelles, a preparation of mushrooms sautéed with onions, shallots, garlic and parsley, filled the plump maybe-contraband, with a bed of nachini and walnut acting as dirt to create a crunchy complement. This was the first course of her "Voyage to India" menu, which she was in town to cook alongside executive chef Aaron Bludorn, launching the next edition of the café's rotating global menu section.
A bunch of writers sat around the table in a private dining room along with chef Floyd Cardoz of SoHo's Bombay Bread Bar as they brought out the rest of the menu, to be served family-style: Kovalam lobster with coconut, coriander masala, and uttapam, a South Indian bread. Then there was chole kulche, a stew of chickpeas, pomegranate, and tamarind chutney, with cooling lassi served in a cocktail glass. Finally, there was the raan biryani, with slow-cooked goat leg, basmati rice and saffron. Oh, and the pillowy Amritsari kulcha, bread stuffed with potato, that I devoured so hungrily I barely registered its presence. For dessert, smoked black cardamom ice cream atop a minced meat preparation called gosht ka halwa, once called a "lost recipe" by the Times of India.
Chef Sandhu's project at her restaurant is to preserve the diversity of Indian cuisine, and she's become famous for going gas-free in her kitchens in favor of fire; Saveur has profiled her commitment to ancient cooking traditions. She told those of us gathered that she could spend one year washing pots and pans in someone's kitchen to be given one secret about their biryani preparation. For chef Bludorn, his Voyage menu project—which has invited in Pierre Thiam for Senegalese cuisine; Hooni Kim for Korean; Hiroko Shimbo for Japanese; Esdras Ochoa, Rick Lopez and Eduardo Morali for Mexican; and Jason Goodenough for New Orleans—allows both him and his staff to learn without traveling, as well as to ensure that their preparations and ingredients are on point. When Bludorn received chef Sandhu's ingredient list, he told us, he didn't know where to go. An Indian chef in the kitchen told him to head to Patel Brothers in Jackson Heights, where he had to be shown around in order to gather everything. "India puts me on my head," he said.
For past menus, such as the Senegalese Voyage, kitchen staff brought in their favorite versions of dishes, like thiebou jenn, from other New York restaurants, making this section of the upscale restaurant's offerings a truly collaborative learning effort. The Voyage to India is now available to all Café Boulud guests. While you won't be able to experience those morels, there will be makhani gobi, lamb shoulder rogan josh, and more—all approved by chef Amninder Sandhu.