In the 1992 film Husbands and Wives, at a table tucked in the back of a small Manhattan café called the Hungarian Pastry Shop, Juliette Lewis's character Rain tells Woody Allen's Gabe she had some criticisms of his novel. Allen hasn't aged well, but the same certainly can't be said of the Hungarian Pastry Shop, which is probably open — and packed — right now."We're open for everything," Philip Binioris, the owner of the café, tells me on an unsurprisingly busy Tuesday afternoon. Though at least half of the indoor (and all of the outdoor) tables were occupied, and the to-go line didn't seem to end, this was Binioris's least swamped time. The shop is open seven days a week, from 7:30 or 8 a.m. to nearly 11 p.m. They're only closed on Thanksgiving, Christmas and sometimes the Fourth of July. "We usually do a half day on New Year's Day because no one's awake," he says. But once Binioris unlocks the doors, people come in droves.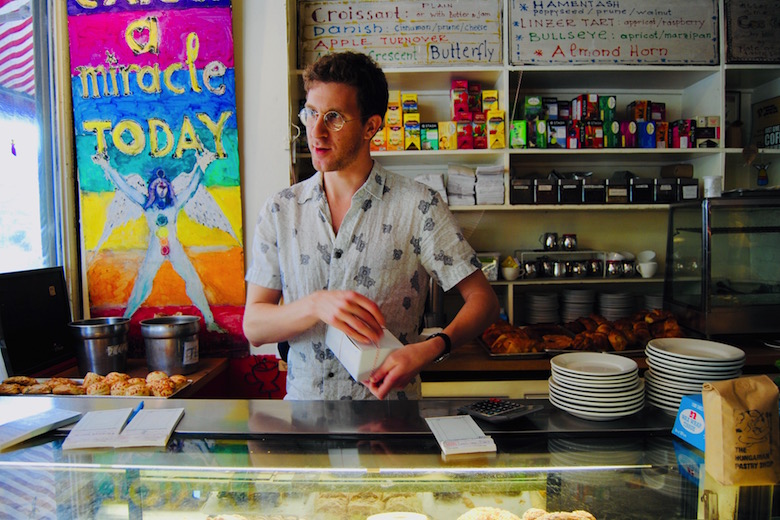 Hungarian Pastry Shop is directly across from the Cathedral of St. John the Divine on Amsterdam Avenue between 110th and 111th Streets — does that make it the Upper West Side or Morningside Heights? Binioris says he thinks it's technically Bloomingdale, but "no one outside of the neighborhood would know what that means." Just a few blocks from Columbia University's campus, it's both a bustling tourist hub and a quiet neighborhood coffee shop. Though the café is mostly windowless and does not have WiFi, it's constantly packed with students, locals and travelers who settle in for a sweet treat and some caffeine. At any moment, the line to order can be dozens of people deep, each waiting to order a slice of the house-made treats, like the strudel or a cup of the cult-favorite "Hungarian coffee" (drip coffee with almond flavoring and a mountain of whipped cream — Binioris tells me it's been on the hand-painted menu since the 1970s: "I have no idea who came up with it"). 
First opened in 1961 by Hungarian-Jewish immigrants as a simple kitchen and dining counter, Binioris's father Panagiotis bought the shop in 1976. Philip has been working there since he was 13 and started running the place in 2012. He's barely had a day off since.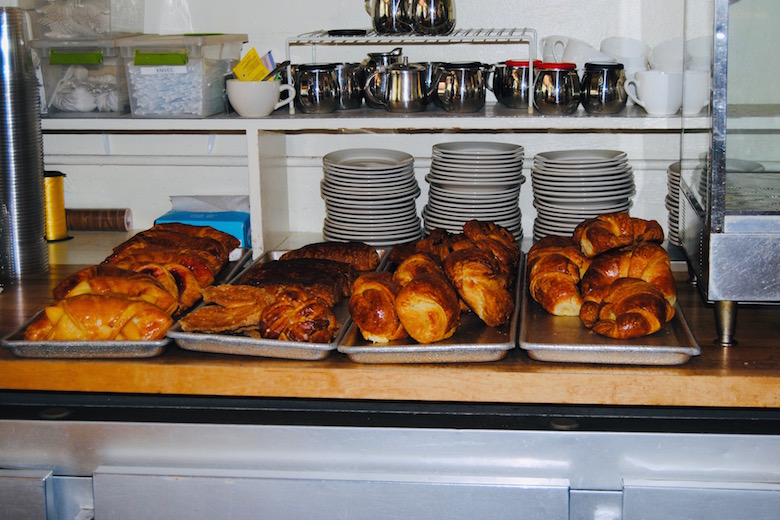 It's almost surprising to see an older stand-alone shop in this neighborhood thriving. More and more often, stores that have operated large spaces go out of business at the end of their leases, making way for new American franchises, sports bars and dollar stores. Binioris is confident this won't happen to Hungarian Pastry, and he gives all the credit to his customers. 
"We have a really dedicated base of regular daily customers. And they keep the restaurant full; they keep coming," Binioris explains, also noting that Columbia and Barnard have included the shop on tours and in new student orientations. "Alumni come back with their peers or children who are now going to school. There's just this kind of symbiosis that keeps us in the framework of the university."
Perhaps the constant references to the shop in classic New York movies like Husbands and Wives and TV shows (someone recently reminded Binioris of a scene in Gossip Girl, where a character was walking with a Hungarian Pastry Shop coffee cup), also keep the space packed. It's popular among the off-screen crowd as well. Not only do authors based in the neighborhood cite the place as one of their favorites to write—the author Nathan Englander notes in his Grub Street Diet that he used to hang there all day — the shop actually turns up in the work from time to time — Binioris noted that a recent mention in a Norwegian novel has led to a huge uptick in Norwegian visitors. "We get a lot of reading tourists," he says. 
Though the dimly lit shop makes a romantic setting for a story, for the most part writers seem to be drawn to the space for the camaraderie. "I've always enjoyed the buzz of other people around me doing the thing I'm doing," says cookbook author Julia Turshen, who regularly worked at the shop while attending Barnard College. "Surrounded by other writers with their cookies and cakes and endless cups, my time at the Hungarian Pastry Shop made me feel like I might actually be able to call myself a writer."
The author Ta-Nehisi Coates echoed Turshen's thoughts, explaining to Vanity Fair that he used to regularly write at the shop during the decade he spent writing his first novel — before people started tweeting about it. Coates developed a quiet friendship with another author, Julie Otsuka, who often works in a corner of the shop. The two would enjoy each other's company from their respective tables. "This was a place," he says, "where a writer could just work."