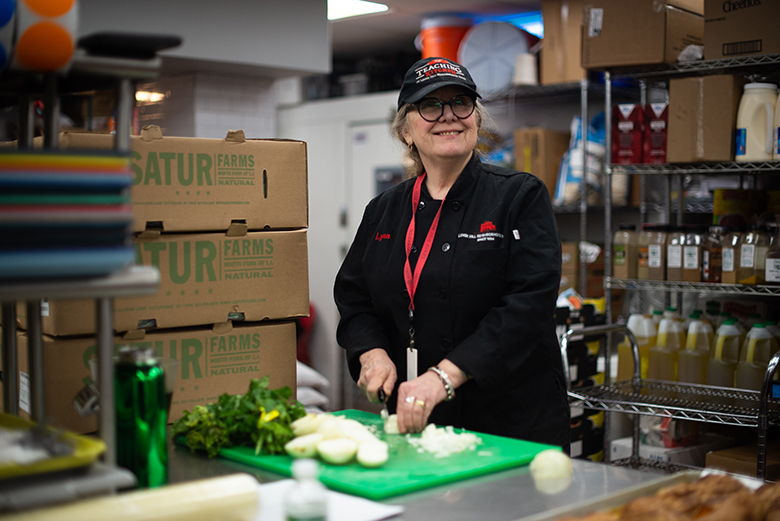 Editor's note: we are a media sponsor of the Food Waste Fair.
Vegetable stem tacos, sweet potato skin chips, cauliflower leaf salad. These are simply a few of the dishes popping up on restaurant menus across the city as chefs innovate ways to reduce food waste by upcycling or using commonly underutilized ingredients.
"At Cafe Clover we are constantly looking for ways to reduce our food waste," says executive chef Garrison Price. "We are looking at the by-products of specific dishes and what we can make from them. We incorporate broccoli, cauliflower and mushroom stems into our vegetable burger that is a staple on the menu. We also compost and send our pre-consumer vegetable scrap to our local heritage pig farmer for the pigs to eat. We also have some housemade vinegars in the works made from herb and mushroom stems and trimmings."
Although chefs are often trained to waste not, want not, New York City businesses across the board throw away more than 650,000 tons of food waste annually, according to the Foundation for New York's Strongest, the official nonprofit partner of the NYC Department of Sanitation. Globally, food waste decomposing in landfills produces 3.3 billion tons of greenhouse gasses each year. From using food scraps to create new meals, feed animals or turn into compost, more and more chefs are looking for ways to save food that would otherwise go to waste.
This past May, Price was one of eight chefs that showed off how they repurpose food scraps such as cauliflower stems or entire Brussels sprouts on the vine to create a new dish during the "Zero Food Waste Challenge" as part of the Food Waste Fair, an event hosted at the Brooklyn Navy Yard by the Foundation for New York's Strongest. A panel of judges (Stacy Carroll, James Beard Foundation; Adam Kaye, the SpareFood Co.; Alison Roman, author and contributor to Bon Appétit and New York Times Cooking; Matt Jozwiak, Rethink Food NYC; and Jackie Gebel, Morton Salt #EraseFoodWaste Ambassador) and attendees judged the creation. Gramercy Tavern executive chef Michael Anthony was the judge's winner with a ricotta tart with lemon confit dish, while the audience favorite was chef Cory Tomaino from FLIK Hospitality with a gochujang hanger steak and vegetable stem tacos with rainbow chard stem kimchi.
"For this challenge, I really wanted to create something that would resonate with everyone tasting it. I thought about great ways to incorporate underutilized stems from herbs and vegetables, not only in my garnish but in the kimchi and broccoli stem slaw, too, and also in how we can flavor the masa tortillas themselves. I also wanted to use a less popular protein, so I chose hanger steak as my protein. I was really excited to see that my meal was one of the only ones featuring a traditional protein at the challenge."
From vegetable stem tacos to sweet potato skin chips, here's where to try zero-waste dishes throughout the city:
Cafe Clover—Cashew & Almond Milk Panna Cotta with Caramelized Honey Syrup
FLIK Hospitality—Gochujang Hanger Steak & Vegetable Stem Tacos with Rainbow Chard Stem Kimchi
Gramercy Tavern—Ricotta Tart with Lemon Confit
Hunky Dory—Citrus Onion Dip & Sweet Potato Skin Chips paired with Punch
Lenox Hill Neighborhood House—Fruit-infused French Toast with Spiced Apple Butter Compote
Lighthouse—Skin-and-Stem Vegetable Poofs with Herb Labneh & Pecorino Pesto
Made Nice—Cauliflower 'Bone Marrow' with Beet Tartare & Cauliflower Leaf Salad
Untitled—Spring Grilled Cabbage with Pickled Burdock, King Trumpet Mushrooms & Spring Onion
The above participants will be showcasing the dishes on their menus for a limited time.