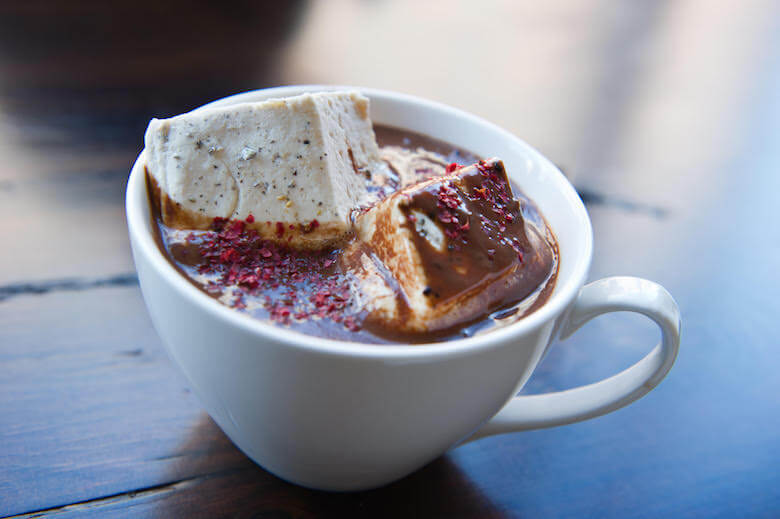 Crowned by Condé Nast Traveler as America's best restaurant city this year, the home of the James Beard Awards is an eating destination worthy of any hungry traveler. While many New Yorkers (particularly David Gelb's gorgeous Chef's Table aficionados) know of Grant Achatz, hopefully the items on this list will lead to new and delectable dining. From a canon-worthy burger to a BYOB dinner that makes art edible, here is a suggested eating itinerary for a day in the windy city.
Breakfast & Brunch
Cellar Door Provisions
Good bread is a magical thing and you'll find it — chewy, toasty and fresh — along with other expertly prepared pastries — flaky, buttery and golden — at CPD. Other savories, like a romanesco salad with cilantro butter and a chile-and-fish-sauce-infused tomato soup, are well worth sampling, too.
Rootstock
Skip the line at Au Cheval and head to Humboldt Park's Rootstock, where the patio is cute, the wine list mind-boggling and the burger — dry-aged Slagel Farms, bacon aïoli — is so good, halfway through you'll contemplate ordering another. A side of fries is essential, as is a glass of whatever the staff recommends.
Lunch
Spacca Napoli
Deep-dish pizza is for when you ace a final or pass the bar; for all other occasions, you'll find Chicagoans happily grazing on the ultra-chewy Neopolitan pies at Spacca Napoli (try the caprese salad while you're at it).
Nhu Lan Bakery
If you're saving up for a dazzling meal at one of Chicago's Michelins (Alinea, Grace, Elizabeth), Nhu Lan Bakery's bánh mì has something for everyone, from a delicious lemongrass tofu to classic pâté — all on housemade crusty bread. Grab a chilly avocado smoothie for the road and be satiated for near $10.
Dinner
Bistro Campagne
An overture of escargot; a centerpiece of poulet roti piled high with mushroom ragout and crispy onions; a coffee chocolate pot-de-creme. Helmed by executive chef Luke Creagan, Bistro Campagne perfectly executes a classic bistro dinner every time. The space is lovely, too: A secluded patio strung with christmas lights is the perfect summer venue for a special repast.
Parachute
Starting off your meal with a carafe of volcanic wine is a no brainer. Save your decisions for the rotating menu of shareable plates at this 40-seat Korean American James Beard Award winner. The Bing Bread is phenomenal, as is everything else from the squid and leek pancake with tout roe to the namul bi bim bap with burdock root and ganjang.
Drinks
Queen Mary Tavern
Resembling the interior of an old wooden ship, this high-seas pub and cocktail bar boasts a menu sure to refuel a mariner. Enjoy the Bali Holiday (gin, Génépy, coconut, jasmine, mint) and wash it all down with the house clam chowder and smoked whitefish dip if you're feeling peckish.
Dessert
Katherine Anne Confections
Local chocolatier Katherine Anne Confections is the spot for a rich, melt-in-your-mouth drinking chocolate, hand-dipped truffles and housemade marshmallows with exuberant flavors (rose + rosé; lemon poppyseed). Their drinking chocolate, which is available in iterations like horchata, is available iced for the hot summer months, and in flights of three, for anytime, really.
Do-Rite Donuts
Frostings and custards are just fanfare. Only one doughnut can be consumed in encore: the buttermilk old-fashioned.
Coffee
Gaslight Coffee Roasters
This well-lit corner café is the perfect marriage of catchup-conversation and laptop-friendly. With several daily varieties of coffee and a surprisingly robust "anytime" menu, it can be hard to leave.