Khachapuri (ha-cha-pu-ree), that magical cheese-and-bread concoction, is a tie that binds Georgians everywhere, including New York. The city has a number of Georgian restaurants and bakeries that specialize in the iconic comfort food that combines the familiar textures of pizza with the Eastern European country's own distinct flavors. And, lucky you, authentic, mind-flipping khachapuri is within reach.
The three most common types of khachapuri are Ajaruli, a colossal, nearly seaworthy bread boat filled with molten cheese and adorned with an egg yolk; Imeruli, a circular bread stuffed with cheese, rolled thin and baked crisp; and Megruli, which is stuffed and topped with cheese. Generally the cheese of choice is sulguni, a salty, melty Georgian cheese, though a mix of feta and mozzarella may be used in its absence.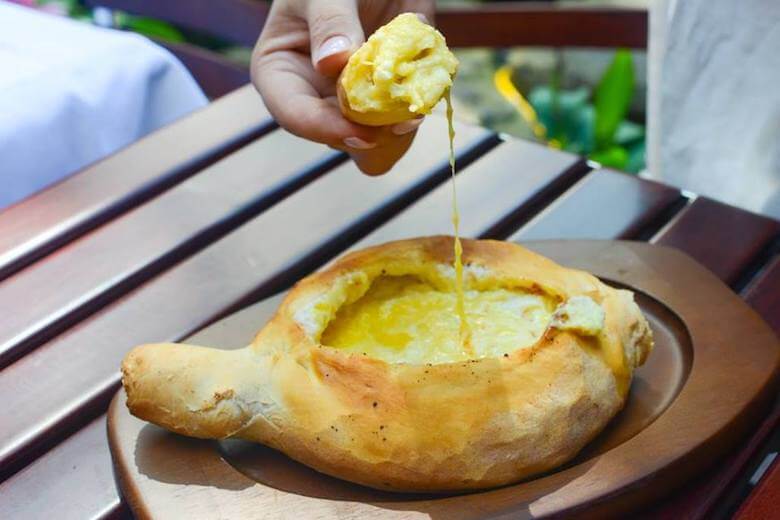 A few pro tips:
Pair with a bottle of earthy Georgian amber wine.

When ordering at a restaurant, one khachapuri is usually enough for a table of four to six … but who's keeping count? ;)

The best way to reheat leftover khachapuri is in a skillet on the stove, though cold khachapuri is just as divine, if not more, than cold pizza.
Manhattan
Old Tbilisi Garden
174 Bleecker Street, Greenwich Village
Stepping into Old Tbilisi Garden, located in the heart of Greenwich Village, is like walking into one of Tbilisi's many art cafés. Paintings of Old Tbilisi, the historic center of the Georgian capital, set the mood as you devour one of their titanic portions of Ajaruli or Megruli khachapuri. The servers here are friendly and happy to answer questions while they whisk the molten cheese, egg yolk and butter into a salty, creamy custard in the bread boat right at your table.
Oda House
76 Avenue B, Alphabet City
Craving cheese, bread and wine at 9:00 p.m. on one Monday night, I rushed to the corner of East 5th and Avenue B. Oda House, usually packed on the weekends, was deserted. I found the reluctant host and asked, "Are you open?" Before he could respond, the chef came into the dining room and proclaimed, "Of course!" It's that easy hospitality that makes Oda House one of the all-around best Georgian restaurants in New York City. They offer supreme versions of the standard Ajaruli ($16), Imeruli ($14) and Megruli khachapuri ($15), but you have to get the Lobiani ($12). Technically Lobiani isn't khachapuri because it lacks cheese. Instead, pinto beans flavored with blue fenugreek and dried marigold are baked into a light yeast bread, like a Georgian burrito with the volume turned up.
Read more: Our Photo-Illustrated Guide to Georgian Breads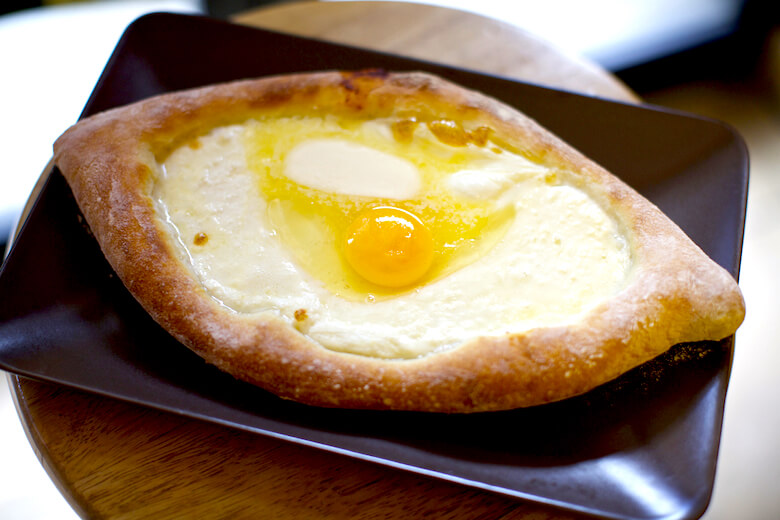 Brooklyn
Cheeseboat
80 Berry Street, Williamsburg
Cheeseboat, which opened in Williamsburg in 2019, has a large and varied menu of khachapuri. Here, the standard Ajaruli cheese boat ($16) is just a starting point. You can make a complete and almost balanced meal of khachapuri by adding bacon, spinach or mushrooms for $3 each. Cheeseboat gives you the opportunity to try other Georgian dishes, like shkmeruli, grilled chicken served in garlic sauce, by adding them to your cheese boat ($20). Cheeseboat is one of the few restaurants in the city to serve Khabizgina, a cheese-and-potato khachapuri from the Ossetia region in the northern Caucasus ($12).
Apani Bakery
1522 Sheepshead Bay Road, Sheepshead Bay
Make a pit stop on your way to Brighton Beach at Apani Bakery, right off the Sheepshead Bay stop on the B/Q. Ask for the flaky, handheld Penovani, the Georgian lovechild of a croissant and a calzone, or a single slice of Imeruli khachapuri (both $2). They'll hold you over until you reach the boardwalk.
Toné Café
265 Neptune Avenue, Brighton Beach
There's barely room for more than two people in the bakery attached to Toné Café, but it'll still be packed with tourists and neighborhood regulars eager to snatch up the khachapuri as soon as its lifted out of the toné. You can get wide, soft circles of Imeruli ($9) and Megruli khachapuri ($11) to-go. For something with a little protein, ask for Kubdari, a sort of meat pie from the mountainous Svaneti region in northwest Georgia. Like Lobiani, Kubdari doesn't contain any cheese but is fragrant with Georgian spices. Complete the experience with a bottle of tarragon-flavored Georgian "lemonade." It's more like anise soda than lemonade, but it balances the salt of the khachapuri.