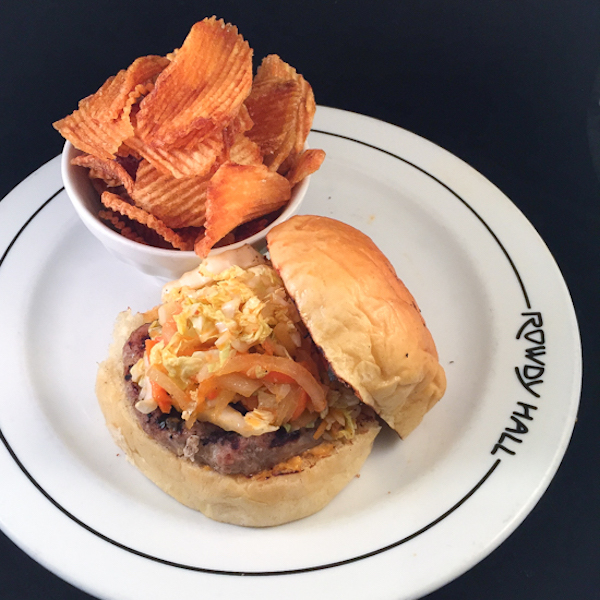 Editor's note: In anticipation of our upcoming Food Loves Tech event, we're launching a bi-weekly column to explore innovative and intriguing trends in the food and tech space. Read more about Food Loves Tech here.
Last week, at Google's cavernous New York headquarters on 15th Street and 8th Avenue, chef Michael Wurster was preparing to test drive a just-released product with massive potential to "influence and introduce a whole new way of eating." This wasn't Google Translate's incredible label-reading add-on (Ever wonder what the ingredients were in that Thai fish sauce you can't do without?) or the search engine's little known nutritional parsing (Type in "oranges versus apples" and see what happens). It was a burger, of all things.
The surf-over-turf sandwich is a new seafood recipe crafted from mostly underloved fish species like skate, tilefish, bluefish and porgy hauled in by boats in Montauk, New York. It's the latest phase in an evolving business model for Dock to Dish: Long Island's first community-supported fishery, which launched in 2013 to incredible praise but has struggled to turn a great product into a great profit. And if it catches on, it could be a step toward rebuilding working waterfronts and thriving schools of fish in New York and around the country. 
"The dream of Dock to Dish is to bring the cleanest seafood to as many people as possible," says founder Sean Barrett. "The burger project actually lifts the ceiling on a lot of that accessibility. The whole dream comes through."
Like any good business nowadays, Dock to Dish has pivoted, first focusing on the consumer-targeted weekly seafood box but eventually abandoning that because of the high cost of labor and delivery. They found some footing with an innovative restaurant-supported fishery (RSF) model with partners like Blue Hill, Gramercy Tavern, Almond, Le Bernadin and Telepan; it's a novel twist that helped bring cost down per pound and scale the volume. Dock to Dish also recently took on two larger foodservice clients, the Google headquarters in New York City (which feeds 6,000 Googlers each day at more than a dozen cafés, noodle shops, sushi bars and other GoogleFood eateries) and Eataly, which can also feed several thousand on a busy day.
Dock to Dish: A Full Circle of Awesome from SkeeterNYC on Vimeo.
But Dock to Dish continued to bump up against the upper limit of number of restaurants who wanted to use the product, which is a premium over standard seafood from the region. Note that all chefs who buy from Dock to Dish swoon over its quality, a testament to the network's sourcing standards as well as its speed and care in getting it from boat to table, often in the same day.
Enter the fish burger, which was launched as an opportunity to use more fish and access more menus. This burger, whose patty is made according to an Eric Ripert recipe, allows Dock to Dish to dial into a completely different segment of the market: gastropubs, beer bars, burger joints and even fast-casual concepts. Barrett is still determining price but it will likely come in at less than other fish burgers on the market, which are typically more expensive than beef burgers.
This burger, which is made according to an Eric Ripert recipe, allows Dock to Dish to dial into a completely different segment of the market: gastropubs, beer bars, burger joints and even fast-casual concepts.
The Dock to Dish burger format didn't emerge as just a solution for a more proletariat segment of restaurants, though. It may also be a boost for school lunch. The original idea was from Nancy Easton of Wellness in the Schools, who met Barrett while he was delivering fish to the restaurant Telepan and wondered how she could get New York City school kids to eat this fish. "We can't bring whole fish to schools," said Easton, then executive director. "We can't fillet fish for schools. It's too expensive. It's got to be in a burger form."
That was "the fish burger epiphany," as Barrett recalls. "Kids aren't going to eat something if doesn't taste good," says Judiann Carmack-Fayazz, a science teacher at the Bridgehampton School who convinced the Board of Education to test the burger, which is now prepared at Dock to Dish's processing facility in Montauk, last month as part of Fish Burger Friday. (The burger passed with flying colors as students entered the cafeteria chanting "FISH-BURGER, FISH-BURGER, FISH-BURGER!" and left with the burger, coleslaw and tartar supply depleted.)
What makes it so revolutionary, though, is that the burger is made almost entirely from pieces of fish that would be thrown out, and in fact have been thrown out. As author Paul Greenberg has shown, the American appetite for seafood tends toward the white, bland and homogenous — shrimp, tilapia, cod — which has limited the market for home-grown catch. This preference for choice cuts, and our reluctance to deal with whole fish, means that carcasses with lots of perfectly good meat get dumpstered. (The average yield for Atlantic finfish is 35 percent, meaning that the remaining 65 percent gets thrown away.)
Reducing food waste is a no-brainer agenda that is trending everywhere. The Rockefeller Foundation has just committed over $100 million to global efforts to cut waste and the topic is on the agenda at Davos. One UK-based company is upcycling discarded salmon skin into wallets, fish bones into uber-nutritious pet food, and making sure every last bit of fish gets turned into something. Companies like Imperfect Produce and Misfit Juicery have launched to find retail markets for "ugly" produce. The food distributor Baldor recently started marketing cabbage cores and other vegetable trimmings, while Google has been hydrating its employees with infusions made from vegetable scraps.
What makes it so revolutionary, though, is that the burger is made almost entirely from pieces of fish that would be thrown out, and in fact have been thrown out.
The burger even goes as far to use all fish in a fishery, a tweak that takes pressure off most desired species and gives fishers a more stable year-round income stream. Barrett envisions eight to 10 recipes throughout the year as certain species come into season and others phase out. Every version will contain some tuna — for fat and flavor — but may also include bluefish, golden tilefish, black seabass, dogfish, Montauk seabreem/scup/porgie, skate, fluke and yellowtail flounder, probably less prominent butterfish and sea robin and any of the other three dozen species approved in the Montauk fishery by NOAA's FishWatch program. There's even a trace nutrient boosting bits of Long Island Sound–grown kelp from Thimble Island Oysters worked into it. "The Montauk fish burger project is the key that has unlocked the door to a whole new broad horizon for us," says Barrett.
In fact, Barrett envisions versions in dozens of coastal markets, composed from that fishing vernacular: a Los Angeles fish burger, a Vancouver fish burger, a Boston burger, a Miami burger. "I have to give lots of credit to forward-thinking chefs who helped come up with the format," Barrett notes. "Ground, frozen patty was the vehicle they needed to open the door wider than ever possible."
Some chefs expressed concern about the recipe changing and whether that will complicate cooking rules. But Joe Realmuto — executive chef of Rowdy Hall in East Hampton and sister restaurants Nick & Toni's, La Fondita and Townline BBQ — also noted that if vegetables change with the seasons, why not the ingredients of a fish burger? Of course, that requires a change of mindset for chefs and eaters, but Dock to Dish already has a track record of helping convince chefs that the higher quality of seafood and close ties with nearby fishers makes such adaptation worthwhile. And that customers will gobble it up.
Regardless of the mix, this burger has substantially more vitamins, less saturated fat, fewer calories, less sodium, less cholesterol. The ecological fish print is smaller as well, with food miles (the distance that the ingredients traveled to the plate) that are a fraction of beef. "That's where we need to move to," says Barrett. "The days of eating the same species, from the same fishery, 365 days out of the year is not sustainable and not natural."
The good-karma burger is currently being piloted at partner restaurants as the chefs work out the final recipe kinks. It's priced to allow restaurants to keep their food costs under the holy 30 percent, while also creating enough margin that Dock to Dish can sell a different version to school districts. Google is considering a dedicated Montauk fish-burger booth as one of its food options.
"I actually prefer them over white flakey fish burgers. You can get a fried fish sandwich anywhere. But I don't want the Gorton's thing. The flavor of the Montauk burger is phenomenal and it's got more burger texture," says Realmuto, who has been an ally and adviser to Dock to Dish. "This is a good thing for the whole operation. It will allow him to scale the supply chain," Realmuto adds. "Getting it into Whole Foods. That's the killer move."