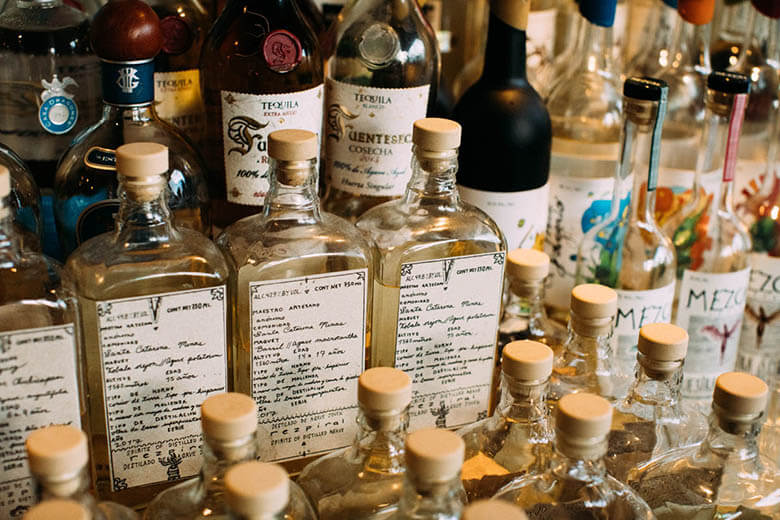 Yana Volfson believes mezcal should be decanted. Two hours, probably, to come into itself, and then it should be sipped at room temperature. Perhaps in your home you don't have the same votive candle holders that she uses at Atla—the restaurant from chefs Enrique Olvera and Daniela Soto-Innes near the Broadway-Lafayette stop—which feature a cross on the bottom, but any glass will do.
Before you start drinking the agave spirit at home, though, pop into the bar at Atla, where Volfson—a Bronx native—has built one of the city's most notable bottle selections. Her palate has been honed over many years in the industry, from dive bars to Freemans to Russ & Daughters Café to now working as the beverage director for both Atla and Cosme, the chefs' restaurant that's a bit further uptown both in geography and sensibility.
Back in the days before the cocktail renaissance was ushered in by the late Sasha Petraske, Volfson recalls being the bartender wondering whether squeezing fresh lime juice instead of bottled would taste better. That wasn't the case for everyone working during the '90s, when there was still what she refers to as a "Candyland approach" that yielded lists of sweet and fruity vodka martini variations.
"You were still seeing a watermelon pucker martini; you were still seeing the apple martini," she she tells me at a table outside the restaurant, at the busy corner of Lafayette and Great Jones. "No one was really talking about Laird's Bonded or Calvados [apple brandies] at that moment."
Times have changed. She saw the work ethic of her bartending community shift. Owners suddenly became more willing to go for the fresh lime juice or bring in a block of ice to be cut down properly.
"I think you have characters that have been put on pedestals," she says, "but there was a whole collection of bartenders who were showing up to work, rolling up their sleeves, and had a cowboy attitude of doing things."
Living through that moment prepared her for running the bar program at not just Cosme (ranked number 25 on the World's 50 Best Restaurants list), but Atla, where she can translate a challenging spirit to a casual audience.
"By nature, I just had an artistic approach to it and was inspired by the sort of dynamic that exists behind a bar, with another person, especially if you work with someone who has a lot of experience and competes with you in a way, saying, 'My mojito is better than yours,'" she says. "Then we were flicking away at the idea of a mojito. Back then it was really fun and really enticing."
That instinct and training have served her well as she's focused on mezcal, a spirit far more diverse than the common refrains about its smokiness would have you believe. The over 60 bottles at Atla show a broad range, from more common Oaxacan Espadíns to emerging "vegetarian" pechugas, flavored with mango and habanero. She's also begun to serve destilados de agave, which aren't able to legally call themselves mezcal. We tasted one from Rezpiral, which had a gorgeous chocolaty nose and floral finish, a worthy challenge to anyone who's written the spirit off for that smoky reputation.
Her first taste of mezcal in New York was from a bottle of Los Amantes when she worked at Freemans, though she has memories of a trip to Puerto Escondido, Oaxaca, Mexico, when she was in her early twenties. "It was something that a little boy was selling me in a plastic bottle," she says. "My impression was more about the experience than the taste." Then Los Amantes began being bootlegged into the city in 2005 and mezcal became a true presence in her life.
That's a moment she continues to create for others now. "I think people are still noticing mezcal," she says. "You're still having wonderful, naïve experiences with people who've never had mezcal before. It's still a spirit that's in its present moment. I'm not someone who thinks that it's been blown up."
She describes the mezcal market as being competitive and increasingly industrial, which has luckily led to discussion of creating a sustainable way to produce and preserve the spirit in all its varied glory.
"We're still continuing to see laws being made and noms being passed every day," she says. "With the evolution of mezcal, you can't predict what the market is, other than being hot."
Atla provides both an entry point, with accessible mezcal cocktails on the menu, and a means for deepening knowledge through these more rare bottles. With Volfson, guests have a well-versed guide who has the understanding, access, and contacts to constantly ensure a unique selection and experience at a time when the category is hot but many bartenders might not have the range to take you beyond the smoke.
"Mezcal is like an onion," she says. "There are many layers to peel."