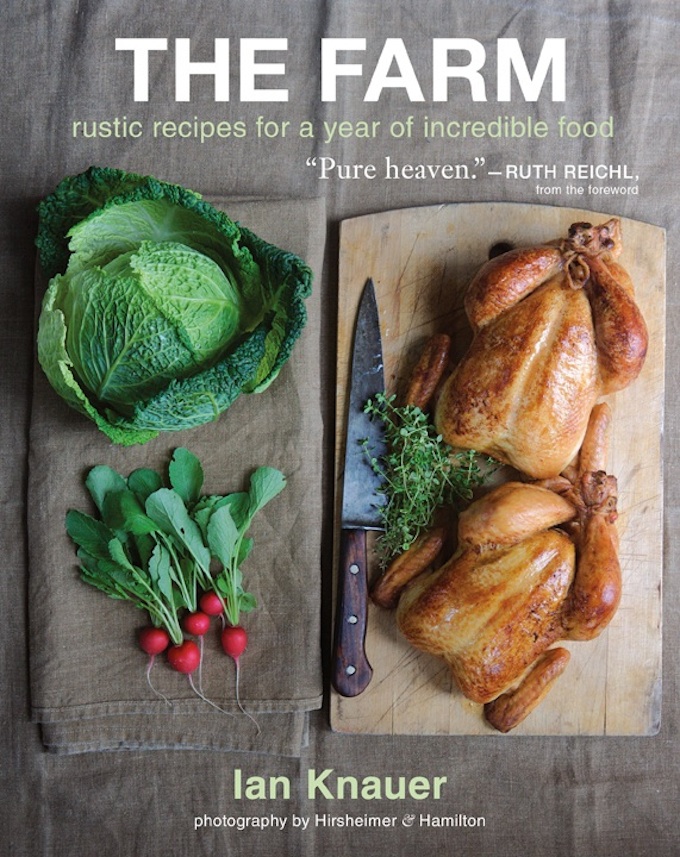 I've got two criteria for summer sustenance: a maximum of Greenmarket ingredients and a minimum of minutes at the stove. If you're similarly inclined, you'll want to make every recipe in the just-released Salads: Beyond the Bowl (Kyle Books, $19.95) by our friend Mindy Fox. The longtime Manhattanite and celebrated cookbook author's sophisticated flavors will inspire even serious saladaholics to turn over a new leaf. Think beet pico de gallo; honeydew with sweet peppers and ricotta salata; zucchini with radish and lime; or a kale caesar I'll be making it until my empire falls.
The dishes are simple enough for park picnics or weeknight survival—Mindy says oak leaf lettuce with popcorn and goat gouda is her version of cereal for dinner—but also perfect for posh parties. And this book won't go up on the shelf come fall. Recipes like roast cauliflower with arugula or rabbit with almonds and celery will keep me eating inspired salads well into oven season.
Another New Yorker, Ian Knauer, is living my dream life. He came up through the ranks at Gourmet's test kitchen and now creates recipes for mags like Bon Appetit and Men's Health. But on weekends he gets outta town—to a Pennsylvania farm where he keeps chickens and bees, makes jam, hunts deer, eats sun-warmed tomatoes, forages for chanterelles, jumps in the swimming hole, brews hard cider and tends a garden bigger than your apartment.
His new book, The Farm (Houghton Mifflin Harcourt, $30) chronicles a year of adventurous eating in the form he knows best: rock-solid recipes. But while Knauer's ex-boss Ruth Reichl declared his book "pure heaven," the unfussy fare is decidedly down-home: corn soup, chard pizza, chicken 'n' biscuit pie, venison chili and vanilla-mayonnaise cupcakes with his grandmother's chocolate icing. For those of us who aren't lucky enough to own land—or an invitation to Knauer's—at least now we can eat like we do.
Blueberries with Feta and Mint
Adapted from Salads: Beyond the Bowl by Mindy Fox
This unexpected combination is lovely at the beginning or end of the meal. It is also delicious over lamb chops.
Serves 4
3 cups blueberries
1 cup mint leaves, torn
5 ounces feta cheese (1 cup), crumbled
4 tablespoons very good olive oil
Flaky coarse sea salt
Freshly ground black pepper
Sprinkle the blueberries with the mint and feta, drizzle with the olive oil and season with generous pinches of salt and pepper.
Photo credit: Haughton Mifflin Harcourt