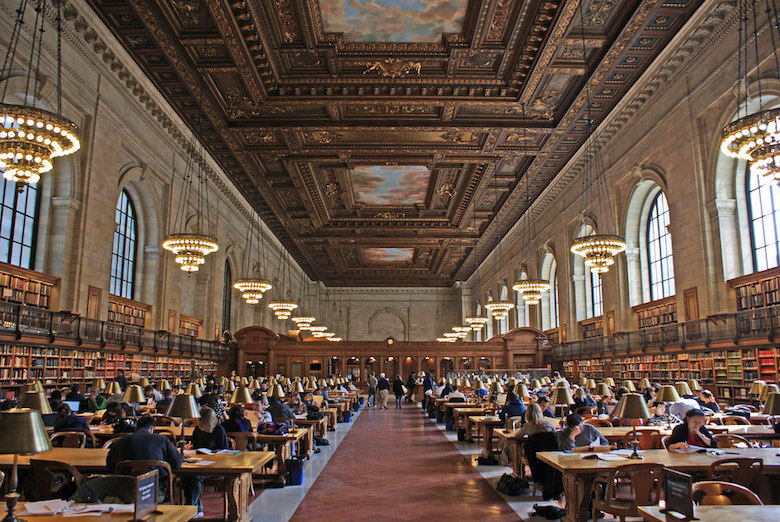 Cookbooks are heavy, expensive and big—a true investment, and you never know how much you'll actually use one no matter how shiny and enticing it seems in the shop. There, you can devise grand plans for trips to Kalustyan's for spices not already in your rack and imagine the elaborate, impressive birthday cakes everyone in your life will get next year. At home, you might not feel so optimistic, leaving the book to collect dust.
Luckily, our local libraries provide the perfect way to temper our imaginations (and save our bank accounts) with their well-curated cookbook selections, creating a collective cooking experience. I'm even charmed by other people's food spills—in fact, the most bedraggled pages often have the best recipes.
I'm not the only one who feels this way. When I put Deb Perelman's new cookbook, Smitten Kitchen Every Day: Triumphant and Unfussy New Favorites, on reserve at the NYPL, I was the 100th person to do so. Right now I also have checked out Mastering the Art of French Cooking, Volume One by Julia Child, Louisette Bertholle, and Simone Beck; The Art of Simple Food: Notes, Lessons, and Recipes from a Delicious Revolution by Alice Waters with Patricia Curtan, Kelsie Kerr, and Fritz Strieff; and Glorious One-Pot Meals: A Revolutionary New Quick and Healthy Approach to Dutch-oven Cooking by Elizabeth Yarnell.
What should I put on reserve next? To find out, I called Wayne Roylance, adult materials coordinator for BookOps, the organization that handles book buying and collection management for the New York Public Library and the Brooklyn Public Library. Roylance buys cookbooks as well as other books for adults in both library systems.
"I see maybe 50 Italian cookbooks a month," Roylance told me. "If they're from a major publisher or a big name, or they get good reviews, then I'll buy them." But he's always on the lookout for cookbooks that are more unusual. "Recently I saw a cookbook for Georgia the country [Tasting Georgia: a food and wine journey in the Caucasus by Carla Capalbo]. I rarely see Georgian food cookbooks, so I ordered five copies."
Book distributor Baker & Taylor sends Roylance electronic selections of cookbooks called pre-notification carts every month. Then he makes his picks. "I order about 20 to 40 cookbooks per month," Roylance said. "That's about 20 percent of the cookbooks that I see." He also buys some cookbooks that aren't available through Baker & Taylor, such as Jewish cookbooks from Feldheim Publishers and ArtScroll, which he says do especially well at the Brooklyn Public Library.
What does someone who spends so much time reading about cookbooks decides to cook at home? Roylance sometimes finds recipes in the cookbooks that come in through BookOps, and he also uses the New York Times cooking site. One recent favorite was Middle Eastern Herb and Garlic Chicken.
"The secret spice is sumac," he said. "It's a Middle Eastern spice and it's got this earthy flavor. It's good on meat and it's good on chicken."
When I asked him about cookbook trends, Roylance told me, "Ketogenic cookbooks are big right now. It's more of a health-based, low-carb, high-fat diet.Vegan books are always popular. Instapot has become very popular, too." He also named Lidia Bastianich and Martha Stewart as high-circulating library cookbook authors.
Three new cookbooks that are popular at the New York Public Library are Salt, Fat, Acid, Heat: Mastering the Elements of Good Cooking by Samin Nosrat; Dinner: Changing the Game by Melissa Clark; and BraveTart: Iconic American Desserts by Stella Parks.
The classics that NYPL patrons can't get enough of include The Art of Simple Food Plenty by Yotam Ottolenghi (Roylance calls this a "modern classic"); and How to Cook Everything: 2,000 Simple Recipes for Great Food by Mark Bittman.
We'll see you on the reserve list.
SaveSave
SaveSave
SaveSave