Immersion circulators. CVaps. Liquid nitrogen. Transglutiminase ("meat glue"). Until recently, the batteries de cuisine of even modest restaurants took inspiration from the lab. You can blame molecular gastronomy for the flood of foam in the '00s, but there were real innovations—like sous-vide cooking—which ensured perfectly consistent temperatures, conserved product and changed our expectations of pork forever.
But for all its successes, there was something missing from modernist cuisine. Chefs were pushing a lot of buttons, but maybe not the right ones. Revolutionaries like Chef Francis Mallmann changed all that; he eschewed the tech of molecular cuisine for the lusty outdoor cooking of Argentine gauchos. These were no stumps around a campfire; Mallmann's wood-fueled cooking was ritual, theater, an art installation—the Burning Man of food. Imagine crucified whole lambs tipped over embers, with roasting chickens and cabbages twisting overhead like Chinese lanterns. Suddenly, the culinary world remembered that fire has the power to reach down into your primitive soul and twist something vital.
Swedish Stoves and Planks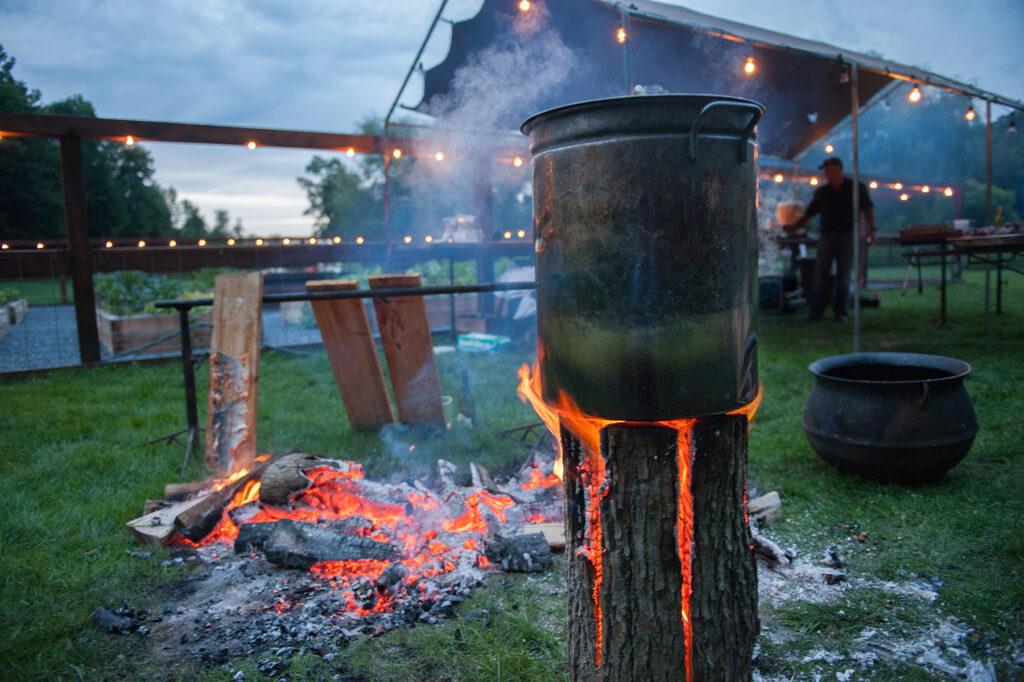 Like so many in the food industry, Tom Ellis started in the arts. He pursued a theater degree at SUNY Purchase before starting a theater company in Manhattan. His day job, catering, soon overtook acting, and Ellis found himself working with elite caterers—figures like Olivier Cheng and Stephen Starr—producing Gatsby-esque events for celebrity clients. But, as Ellis notes, "even at the highest end, we were still heating pre-seared filets mignon in a cabinet with Sternos."
For a few of Ellis's weddings, he subcontracted Jeremy Stanton of Fire Roasted Catering to execute rehearsal dinners. Stanton's events showcased heritage-breed animals and organic, locally sourced vegetables cooked outdoors over wood. Watching Stanton work, Ellis had a painful realization: "The food he was doing was better than my food. He was killing us in terms of freshness and sourcing."
Inspired, Ellis started his own catering company, The Swell Party, which folded in Fire Roasted Catering. He began applying his theater background to events, with staff arriving eight hours before guests to construct what Ellis calls "a stage kitchen."
"I call it that because it is a stage. It's a place for entertainment. Guests are not typically focused on the kitchen in a catered event but, with us, they are. They're looking at our contraptions, you know? Our Mallmann-inspired techniques."
Of these, there are cauldrons on tripods set over blazing fires. There are Dutch ovens nestled in glowing embers and fowl roasting on "spinners"—or twisting on wires over flame. Ellis and co. also craft devices known as Swedish stoves; these are logs split into quarters by cuts that run ⅔ the length of the log.
"We drop a coal onto the cut end and you get a long, controlled burn as the fire eats into the log. You end up with this jack-o-lantern effect, this glow." Chefs use these stoves the way traditional cooks use gas burners.
Ellis and Stanton continue to invent ways to "bring the fire to the floor." With hors d'oeuvres, they decorate trays with flowers formed of oregano and sage. On this, they rest a burning coal that smolders to perfume the skewered meats on offer. Says Ellis, "You get this experience. This smell. Plus, as the waiters are passing, they're infusing the crowd with smoke."
Hearths, Grills and Spits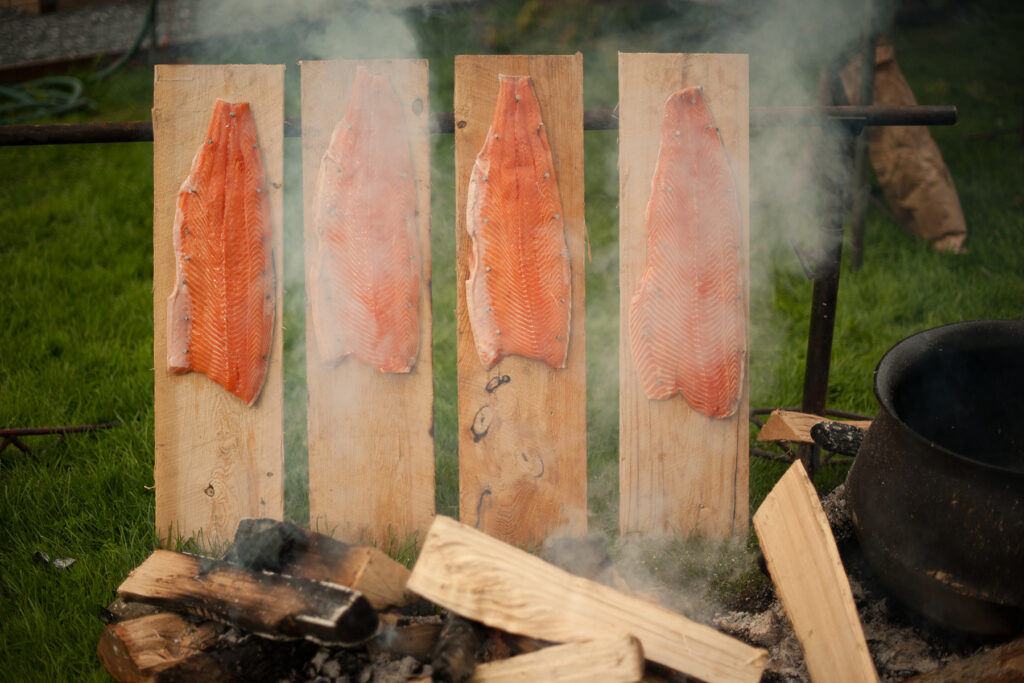 Smell. It's the most persuasive of senses, yet the aromas of cooking are virtually absent from modern restaurants. In order to smell your food cooking at a restaurant, you'd have to go out behind the kitchen to where an exhaust fan blasts mouthwatering scents onto a dumpster.
This is not the case at Zak Pelaccio's Fish & Game in Hudson. When you cross its threshold, you'll be enveloped in the soul-stirring scent of burning hardwood and roasting meats.
Pelaccio installed two fireplaces in his dining room, built with bricks original to the building. In these, Pelaccio's staff roast whole spitted ducks and lamb shoulders amid diners. Meat juices drip onto potatoes, which crackle and brown, suffused with smoke, juice and fat.
"The reason why? More than anything else, it's theater," says Pelaccio. "You know, you walk into a restaurant and you smell burning wood, you see a big, beautiful grill—and, whether it's true or not—there's this idea that you're closer to the ingredient."
RELATED: De Gustibus: Where Food, Art and Era Meet
There are other things that cooking with wood signifies, like the demands it places on chefs. Cooking with wood cannot be idiot-proofed. "Anything you do with fire requires attention and nuance, which requires talented cooks," says Pelaccio. "Look, you can design recipes that read, 'Put it in the bag, seal the bag, then put it in the Combi oven at full steam at 180° for 10 minutes.' Those recipes are great, and built for speed and consistency." But they take the cook out of the process.
With fire, Pelaccio says, "You have to pay attention—to the heat source, the fire—which has to be managed in a way that you don't need to do with a gas burner. And there's something about the food, the smokiness—even if you're just putting a cast-iron pan alongside the fire—that you can't create with anything other than wood."
He laughs. "The Smoking Gun [a molecular cuisine device] doesn't quite cut it."
Hooks, Chains and Ashes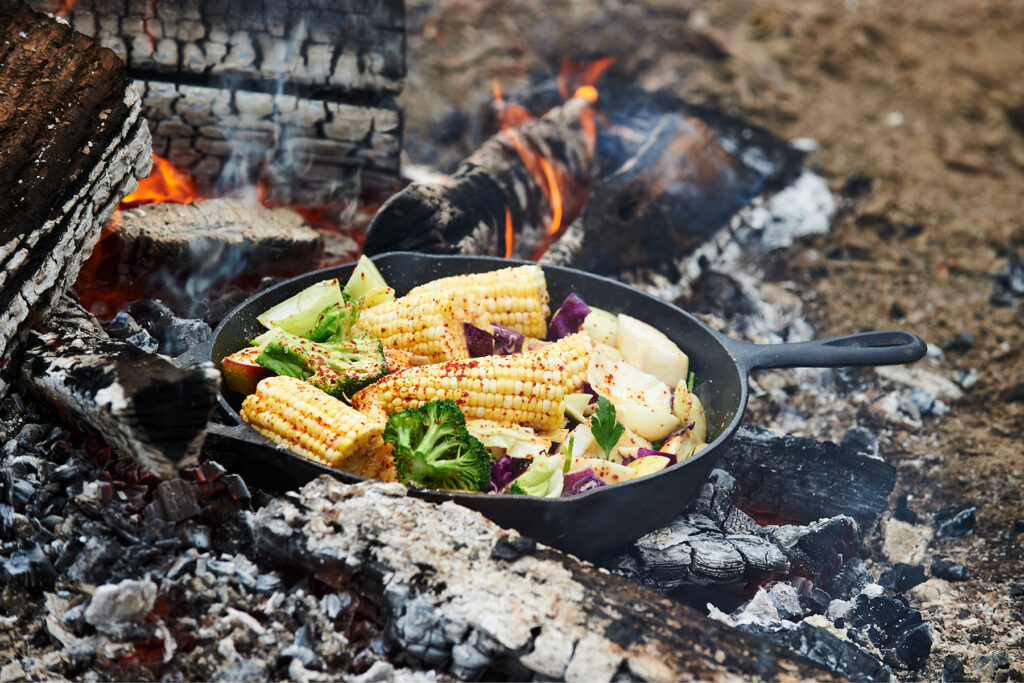 There's something off-message in a primitive wood-cooking implement that costs as much as a new car. Chef David DiBari of The Cookery and The Parlor in Dobbs Ferry has DIY'd that problem. He had a fabricator build a crude infiernillo from a back-of-napkin design. It cost $1,400.
This rig is simple verging on caveman. It's a frame holding three stacked platforms—two are sheet metal, one is a perforated grill. Above this is a rod that spans a removable support; S-shaped Home Depot hooks hang on the rod, stabbed through whole birds. DiBari also wraps heavy chains around seven-rib racks of beef and lets them hang, suspended in gentle heat and smoke, for hours. Everything drips its influence down onto roasting vegetables, Dutch ovens, cast-iron pans and fish racks on the plancha. It's basic, efficient and economical in every way.
Better still, it's hackable. "The cool thing about our outside rig is that the detachable frame holding the rod fits over our grill," says DiBari. "That means that, in our restaurant, we can throw wood onto the grill and hang a tomahawk steak over this small fire and the heat from the grill. It's kinda like sous-vide, reeeally slow and low."
DiBari took risks by installing a wood-fueled pizza oven at The Parlor with no electronic thermostat to stabilize its heat. His pizzaiolos must maintain the consistent 900° needed for pizza only by adding, removing and shifting wood in the oven. There are benefits, though. "We're able to play with its elements, like the hot ashes that we sweep out of the oven. We've done ash-baked white sweet potatoes, and we also do ember-roasted bananas. And, yeah, you could say that it's sustainable, you know—we're fully exploiting this fuel down to the ashes. But more important, it's about using what's in front of you to add interesting character to food."
Asados and Iron Crosses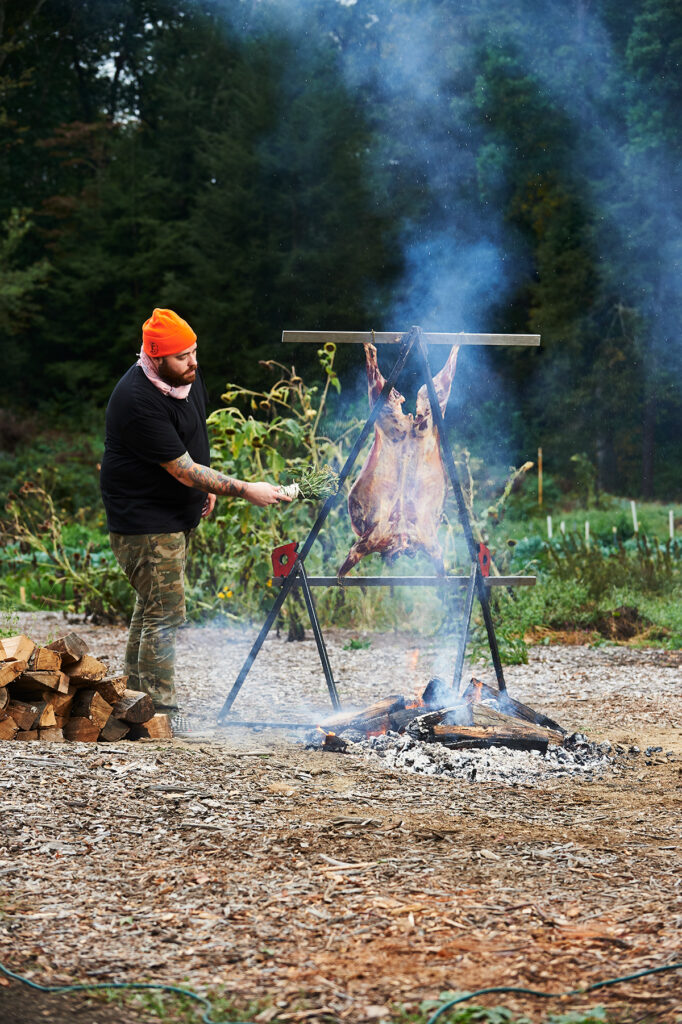 Christian Petroni started in the restaurant business as a DJ, and he still experiences the world through the context of sound. When speaking of his plans to construct an asado Argentino outside his new Yonkers branch of Fortina, he says, "Wood does so much: It cooks, it perfumes. It's the soundtrack to a room."
Fires will be running at Fortina, Yonkers during all seasons. And, like a soundtrack, they'll be setting the vibe. Petroni hopes that the restaurant's courtyard will become a gathering place, and its fires will telegraph (at a distance, like the Bat Signal) "that there's life here, things are happening—people are having fun."
Petroni recognizes the passion-inducing power of primitive. "One of these techniques that we discovered was the Argentinian iron cross for making lamb asado. It's intrigued me for so long. So, I called up Mikey Tables [Michael Steinthal, a Westchester restaurant furniture fabricator] who is just as batshit crazy as me. And while I'm still half-assed explaining this iron cross on the phone, he's already building it."This story originally appeared in our Winter 2017 issue.
Feature photo by Jennifer May.