Downstairs at the Whitney Museum of American Art's restaurant, Untitled, New York Times restaurant critic Pete Wells found plates that "throb with color" from "fruits and vegetables so ripe they're ready to pop."
It's not unlike what he would find in the galleries on the sixth and seventh floors, where we've culled a menu from the more than two-hundred works that represent a selection of the collection. These aren't inaccessible Malevich head-scratchers. They're representational works that invite the viewer to delight in the same "beauty and energy" on the walls Wells discovered downstairs on the plates.
We turned to Dana Miller, the Richard DeMartini Family Curator and Director of the Collection, for her selections of a feast for the eyes. Our bet is that they'll inspire you to plan a trip to the museum, sip a cocktail on the High Line and cut into a slice of pie at a diner downtown. This is New York, and anything is possible — just don't try to keep a kid's hands off Oldenburg's fries.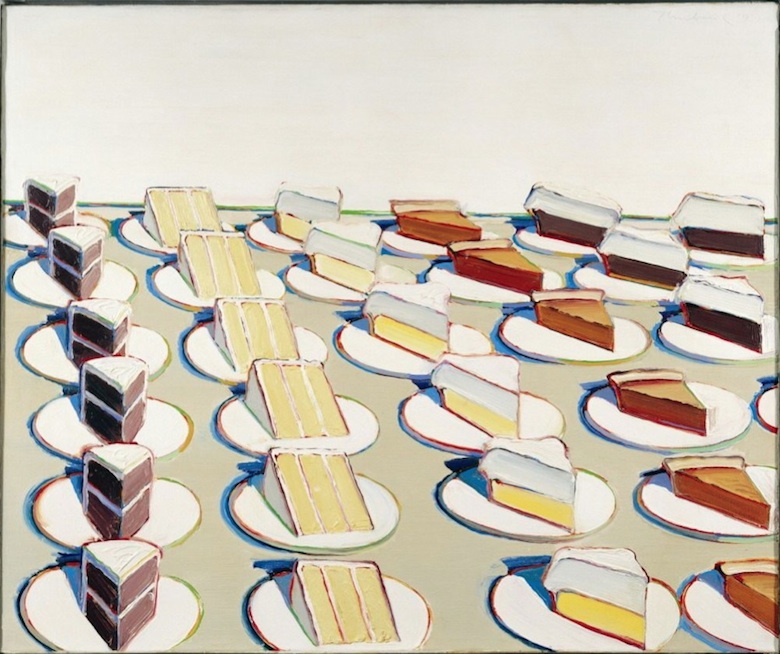 "Thiebaud painted his famous images of cakes and pies from memory and his imagination, rather than direct observation of actual desserts. He applied oil paint with thick, luscious strokes so that it resembles frosting or cream and the result with Pie Counter is a painting that is mouth-wateringly sensuous. Pie has many rich layers of associations in American society, as evident in such phrases as 'Mom and apple pie,' 'pie in the sky,' 'pie in the face,' and so forth. By choosing a subject with such rich layers of cultural meaning, Pie Counter becomes an observation on the collective desires of American society."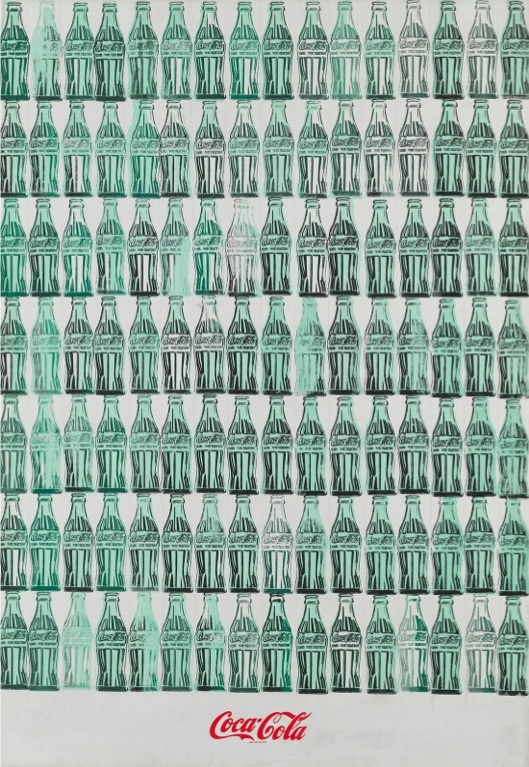 "For Andy Warhol, a product such as Coca-Cola was the ultimate symbol of America's democratic ideals. As he explained: 'What's great about this country is that America started the tradition where the richest consumers buy essentially the same things as the poorest… the President drinks Coke, Liz Taylor drinks Coke and just think, you can drink Coke, too… The idea of America is so wonderful because the more equal something is, the more American it is.'"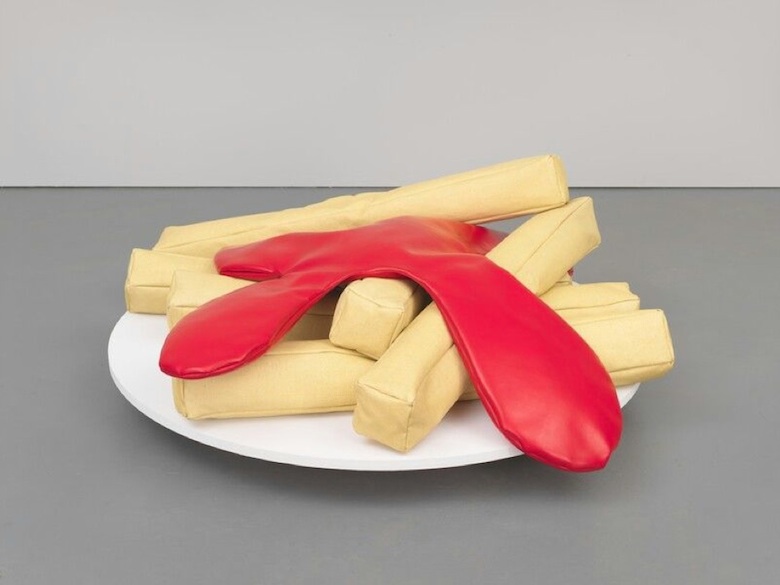 "Oldenburg began making soft sculptures of everyday items in the early 1960s. As he once said 'Nothing is not worth looking at.'  The fun of installing this work is that you get to decide how to display each element — how to stack the fries and place the ketchup. Oldenburg often made sculptures with multiple components and he embraced the idea that the works had to be composed anew each time they were shown. Understandably this is one of the works we have trouble keeping kids from touching when it's on display in the museum."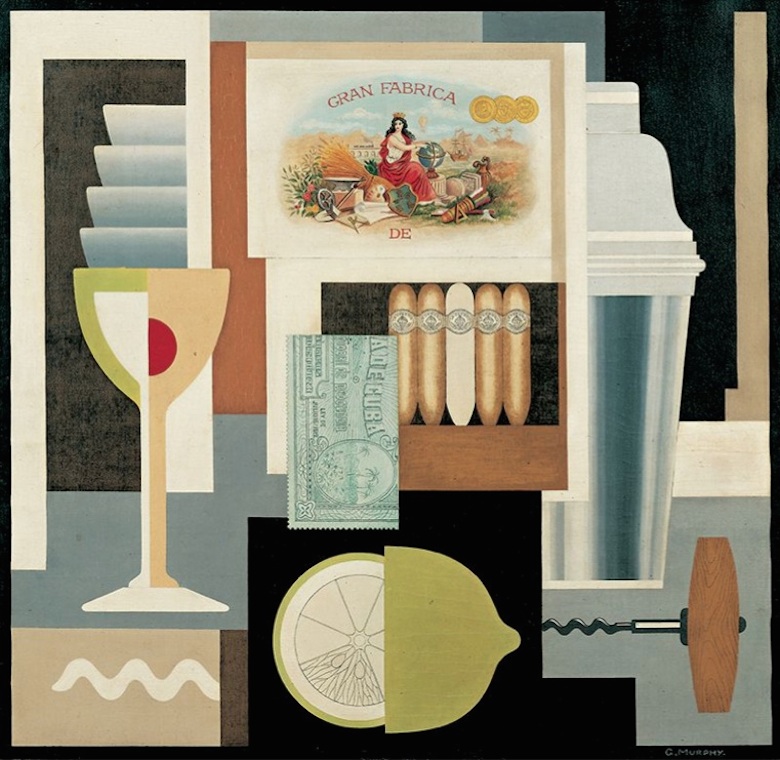 "The son of a self-made American millionaire, Gerald Murphy moved to Paris in 1921 and settled into a glamorous social life with other expatriates such as Cole Porter and Ernest Hemingway. Murphy produced fewer than fifteen paintings during his short artistic career, and only seven are known to have survived. He made this work while residing in France at a time when cocktails were considered a quintessentially American invention (Murphy was famous for serving them to his guests). The dynamic collage-like composition interconnects a lime, a cork screw, Cuban cigars and bar accessories."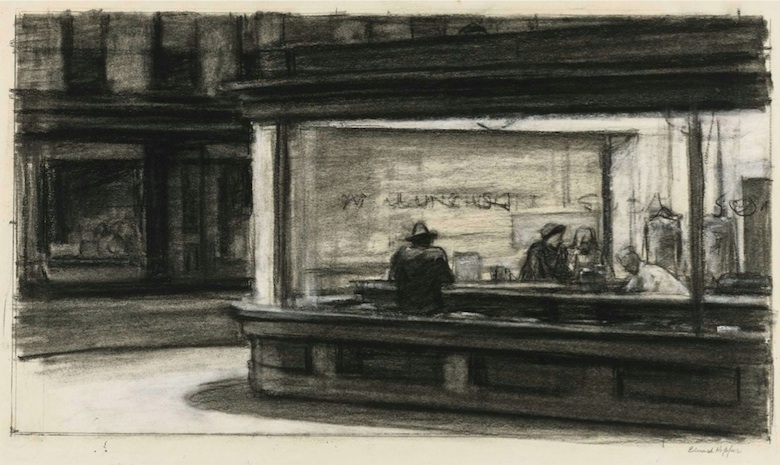 "This is a study for one of Edward Hopper's most famous paintings, Nighthawks, which depicts an illuminated diner at night.  Hopper used the model of several different eateries and diagonal intersections in lower New York City to create the fictional diner pictured here. He also spent countless hours studying and sketching coffee urns, salt shakers and the other details of restaurant interiors, along with the customers that inhabited them. As viewers we have an acute sense of voyeurism as we observe the figures through the window from the dark night of the exterior."
Hungry for more food-themed museum tours? See our very brief tour of the Met here.