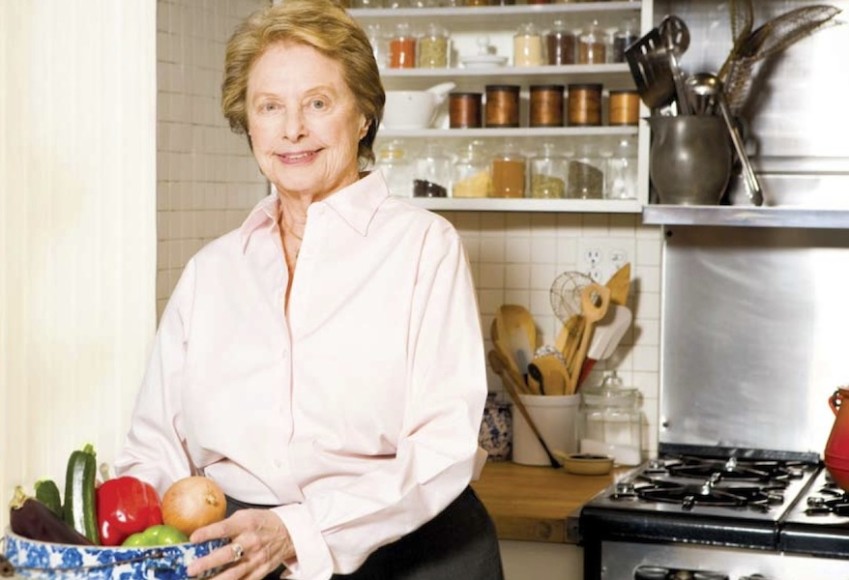 Our guess is that most people would struggle to just name 1,000 foods, but when legendary food writer and lifetime New Yorker Mimi Sheraton tried, her main challenge was whittling down her options.
Her latest book, 1,000 Foods to Eat Before You Die, which took ten years to write, is a love letter to many dishes and ingredients that Sheraton has encountered throughout her illustrious 60-year career. 
While it may seem impossible to taste each dish that Sheraton has so lovingly described (she admits to only having eaten around 90 percent of the entries herself), she spares no details when it comes to describing the flavor, texture, history and terroir of a given entry. That alone can be just as satisfying as tasting it for oneself — well, almost at least.
We recently spoke with her about the book:
Edible Manhattan: What made you want to write this book?
Mimi Sheraton: I had seen 1,000 Places to See Before You Die, so I called Peter Workman (the publisher) and he said let's talk about it. After a few months of negotiating, we had a deal. The book was supposed to be delivered in two years, but it took ten.
I started making a list of foods. I had close to 1,800 things, and then there were other dishes and ingredients that presented themselves along the way. Part of the whittling process was making sure there was a global representation. I really feel that everyone should be able to sample the world before they die.
EM: Did all of the food ideas come from things you have eaten?
MS: I've had about 90 percent of the entries. Some of the entries are places but most are ingredients or dishes. Many were inspired by movies and cinema. The Bicycle Thief, for example, inspired many meals. La Grande Bouffe is another one. It's a French film about three rich bachelor Frenchmen who attempt to eat themselves to death. One of things they made is lamb roasted over fire — it just stuck in my mind.
EM: How would you describe American food culture?
MS: I think the food culture of America is an ever-changing recipe. New ethnic groups bring their food to this country. Add that to mass communication: TV, movies… all of this is part of what American food is. 
The only real American food cuisine is the regional cuisine. To me, the most interesting regional cuisine is in Louisiana. It is rich and complex and seems to me to be always right. West African and Ethiopian cuisine are, I believe, going to be the next big thing in food. Much of the food of Louisiana originated from West African slaves who brought over ingredients like okra, which is a main component in gumbo.
Other than clam chowder from New England, which is definitively American, I would say that the United States has a constantly changing cuisine and I'm very happy about that. We don't want to ever say, "this is it." That's not what our country is about."
EM: What changes have you seen occur in New York food culture throughout the years?
MS: Well, there have been tremendous changes in New York in terms of the cuisines that are available and in terms of the ingredients that are available. As a kid, if you went to a vegetable market the only lettuce was iceberg, maybe romaine, and you never found fresh herbs like parsley and dill except in an ethnic market. Now you can get everything on Amazon.
Another major change in my lifetime has been the amount that people eat out — from McDonald's to Per Se. This is partly because more mothers are working. People didn't just run out before. We had some restaurants: kosher delis and Chinese restaurants, but that's about all. In downtown Brooklyn there were a few Italians but no one other than Italians had heard of pizza before World War II. After World War II, air travel became possible and soldiers began to talk about tastes they had abroad. Suddenly all of these new ingredients and cuisines began to appear.
There was a period in the mid 1970's when the Cuisinart come on the scene, and I can remember reviewing cooking classes and there were people who had to have pasta machines and ice cream makers. That ended up fading away and pretty soon they started eating out. More and more restaurants are doing take out too… that I think is the biggest change — the amount of eating done outside of the home.
EM: What trends in cuisine have you seen come and go in New York?
MS: We used to have a huge amount of Eastern European restaurants on the Upper East Side. Not one of those is left. We had more authentic French bistros around the theater district and more Russian and German restaurants in Yorkville that served big game meals and there were great bakeries that no longer exist.
Japanese was not a cuisine that people wandered into. It was surprising to me that you could get Americans to eat raw fish. I think part of the reason was that it was fashionable and came around at a time when people became cholesterol conscious. 
I think it is too bad that so many delis are disappearing. There are not nearly as many as there used to be. I think what has been really been lost are the Jewish dairy restaurants but I also think it was the style of service that didn't appeal to everyone. It was not elegant and came with a certain amount of shtick.
EM: What are your favorite restaurants in New York that have survived the test of time?
MS: The Palm, certainly. The original Palm has been there has been there for 90 years. Rao's I love when I can get in, but I still get to go there occasionally. Da Silvano is 40 years old now. I still remember when it opened. They do something that continuing clientele likes and something that appeals to a new group. Usually a place that sticks by its own classic rather than something that is always changing like molecular gastronomy is less likely to have stayed. Ultimately, it's the food memory that brings people back. 
EM: What are some of your other favorite restaurants in New York to eat at?
MS:  I like Sandro's on 81st St. where they do Roman Italian cooking. I like The NoMad and Eleven Madison Park. I particularly like the restaurants of April Bloomfield. For steak, I like The Palm. For Szechuan I love Wu Liang Ye. They have the best Szechuan food in the city. For sushi I love Soto, Sushi Nakazawa, En Brasserie and Brushstroke.
EM: How about some of your other favorite places in America?
MS: I love to travel to New Orleans and I would go Galatoire's first and then visit the restaurants of John Besh, Susan Spicer and Emeril Lagasse.
In San Francisco, I love Piperade. I would not go to San Fran without visiting Benu and I also like Zuni Café.
In Chicago, Alinea was a revelation and of course, the restaurants of Rick Bayless.
In Boston, Oleana is a wonderful sort of Middle Eastern Mediterranean restaurant and I like Summer Shack from Jasper White.
In Charleston, I love the Hominy Grill.
In Austin, I like all the BBQ. I go to Kreuz in Lockhart. I love the spirit and the people there.
EM: Who should read this book?
MS: Well obviously food lovers and people who love to travel and want to know what to look for; people who are interested in other cultures and people who care about food. Food and travel are the big things right now and this book is good for people who want to know what everybody else is talking about.