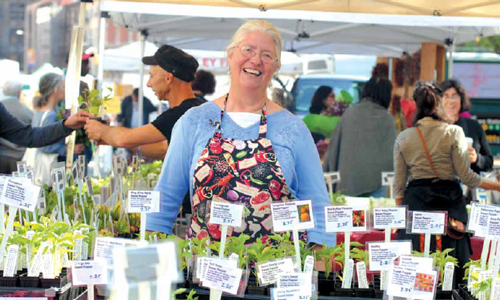 Farmers market fare is often hailed as "slow food," but Trina Pilonero's might be the slowest around. The stuff she sells every Wednesday and Saturday at Union Square won't be eaten for weeks or even months.
That's because Trina sells seedlings. A few dollars will afford you some fledgling fennel, inch-tall pea plants and newly sprouted red scallions hardly thicker than hairs. In return for a tiny investment in time and attention, eaters willing to wait will reap seriously special produce as well as the invaluable experience of watching sunlight and soil yield your eventual dinner. It's delayed gratification, but flavor favors the patient.
Sure, scores of Greenmarket farmers sell seedlings, but Trina's are in a class by themselves. While others offer garden-variety standbys, Tina has spent 25 years working to revive and promote varieties that you never see at the supermarket, and are even little-known at farmstands. A banner at the back of her tent advertises "FUNKY ORGANIC HERBS" and her seedling catalog features breathtaking biodiversity, from three dozen kinds of cucumbers to three hundred types of tomatoes, all sprouted in her Catskills greenhouse and sold in seedling form. She can tell you the history of every one, whether it hails from Hungary or Hawaii, and specializes in species that are often very old, sometimes very rare and always open-pollinated — that's botany-speak for plants whose seeds, unlike those of commercial hybrid varieties beloved by industrial agriculture, reproduce "true to type" and thus can be saved and replanted for generations.
Although Silver Heights is based up in Sullivan County, silver-haired Trina has curated a lineup uniquely suited to city life. While she steers Manhattanites with only airshaft light away from tomatoes and peppers, she's found many heirlooms that are perfectly happy in a sunny skyscraper or south-facing studio, like dwarf peas and tabletop lettuce planters. Some new New Yorkers, transplanted here from other countries, request her help finding varieties unknown stateside, sometimes bringing her seeds to coax into crops that taste like home.
While selling seedlings is her liveliehood, Trina gladly shares her would-be trade secrets, teaching anyone the millennia-old practice of DIY seed saving. Her catalog includes complete instruction on harvesting your own seeds, and she's led seed-saving workshops for urban gardeners through GrowNYC's Greening program, empowering her best customers to cut her out of the process. It might be counter to her business interests, but after decades spent sprouting seeds, Trina's ultimate objectives are in the soil of culture: planting ideas and cultivating agricultural knowledge wherever it can take root.
A version of this profile appeared in The New Greenmarket Cookbook (Perseus, 2014).