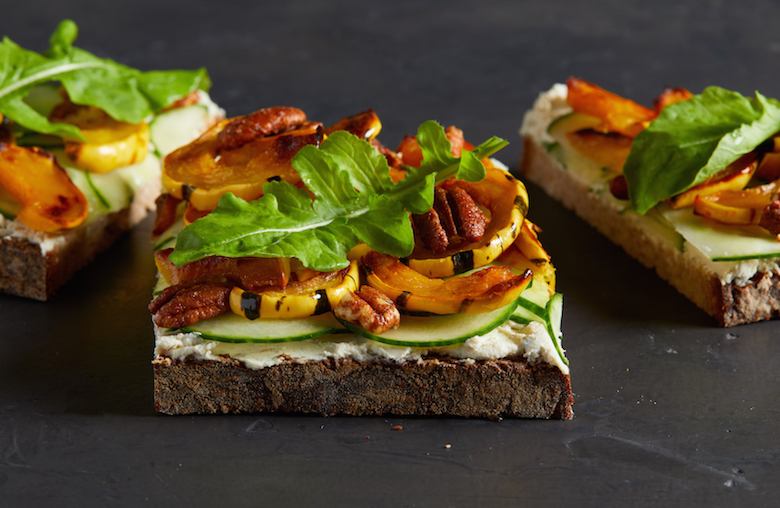 This September, Le Pain Quotidien is rolling out a seasonal and environmentally minded fall menu, filled with cranberries and pumpkin. The new dishes are also inspired by global communities and use a combination of fruit and veggies that are easy to find during this time of the year, as well as Mediterranean ingredients like faro and feta cheese. 
One dish for the new menu is a plant-based egg frittata made from Just Egg instead of chicken eggs. The frittata feels like a slightly fluffier version of the dish, and the subtle flavor works really well with the chunks of pumpkin. Neither flavor overpowers the other and a serving is so filling—perfect for getting through a midday slump. It would work well with a side of the seasonal organic turmeric bread. The spice complements the creaminess of the frittata. 
Another dish that will really hit the spot for the colder parts of fall is the Ancient Grain Shakshuka. It's made with farro, organic eggs, tomatoes, feta, avocado and harissa. It's the perfect bowl to share or to just eat in one sitting. But the star of the fall menu is the Giving Thanks Tartine. It's a Thanksgiving-themed dish with turkey, roasted butternut squash, cranberry-harissa chutney, arugula and chestnut crème spread out on toast. There's a lot of color and texture on this open-faced sandwich that makes it so much fun to eat—and the cranberry-pumpkin combination is a classic complement to turkey, of course. Ten percent of proceeds from the tartine will go to the Make a Wish Foundation. 
In addition to their fall fare, Le Pain Quotidien is also selling a pumpkin-spiced latte that's flavored with actual organic pumpkin puree sourced from Oregon's Stahlbush Island Farms. No syrup here.