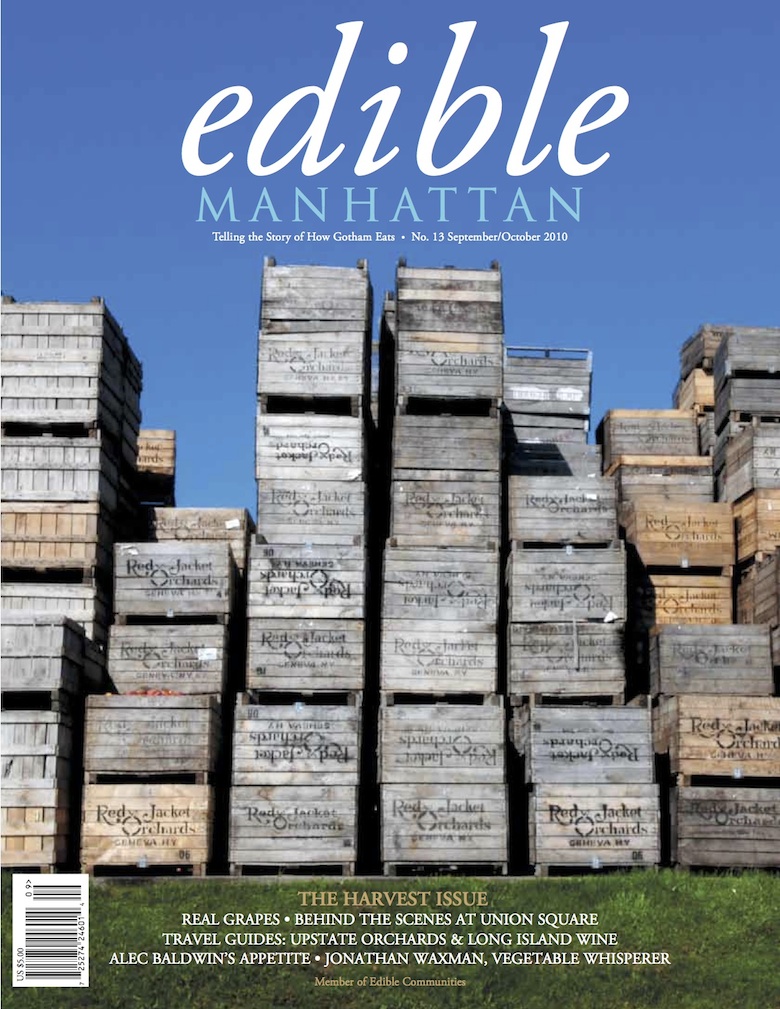 As you may know, Edible Manhattan is one of over 60 Edible publications to blossom across the nation, each shining a loving light on its region's local food scene. When we launched our urban incarnation two years ago, some people asked how a magazine about eating in the concrete jungle would fit into a family that covers foods from fields and forests. Admittedly Edible Manhattan might seem like the black-dressed sheep of the grassfed family, and I hear some of our covers—hot dogs on a paper plate, a bagel crowned with Russ & Daughters roe, meatballs shaped from conventional veal, and the Subway Inn's neon sign—have surprised readers accustomed to more common Edible cover girls: watermelon ripening on the vine, heirloom tomatoes in the summer sun, or a bushel basket of peaches so perfectly plump, the mere sight inspires me to both salivate and e-mail my elected representatives about the farm bill.
True, alongside heaping helpings of locavore love, this magazine covers historical food, dedicated DI Yers and the authentic eats in our proverbial melting pot. But as you're about to read, New Yorkers from soup kitchen clients to television stars relish harvest season. If you do, too, this issue is for you.
We've got leads on beautiful, handcrafted mead and the hands-down best grapes you've ever tasted; a report on an initiative to bring urban kids the real food gospel; a snapshot of Manhattan's WWII – era Victory gardens; a profile of the chef who brought Chez Panisse sensibilities to city palates 25 years ago; and a behind-the-scenes story shadowing the manager of the Union Square Greenmarket—reading about his 14-hour September Saturdays will both inspire and exhaust even the most dedicated market devotees. And while we believe New York City is one of the best places on earth to sink your teeth into local foods, this issue offers not one but two guides for fall field trips—to upstate orchards and to Long Island's wine country.
Our harvest celebration isn't limited to what's printed on these pages. September 26 to October 6, we're joining forces with Edibles statewide and GrowNYC to present Eat Drink Local week, during which dozens of participating chefs, farmers, brewers and vintners will host farm feasts, wine tastings, even an afternoon "Edible Institute" at the New School. If everyone joins in, the Big Apple could become an island known as much for rooftop bees as for sewer alligators.
At Red Jacket Orchards in Geneva, NY, crates of fall fruit destined for the Big Apple. Cover photo by Carole Topalian.