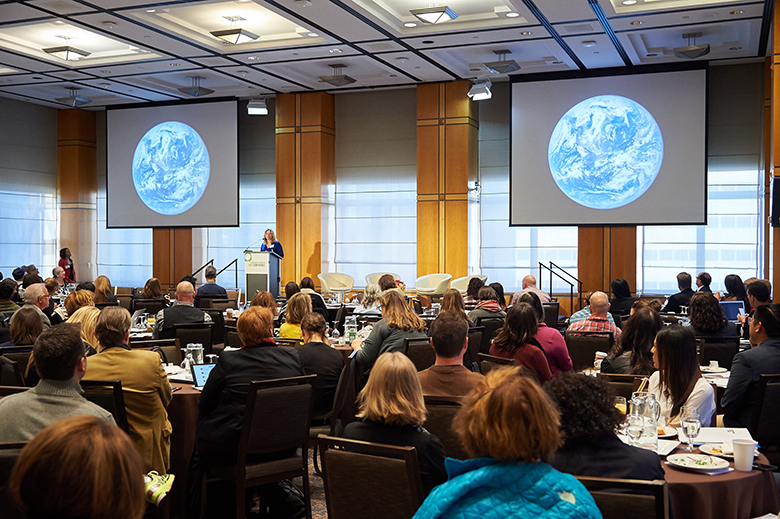 The James Beard Foundation Food Conference returns this October 17-18 for its 7th annual gathering of food industry leaders. The two-day conference, once invite only, this year opens its doors to the public to explore the theme: "Now Trending: The Making of a Food Movement."
Where do trends come from and why do some fall away while others go on to become social movements? How can one take the spark of fresh enthusiasm and build it into a flame that ignites a movement?
Through a lively series of presentations, conversations, panels, debates and workshops with notable figures in the food industry, the conference hopes to "explore the genesis and life cycle of trends and apply that knowledge to food-system issues." Attendees will walk away with a better understanding of their own role in food trends as well as how to apply these insights toward the success of their own food enterprises.
Structured in three parts, day one of the conference kicks off with "Setting the Table: Understanding Trends and Movements," which looks both inside the food industry and out, venturing to explore trend trajectories in design, tech and fashion as well as findings from the field of trend forecasting. That afternoon, understanding segues into action as part two explores "Motivation to Move," which considers how to mobilize trends into social movements. The final day concludes with "Cohering a Food Movement: Case Studies," or best practices for keeping the movement strong and lasting.
Attendees can look forward to insights from and spirited debate with Small Planet Institute director Anna Lappé, New Yorker writer Bill Buford, restaurateur and former Condé Nast editorial director James Truman, Freedom to Marry's Evan Wolfson, former Obama administration senior food policy adviser Sam Kass, Slow Food USA director Richard McCarthy, Coalition of Immokalee Workers co-founders Greg Asbed and Lucas Benitez and author, activist and academic Raj Patel, among many other inspiring and inspired individuals.
Coinciding with the conference, Monday night the James Beard Foundation will host the 2016 JBF Leadership Awards ceremony and dinner, which will recognize excellence in the field by five outstanding food activists fighting for food justice around the world.
Tickets are on sale now for both the conference and the leadership awards, with packaged ticketing available for those who wish to attend both. Early bird pricing is in effect through October 2 and seating is limited, so best to reserve now.
For those unable to attend, a virtual experience is available via conference livestream at: jbffoodconference.org.
James Beard Foundation Food Conference
Convene Conference Center
730 Third Ave. (at 45th St.)
October 17 and 18, 2016
JBF Leadership Awards Dinner & Ceremony
Hearst Tower
300 W. 57th St., 44th Floor
October 17, 2016