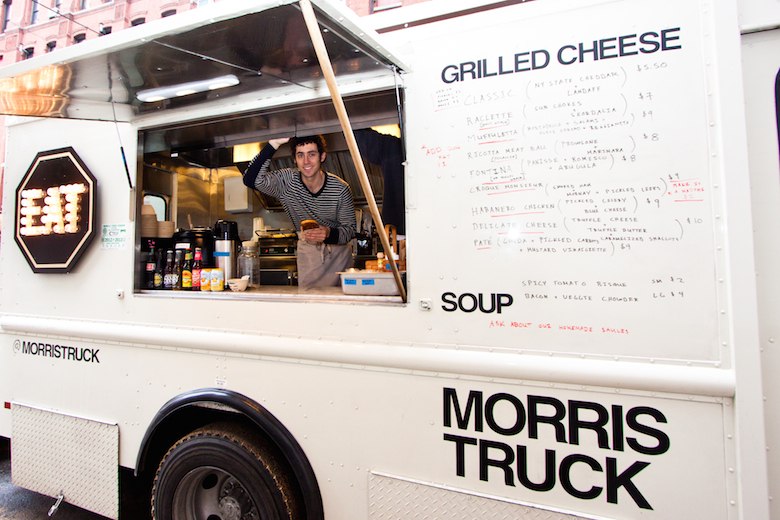 Mike Jacober might have named his not-quite-year-old grilled-cheese truck after his great-grandfather Morris, a Russian immigrant who hauled a produce cart, but his sparkling white vehicle is more Slow Food than Sammy's Roumanian.
It's not just because of Morris Truck's ever-changing field-to-wheels menu—a nutty Vermont raclette grilled with sunchokes and homemade skordalia; focaccia with feta and ginger pea pesto, or caramel-kissed Gouda paired with pâté, pickled carrots and mustardy vinaigrette—but its philosophy. Jacober went to restaurant management school at Penn State; staged in Paris and at Per Se; helped Marco Canora open Insieme in Midtown and counts his most formative kitchen as the one at the back of the simple but stellar market-driven pizzeria called Franny's over in Brooklyn's Prospect Heights.
Jacober and his executive chef Chris Austin—yep, this truck has an executive chef—met there on the line, where they sharpened their skills in the locavoric art of Find the Best Ingredients—be that a cheese, a cured meat, a root or tuber—And Do Very Little to Them.
"I knew I wanted to have a menu that resembled that back station at Franny's," says Jacober, referring to the tubs of pickled fiddleheads or baby turnips or green garlic confit that might've popped up day by day. "I'd leave on Tuesday and come back on Friday," Jacober recalls, "and the menu would be totally different."
Morris now also lives by the Greenmarket muse and, thanks to its mobility, stocking the truck—an old NYPD paddy wagon prepared with help from a 2009 article in New York Magazine called "How to Start Your Own Food Truck"—is easy. On Fridays Morris is parked alongside Union Square, and Jacober just loads him up before he drives home to their commercial kitchen and parking space in Maspeth, Queens. (In summers, the truck also scores produce from the Queens County Farm Museum, where Jacober's girlfriend is the head farmer. A former apprentice at Stone Barns Center for Food and Agriculture, she was also a formative influence, sneaking him into occasional staff rap sessions led by Blue Hill chef Dan Barber.)
The Morris Truck now splits its time between Manhattan and Brooklyn, hitting Murray Hill on Tuesdays and the Financial District on Fridays, with a short-list of sandwiches going for $5.50 to $10. Jacober mainly leaves the menu-making to Austin, though he still helps with the cooking: They prep a stack of "classics" (New York Cheddar and buttery New Hampshire Landaff); make ricotta meatballs; blend up ramp butter, slice cured meats and do plenty of pickling, stocking nearly a dozen varieties of brine on hand at any given time.
Jacober's favorite, by the way, would probably please the real Morris: It's chef Austin's riff on a Reuben, made with dilly Russian "tartar" sauce, corned beef and his own pickled Napa cabbage.
Street cred: Mike Jacober cooked at Per Se and Insieme before turning a retired NYPD truck into a Greenmarket-minded grilled cheese machine. Photo credit: Vicky Wasik.