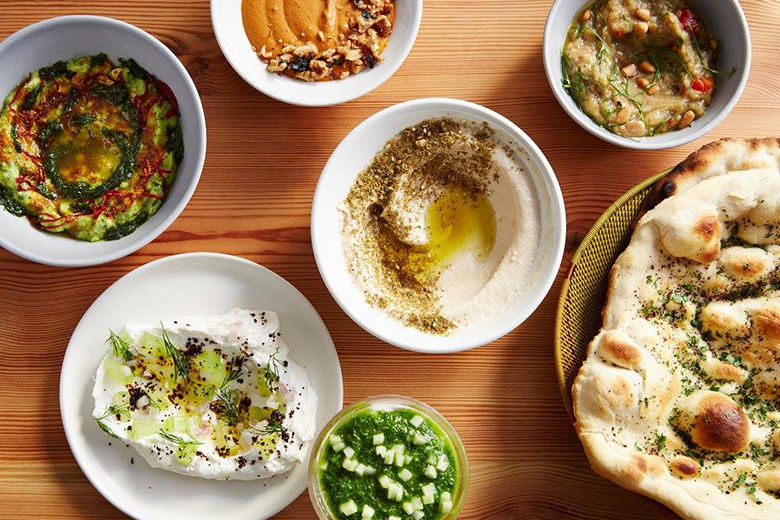 Once must venture a bit beyond Union Square's official borders in order to find food and drink in a less crowded atmosphere, but that's ok: There's nothing wrong with a quick walk. Here, the spots that answer the oft-asked post-work drinks question, "Is there anywhere to meet up near Union Square?" as well as spots to eat.
https://www.instagram.com/p/BzWKKRMFX3b/
Black Emperor
197 2nd Ave.
This bar begs the question of whether a dive can just be born that way, because it was born a dive but has a Toki highball machine, which turns out the most perfect whiskey sodas one can drink, and the staff can make you whatever cocktail you like—but they don't show off about this, and Tecates are not frowned upon.
https://www.instagram.com/p/Bzdj2zRHlLB/
Breads Bakery
18 E. 16th St.
Where babka reigns and everything else is great, too. With a bread counter up front and sandwiches, soups, desserts and coffee in the back, it's a great spot to run into when there are meetings in the area to attend to.
https://www.instagram.com/p/BzV0tTlFKM0/
Dear Irving Gramercy
55 Irving Pl.
If you're feeling fancy, head to the now-classic cocktail bar Dear Irving, which also has a new Times Square location. One might want to make a reservation if heading in at a busy time to enjoy cocktails categorized by flavor profile, from floral and citrusy to spicy mixes to sugarcane-driven styles. There's a menu of toasts and small plates, with a focus on caviar, to satiate any hunger pangs.
https://www.instagram.com/p/BXByI6lFtkp/
Han Dynasty
90 Third Ave.
This most solid of go-tos always comes in handy in a pinch when in this area, but it's technically in the East Village. Enjoy the Philadelphia export serving Szechuan cuisine, which has a few locations now, by picking the spice level tolerable, up to 10. The dan dan noodles (available with or without meat) and hot sauce style tofu are not to be missed.
https://www.instagram.com/p/BzHijVwhoFn/
Nix
72 University Pl.
This vegetarian and vegan restaurant from chef John Fraser serves some of the best and most inventive plant-based cuisine in the city. Get tandoor bread with a range of dips, English pea dumplings, tofu-skin pockets filled with sweet potato and tomatillo-pepita salsa, and don't leave without ordering dessert.
https://www.instagram.com/p/BX8SuLfhQYh/
Old Town Bar
45 E. 18th St.
This bar from the 19th century still has all that old-school feel and gets packed out with an after-work crowd, but it remains a go-to in the neighborhood for a pint when there's seating available, and when one's in the mood for some old-school bar fare, the menu delivers.