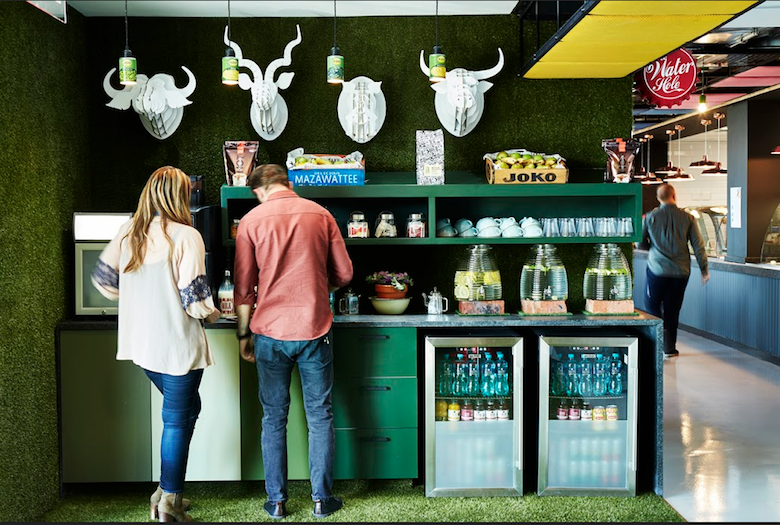 Editor's note: Today, we're thrilled to share more details about our upcoming Food Loves Tech event! Be sure to follow along as we unveil additional news on our website, Twitter, Facebook and Instagram in the coming weeks. And if you're serious about joining us, grab your ticket while you can.
WHAT
Food Loves Tech (FLT), a first-of-its-kind innovation expo coming to New York City in June, announces the #makefuturefood competition (here are the rules) in partnership with The Food Team @ Google. In advance of this summer's expo, FLT is inviting the food tech community of food innovators, designers, futurists and dreamers to tell us, what is the future of the corporate pantry or workplace food?
"At Food Loves Tech, we understand that the future of food lies in the hands of the next generation of food production, supply, consumption and experiences. We also understand that it will not solely be built on advanced technologies, but by the imagination, guts and guile of the creators who are leading the charge," said Brian Halweil, editor in chief of Edible Manhattan.
All organizations, small and large, are challenged with ensuring their staff eats well throughout the workday. The goal of #makefuturefood challenge is to identify what the ideas, software, hardware and design solutions are that make the business-eating environment better for health, sustainability, productivity and community.
"The Food Team @ Google is committed to inspiring and enabling the world to make food choices and to use food experiences to develop more sustainable lifestyles and communities. This year, we are thrilled to join forces with Food Love Tech to reimagine and co-create a more innovative and responsible future for our global food system," said Kim Huskey, Food Service Manager—Americas at Google.
WHEN
Submissions are being accepted through May 22, 2016 at 11:59 p.m. The #makefuturefood committee will evaluate submissions and select ten semi-finalists who will be invited to present their concept in New York City on May 31, 2016. One winner will be chosen and invited to present at the Food Loves Tech Expo at the VIP opening night reception on Friday, June 10th.
WHO
Determining the semifinalists and winners will be an esteemed panel of judges including: Gary Vaynerchuk, CEO of VaynerMedia; Brian Halweil, Editor-in-Chief of Edible Magazine; Kim Huskey, Americas Food Services Manager, Google; and Dr. Irwin Adam Eydelnant, Creative Scientist, Future Food Studio.
HOW
All contenders must submit electronically at foodlovestech.com—here are the rules. Questions about eligibility or application details please contact: makefuturefood@foodlovestech.com
MEDIA CONTACT