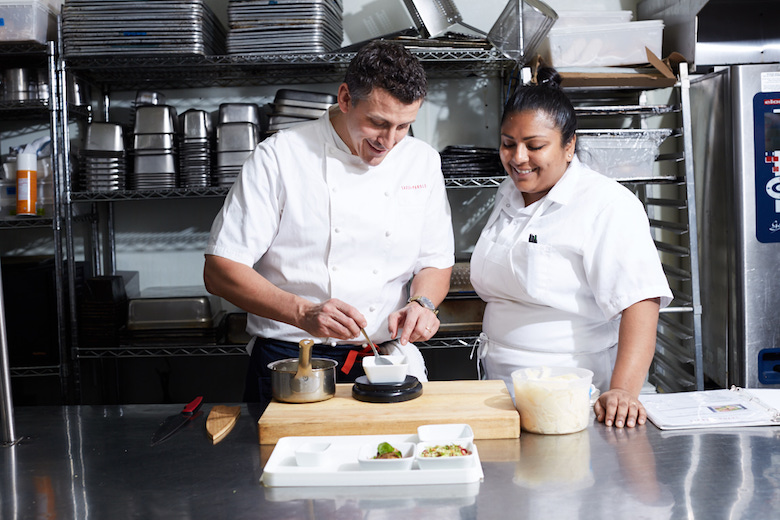 In 1873 New York, stables lined the Bowery all the way to the Lower East Side. In the coming decade, two sassy steeds with the same owner earned fame because of one's unlikely success as a racer and the other's impressive looks.
Chef Brad Farmerie of the eponymous Bowery restaurant speaks of this history like he speaks of the food he makes. "Saxon," says chef Brad, "was a horse that was gorgeous, statuesque." In contrast, "Parole, nothing beautiful, stubby and short, went on to win everything." The two form the namesake for an eatery that keeps beauty and humbleness center stage, while also throwing its chef's hats into a race to keep reinventing. (The restaurant now offers a "bleeding" plant-based burger by Impossible Foods.)
It's the history of horses Saxon and Parole—making the unexpected into something new—that made me smile when I learned of the restaurant's exceptional food partnership with JetBlue. They're changing the idea of local, in the sense that they're taking it 40 thousand feet vertical as opposed to horizontal on the food map.
Since 2014 the Bowery Restaurant has had "99 percent creative control" (chef Brad's stipulation) of JetBlue's Mint dining experience. For those of us coach rats with dreams, JetBlue's Mint is an affordable business class for which everyone pays a flat rate to experience (it's in the $600 range instead of the thousands).
Saxon + Parole, Mah-Ze-Dahr pastries, Blue Marble Ice Cream and coffee from Brooklyn Roasting Company contribute to "the best in market product," which is in line with chef Brad and JetBlue's original conception: celebrating local New York vendors. JetBlue's size and youth have made it possible to work with someone like chef Brad to change the common experience of sad airplane food; unfortunately, thousands of dollars for a first-class seat have yet to break this mold in the larger airlines. Chef Brad has.
The JetBlue team identified Saxon + Parole after a search for a New York City restaurant that matched their idea of  "comfort with a twist." While other stars' names were pondered, Brad earned the gig because he's expert at a balancing act. Saxon + Parole would occasionally need to be without him in the kitchen so he could train chefs in commissary kitchens at airlines. "We also wanted someone who wasn't a mega brand, who could stamp their name on the project, collect a check and disappear," mentioned JetBlue vice president of marketing Jamie Perry. "Brad offered a meaningful commitment of time, effort and resources to create the program that he and we wanted."
Brad's side: "Most of my partners warned that so many had tried to change this. I was hesitant, too. I had never been involved with airline food, so I thought, 'The only way I'll do this is if we develop the relationship in a new way.'" What's remarkable is that both JetBlue and chef Brad hadn't yet done a culinary airline service (Mint wasn't around and food on JetBlue was served à la carte). Each approached the collaboration with a blank slate, which to the creators' minds was already a plus: They could intervene in a decades-long airline approach of "it has to be done this way." Take for example a sandwich with roast beef, pickled onions, watercress and muhammara. Or pancakes, crème fraîche, pomegranate seeds and maple-glazed bacon. This isn't sodium chloride mush pie.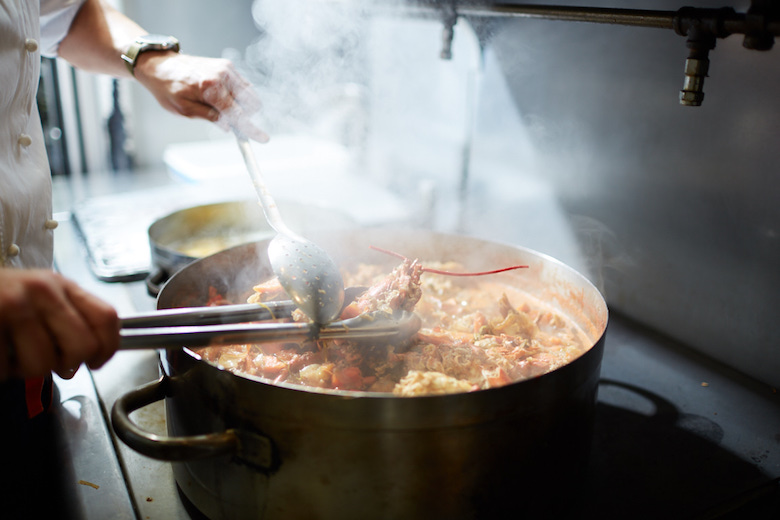 Because legacy airlines' meal production is large (and must be traceable for insurance purposes, e.g., beware the double whammy, airborne foodborne illness), the ingredients from where they source are usually produced in bulk to meet regulation and demand. JetBlue, however, sources from the purveyors that give Saxon + Parole its unique flavors. "Obviously though," chef Brad quipped, "shucking oysters and getting out the smoker at 10,000 feet is probably not possible." Notice the "probably." So how do they keep true blue to the Saxon + Parole identity, while making sure that oxygen masks don't drop automatically during the food preparation?
"We always want to capture charring and grilling, so we'll smoke or char meats on the ground and then reheat onboard," said chef Brad. Additionally, "using spices like paprika or dukkah," sourced from New York spice blender La Boîte, instead of  airlines' usual method of salt the hell out of it, both refreshes the palate and makes one's post-flight enjoyable instead of a fast dash to the terminal bathroom.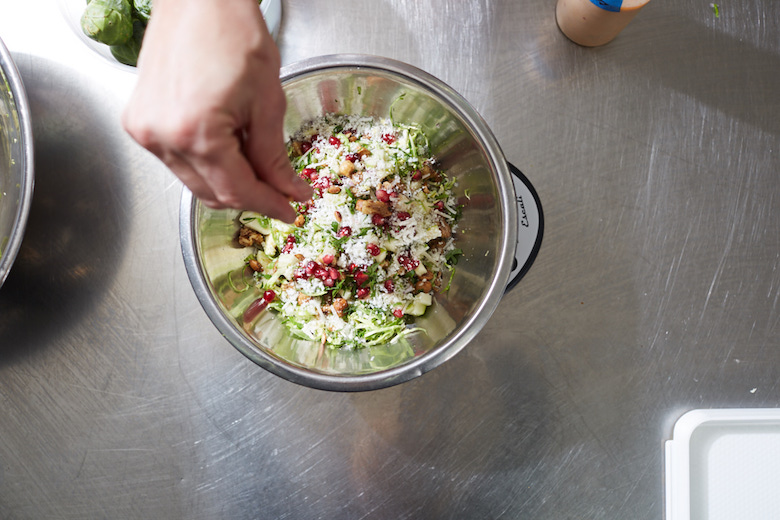 While visiting a tasting at Saxon + Parole with the JetBlue team, chef Brad and chef de cuisine Nicole Gajadhar, I learned that high altitudes deplete about 30 percent of taste and smell. The chefs have to keep such constraints in mind while developing new menus. Enter the day's test, a pea and watercress salad, which has "a natural spark to it." No salt. Or a burger sourced from Pat LaFrieda. No salt. "We're calling all these names out on the menu," says chef Brad, "to start a conversation about the New York food scene. And people flying are loving the chat."
Flying starts to look like a visit to some of the city's best shops and cafés instead of a walk through the frozen food section, which is the greatest change Saxon + Parole has advocated for. The ingredients are traceable, and the meals are made at an airport's commissary kitchen two to three hours before the flight, moved a maximum of five times. A "movement" in airline-speak refers to a touch: a flight attendant's movement of a patty to a bun is one touch, one movement.
While Brad has visited the commissary kitchens, he's also invited airline cooks to Saxon + Parole where they learn and plate together. "This is an extension of my restaurant, not an out-of-proportion enterprise…. We said the day we launch we want it to be day one of a new history, and we want fliers to remember that moment and return for it."
Over a century ago the English nicknamed the racer Parole "the Yankee Mule." As JetBlue and Saxon + Parole continue to make new histories in a new century, it's time for a new nickname. 
Parole, I'm curious, how do you feel about "the Pegasus?"