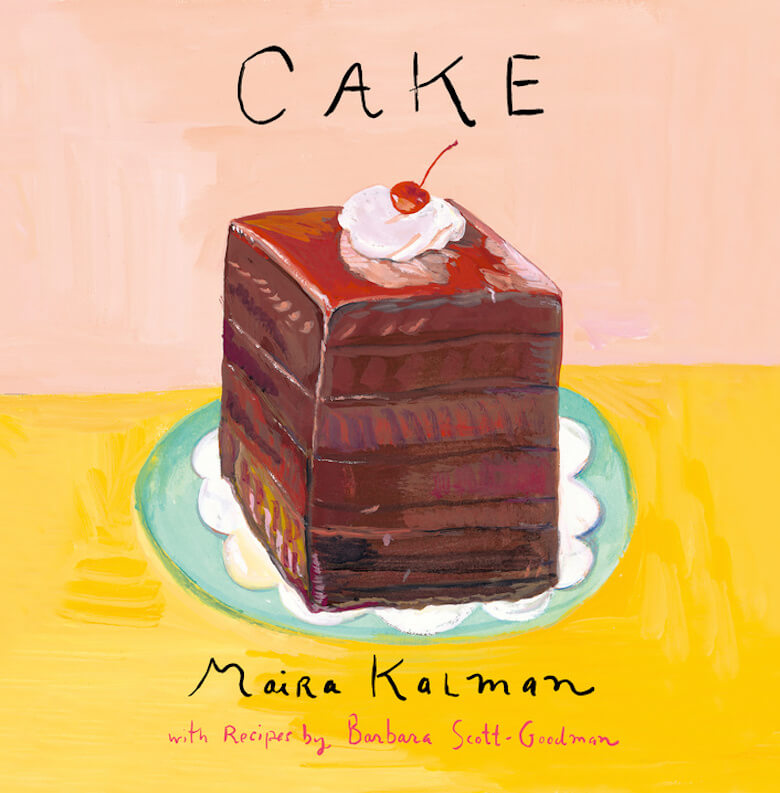 Cake is as much about its components—the frosting, decoration, crumb—as it is about the memory of why you got to eat it: the birthday, holiday, funeral. For Maira Kalman, author of the instant-heirloom illustrated cookbook Cake, homemade cakes are the best ones—"you know, the ones where the layers are a little lopsided and the frosting looks like the kids or grandkids were helping out in the kitchen," she writes in the introduction.
That said, it's not as if professionally-crafted cakes don't also transfix her. She's been known to gaze into a bakery window and oogle at the pros' handiwork: "I am in awe of their craft, talent, and precision," she writes. Sometimes, she even goes in. Here are 10 places that bake some of Kalman's favorite sweets—and sweet, sweet memories—in Manhattan:
Bomboloni from Tarallucci e Vino:

These precious spheres of sugar-coated fried dough can be filled with either jam, chocolate, or cream. Kalman chooses jam.

Chocolate Babka at Breads Bakery:

One of the first stories Kalman tells in

Cake

is of at day at the circus in Tel Aviv when she was a young girl. The circus was unimportant: that her grandma hobbled to the bus with a broken heel, and the kids chuckled at the sight, and then her grandmother made them a cake—probably babka—was the memorable part. While no babka can compare to a grandmother's, Breads's has always been one of the city's best: laminated dough that's stuffed until you can't stuff it anymore with chocolate filling.

The Devil in Ganache Cake at Mah Ze Dahr:

This is the consummate chocolate cake: two layers of intensely fudgy chocolate cake enrobed in whipped chocolate ganache.

24-Layer Chocolate Cake at Strip House: For a chocolate cake with bells on, there's the 24-layer showstopper at Strip House: 12 crepe-like layers of chocolate cake, 11 layers of rich chocolate filling, and a top layer of chocolate ganache.
Mille Crepes at Lady M.:

It seems Kalman has a thing for many-layer cakes. Lady M.'s delicate mille crepes features no less than 20 crepes layered with light custard: Kalman's favorite is the lemon.

Cheese Danish at Bouchon:

These cheese danishes don't resemble the flat pucks you might be familiar with—instead, they look more like a kouign amann, with a secret sealed inside. Bite into many layers of flaky croissant dough and you'll come upon a generous heap of sweet cheese filling.

Apricot Rugelach at Lee Lee's:

To try a superlative version of traditional rugelach—made with butter, instead of vegetable shortening—go to Lee Lee's in Harlem. No matter if you pick the apricot (Kalman's choice), chocolate or cinnamon flavor, expect a rich buttery flavor and a crisp caramelized bottom.

Apfelstrudel mit schlag at Cafe Sabarsky:

The classic Viennese cafe inside the Neue Museum has an apple strudel that's flaky, a little tart from the apples, and gloriously studded with raisins and walnuts. Get it mit schlag (with whipped cream) for good measure.

Pretzel Croissant at City Bakery:

But snoop around for a lemon tart, too.

Merveilleux of many flavors at Merveilleux de Fred: A merveilleux (marvelous) cake looks like a snow cone for pinky-raisers: It's built of two meringues sandwiched with whipped cream, then covered in more whipped cream and chocolate shavings. Kalman says you can't go wrong with any of the variations at Merveilleux de Fred, from The Magnifique (meringue and praline whipped cream coated with almond and hazelnuts) to The Incroyable (meringue and speculoos biscuit whipped cream coated with shaved white chocolate).
Illustrations by Maira Kalman and courtesy of Penguin Random House.
SaveSave
SaveSave
SaveSave
SaveSave
SaveSave