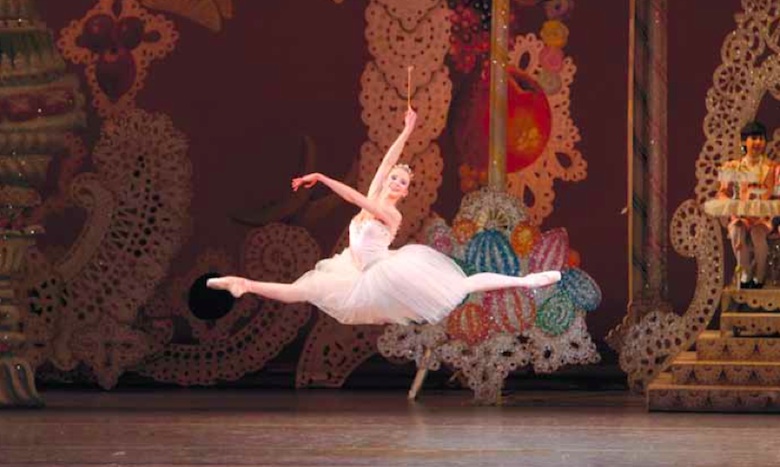 Sterling Hyltin never expected to be a ballerina. She was a Texas tomboy who says she eventually became interested in exactly one girly activity: ballet. Over time that tomboy grew up into a teenager so talented that at 15, she moved to New York to study at the School of American Ballet and live in the dorms at Lincoln Center with dancers from around the world. Ten years later, she stars in The Nutcracker, but don't be fooled by the tutus and satin slippers. Hyltin is true to her roots—especially when it comes to food.
Many people have the perception that ballerinas live on rice crackers.
I'd like to set that straight. Ballet dancers really appreciate good food. We exercise six hours a day so we can eat whatever we want. My friends and I eat junk food all the time, especially on Sun- day night. Well, not junk food, but Magnolia Bakery cupcakes. The French and Spanish dancers in our company eat [just as much as the American dancers], but maybe their taste buds fall more to their heritage, sort of like me and barbecue.
I grew up in Dallas, so one of my favorite places in New York is Hill Country BBQ. They have Kreuz sausage and their brisket reminds me of Texas. They have moist brisket and lean—the moist has the fat, which is where all the flavor is. I go with other ballerinas. We like to go on Sunday because they have big TVs playing football. Plus they have Lone Star Beer and Blue Bell ice cream—my favorite is cookies 'n' cream.
What fuels you when you're dancing?
The company does eight Nutcracker shows a week, and our day typically starts with warm-up class at 10:30 a.m., so I always make myself a big breakfast. Scrambled eggs with cheese, banana with peanut butter, maybe McCain's oatmeal with honey instead of brown sugar. I don't drink much coffee. Alice's Tea Cup sells a lavender Earl Grey that I love. I buy it loose leaf and make it myself at home. I also love grapefruit juice, I get it fresh squeezed at Whole Foods. And I drink Honest Ade, especially on days when I perform, because it's not overloaded with sugar. While I eat whatever I want, I do watch my sugar and caffeine intake before a show. If I'm doing a really controlled pas de deux, I need to eat things that are well balanced. The Kashi peanut butter bars have enough protein that I feel good. Or I'll just get half a turkey or roast beef sandwich at a deli. Or eggs and toast. Something where the protein and carbs are balanced.
What's for dinner?
I'm dancing six hours a day, so I'm hot and tend to eat lightly throughout the day, and by dinnertime, it's like I can't get enough food.
I need to do a testimonial for FreshDirect. I like that I don't have to carry groceries, because with how much I work, my back can hurt. I love their 4-Minute meals. You just pop it in your microwave, four minutes maximum. They're really healthy. Well, some are not so much, but I need that, too. Last night I was at the '21' Club, it was very nice to sit down and have a really nice meal. There's a Turkish place on 71st Street called Pasha that has wonderful hummus, chicken with all kinds of spices. When I have something big coming up I get a meal there because I know I'm gonna feel great. And I love Rosa Mexicana. I could eat their guacamole for breakfast, lunch and dinner.
You've danced around the world. Any memorable meals?
The food in Paris is wonderful, of course. I've been to St. Petersburg, Russia—their chicken Kiev was incredible. Once, on a trip to Monte Carlo, a friend took me to a medieval restaurant in a cave. The food was out of this world—I had the most incredible honey duck.
The Sugar Plum Fairy is a Christmas icon. What do you eat during the holidays?
To tell you the truth, I love when Starbucks has their gingerbread lattes.
As for cooking, we always have Thanksgiving Day off, so I have Thanksgiving with my friends. I make bubble cake, which some people call monkey bread. You quarter biscuits, shake 'em with cinnamon, and bake 'em in a Bundt pan. My mom always made that when I was growing up, we would have it on Christmas morning.
Are people surprised by your appetite?
Sometimes. I've been to dinner with people who don't know me well, say a friend of a friend, and they're surprised when they see how much I eat. The first time my boyfriend took me out, he said, "You eat more than me!"