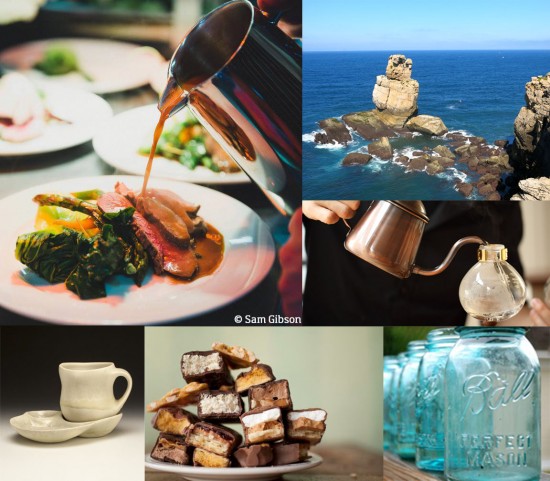 On the 12th day of Christmas, our editorial staff made a wish list. Our list is inspired both by near and far, but undeniably has one common theme: what we like to eat, and how and where we like to enjoy it.
Betsy Davidson, editor of Edible Long Island
Wishing for 2 tickets (one for my bayman husband, Brad) to see the Dave Matthews Band this summer at Jones Beach. Truly believing that giving is better than receiving, before the show I would like to assist Rustic Roots Delivery backstage with their annual delivery of locally sourced goodies for the band's pre-show farm-to-table feast (Brad is coming…I hope Dave likes clams). In return, I promise I will share every detail on social media.
—
Lindsay Morris, photo editor of Edible East End
Wishing for a macro lens from B+H for glorious food shots in low light. But she'd settle for a night of adventurous cocktails at Death and Company.
—
Michaela Johnson, event director of Edible Manhattan and Edible Brooklyn
A Whisk certificate where I would have my pick from incredible Mauviel sauceware, or a spot in a class at Haven's Kitchen (like Callie's Biscuits and Southern Traditions.) But, I'd also be very satisfied with just a stocking filled with assorted Liddabit Sweets.
—
Marissa Finn, Julia Child Fellow and writer for Edible Manhattan and Edible Brooklyn
This year, a cooking class at Mukti's Kitchen is at the top of my wish list. A few months ago, I had an incident with cumin and curry powder, and without Mukti's help, these spices may remain in the back of my cabinet for eternity. If I had to choose something to go under my rosemary Chanukah Bush, though, I'd sure love a Hazy Floozan from Noble Goods.

—
Gabrielle Langholtz, editor of Edible Manhattan and Edible Brooklyn
As I write this I'm up to my neck editing the January alcohol issue of Edible Manhattan, so my Christmas wish is to somehow get out from behind my keyboard. Maybe even far from my keyboard – like to England for the full-day Game Cookery class at the River Cottage. I cherish my River Cottage cookbooks (especially Every Day and Veg – bibles both) but have always wanted to go in, well, the flesh. What better way than game day, complete with hands-on skinning, plucking, boning and smoking, which sounds a little bit like editing. Participants learn to clean a rabbit before morning coffee; by day's end I'll be feasting on pheasant fajitas.
If I can't catch a sleigh ride over the pond to River Cottage, I hope Santa will hook me up with that CRAZY good Bourbon Nib Brittle deputy editor Amy "Cheesecake" Zavatto gave me for Christmas a few years ago. It's from Nashville's bean-to-bar genius Olive and Sinclair. Seriously, Santa, DM me if you need their Twitter handle.
—
Lauren Wilson, digital editor of Edible Manhattan and Edible Brooklyn
When I grow up, I want all my tableware to be hand-thrown pottery. I first came across gwendolyn yoppolo's work while interning at Penland School of Crafts in western North Carolina. Some of my favorite pieces by her can be found online at Crimson Laurel Gallery, which has one of the largest collections of studio ceramics in the Tar Heel State. I'm especially fond of this breakfast set, which makes me dream of many mornings (or anytime of day, for that matter) that could be made a little cozier with this charming mug and saucer.
Once all the ceramic tableware is taken care of, then I'll be coveting a set of these handblown glass "thumbprint" cups from Mike Krupiarz.
—
Carrington Morris, copy editor of Edible Manhattan, Edible Brooklyn, Edible Long Island and Edible East End
I'll take one of Phil Gautreau's magnificent striped cutting boards, which the Brooklyn-based woodworker started producing for the public after an initial commission from Kaia Wine Bar. Fashioned from contrasting wood castoffs otherwise destined for the woodshop's recycle bin, these one-of-a-kind beauties were flying out of the gallery at Gautreau's opening reception in SoHo last Saturday night.
—
Doug Young, photo editor of Edible Long Island
I always appreciate a good local cheese, cured meats and artisan crackers platter, great for when some friends pop over. Erin at American Cheese in Sayville makes the best. Throw in some Black Mission Fig Bitters from Brooklyn to make some rye-based holiday cocktails and let the joy sharing begin!
—
Amy "Cheesecake" Zavatto, deputy editor of Edible Manhattan and Edible Brooklyn
General wish: For people to cherish culinary talent, both new and seasoned alike, and for them to stop, stop, stop only rushing off to the next, hottest restaurant or bar and discarding what opened last year or 10 years ago as if it were socks with holes (which can be darned, by the way).
Salt boxes kicked aside, I would also like: some 2011 Tierce Riesling (a sort of super group FLX combo from Anthony Road, Red Newt and Fox Run wineries), dinner at The Good Fork, a super beer exploration evening complete with oysters at Jimmy's No. 43, to finally get to Pok Pok fuh chrissake and to taste the yet-to-be released rye from New York Distilling. Also, I'd really like some time to sit down and finally read the pile of food biographies overflowing off my office shelves, like the one about Elizabeth David and to meet Molly O'Neill because I've always thought she's totally amazing. A girl can dream.
—
Scott Gordon Bleicher, photo editor of Edible Manhattan
While Santa might need milk and cookies first thing in the morning, I need coffee, and lots of it. I think I'm about ready to step up my at-home coffee game from the reliable French press to a Chemex pour over, but if I'm on the nice list, then I just might find a Blue Bottle Coffee–style siphon set under the tree come Christmas morning.
—
Eileen M. Duffy, deputy editor Edible East End/digital editor Edible East End and Edible Long Island
My wish list always includes trips, and my trips always include wine. Next year, I'd like to visit a wine region I've yet to explore: the Penedes region of Spain, the Rhine River Valley or Portugal or the Tokaj region in Hungary or Western Australia or Greece or…other than that, I've always wanted a KitchenAid stand mixer.
—
Brian Halweil, editor of Edible East End, and co-publisher of Edible Manhattan, Edible Brooklyn and Edible Long Island
Ingredients for making a Montauk to Manhattan. This time of year it's important to be well stocked on drinks supplies, not just because the nights are long and cold. But because a sudden holiday-related avalanche of friends and family can quickly deplete bottle after bottle. So, here's a wish list selection that should keep our household—and any guests—in Manhattans and Old-Fashioneds at least through the New Year. At times I have favored one of these local whiskeys over another. But the reality is that it's nice to mix it up. Call it bioregionalism in a shaker.
1 bottle of Manhattan Rye
1 bottle of Rough Rider
1 bottle of McKenzie Rye Whiskey from Finger Lakes Distilling
1 bottle of "77" Whiskey from Breukelen Distillery
1 bottle of Channing Daughters Winery dry Vervino (Variation #1)
Assortment of Hella Bitters, Crown Maple syrup, Morris Kitchen syrups
Lemons, local Campari and oversize ice cubes not included.
—
If you're looking for a little extra reading during your holiday, we suggest some of our stories that correspond with our holiday wishes:
Dave Matthews Band: Fueled by Local Food — Edible Long Island
VIDEO: Escape to Haven's Kitchen — Edible Manhattan
Liddabit Sweets — Edible Brooklyn
Down South: 3 Meals Worth Sharing in Western North Carolina — Edible Brooklyn
Home Is Where You Hang Your Corkscrew — Edible Manhattan
Allen Katz — Edible Brooklyn
The entire winter 2014 drinks issue of Edible Brooklyn.