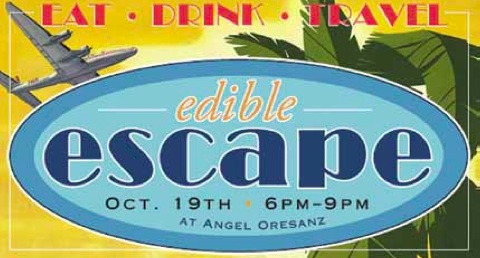 We hope our first-ever travel issue is as much fun for you to read as it has been to put it together! If, like us, you wish could taste the flavors on these pages, have we got a party for you: Edible Escape. We've invited many of the tastemakers featured in these pages—and a few other beloved melting-pot producers for good measure—to help us throw a delectable bash brimming with booze and bites that will transport your taste buds to distant lands.
About two dozen stations will be serving up samples, including pintxos from Txikito, cheese by Caseus Fromagerie Bistro, eastern wieners from Asiadog, custom tea blends from Harney & Sons, Greek eats by Maria Loi, and locavore liquor from Tuthilltown, plus wines from near (the Finger Lakes) and very far (South Africa). Travel pros and expedition experts will be on-hand to help you mastermind your next getaway, be it upstate or overseas. Or just eat your way around the room and talk with your mouth full, no passport needed.
Tickets, available here, are just $40, so come party Wednesday, October 19, at the fabulous old Angel Orensanz space on the Lower East Side. Doors open at 6:00 and we'll be done by 9:00, which will leave just enough time for you to dash to JFK for a last-minute expedition.