New York City has seen its fair share of rainy days lately. And on such days, all I want to do is cozy up on my couch with my fluffy grey blanket, a hot cup of coffee and a tender pastry. Of course, there are plenty of bakeries around NYC I could grab such a pastry from, but few fit this vibe better than Ole & Steen. Originating in Denmark, Ole & Steen has over 100 bakeries there (though under the name Lagkagehuset), as well as 20 in the UK and three in Manhattan.
Ole & Steen offers some of the coziest pastries, really evoking that comforting hygge feeling. Some of their crowd-favorites include the cinnamon social, the raspberry spandauer, the cream cakes and their rye breads.
"New Yorkers appreciate great quality ingredients, artisanal skills and authentic companies," says Jason Cotta, Ole & Steen's CEO. "At Ole & Steen, we have been taking simple ingredients and turning them into magical-tasting baked goods for more than 30 years now, exactly as our founders Ole and Steen intended."
We wanted to learn more about Ole & Steen's pastries, so we sat down with head baker Matthew Sivulich to talk about the beauty of Danish pastries.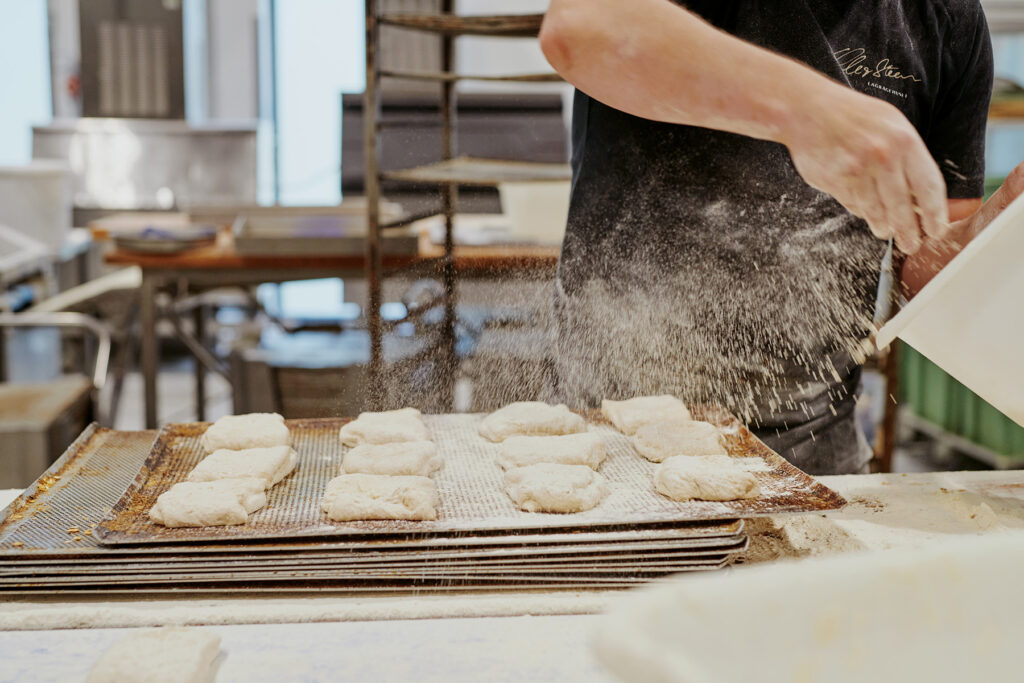 Q: What makes Danish pastries unique, especially in comparison to other types of European pastries?
A: For other European pastries, it's kind of cut and dry. You know, the croissant has a croissant shape, the cannoli is a cannoli shape. But for Danish pastries, we have a lot of different kinds of shapes and sizes and different toppings and fillings. For one, we have our Copenhagener, which actually can describe a couple of different pastries, depending on what country you're in. But as for Ole & Steen, our Copenhagener is a beautiful, rectangular pastry with an almond cream filling, and then we cover the top with poppy seeds, and it kind of looks like a black sand beach that you'd see in Hawaii—it's a really beautiful pastry. And then we also have a spandauer, which is a square pastry that we then fold into the center, and then the day of baking, we fill it with either a raspberry jam or a vanilla filling. And when those are proved properly and baked off, they kind of look like a blooming flower, with that beautiful red center of jam. As you can tell, I'm very intimate with these pastries. When you bake them overnight, you get to know them really well.
I could imagine! And so would you classify the baked goods at Ole & Steen as more on the traditional side for Danish pastries are more like new takes on classics?
I would say it's more of a new take on a classic. Our motto, I would say, at Ole & Steen is "rustic refined." So, we take all the flavors and the different techniques that you would think of as your grandmother making it or your father and mother making it for holidays or special occasions, and we just put that little Ole & Steen refinement on it. So, you know, it looks a little cleaner, has maybe a little more elevated flavors, things like that.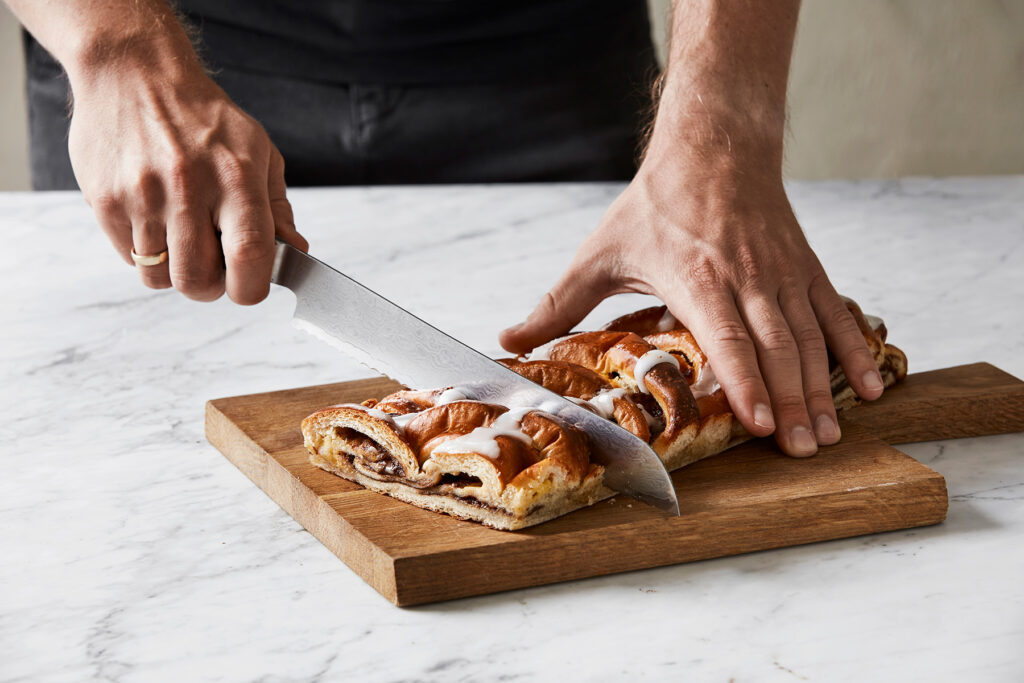 What would you say are Ole & Steen's signature pastries?
We have our cinnamon socials, which is by far our most popular item. It's an amazing, sweet, buttery dough that we then fill with our cinnamon filling, which is also sugary and sweet and beautiful. If that wasn't enough, we also add a wonderful pastry cream that adds a beautiful, creamy, moist texture to that cinnamon social pastry. You know, making these things it's really hard not to taste them as we go. Luckily, we do a once-a-week taste test to make sure they're coming out right.
And then for our breads, I would say it's our rye breads. We get the rye kernels cracked and then we soak them overnight in water to moisten them up and loosen them up, and then we use a nice dark malt extract and a sourdough to give the nice nutty, acidic flavor to it. When those are baked off, those are amazing as well. I think that's one of our most popular breads.
And then we also do great cream cakes that have different kinds of textures—the crunchy base with a nice spongy cake, and then with the beautiful creamy-flavored topping.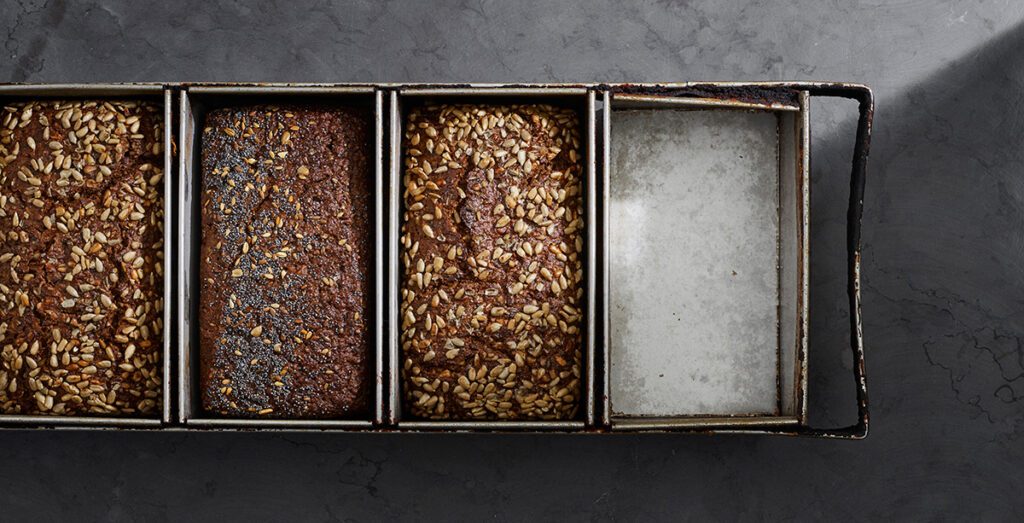 I noticed that a lot of the baked goods I sampled from Ole & Steen had very warm, spiced notes to them. Is that a typical Danish flavor profile?
Yeah, so in Denmark, there's long, cold winters and people love to be inside, just warm, spending time with their family. It's actually called "hygge," which is interesting. We don't really have an analogue in the English language, but I would say it's a mix between coziness and hedonism. So, it's essentially really enjoying yourself with a warm coffee or hot chocolate and with your loved ones and your family. And that's what we have, we have our cinnamon flavors as well as our cardamom and those kind of warming flavors that you were speaking of.
RELATED: The Upper West Side's Hungarian Pastry Shop Is Open for Everything
So, lastly, what is your favorite thing to bake at all Ole & Steen?
It would have to be the spandauer, which is our laminated pastry with butter folded inside of it, and then we put the raspberry in the center. It's one of our more difficult items to get perfect, but when you do, they're beautiful. They kind of open up and the raspberry sinks to the center, and it looks like that beautiful little flower. That really brings me joy when they come out of the oven to see that it's done, like, perfectly well.
Feature photo courtesy of Ole & Steen.