If you have the chance, don't miss Chef Victoria Blamey's tertulias (in Chile, these are social gatherings with literary or artistic themes) at her elegant spot, Mena in TriBeCa. Last week, she hosted a discussion with Suzie Flores of Stonington Kelp Co. and Zoe Croft of Atlantic Sea Farms that explored the ecological and culinary benefits of raising seaweed for food. Now, it's easy to get preachy about kelp. Nutrition-wise, it bears the same cheerless, "but it's so good for you" onus of, say, kale. But here's the thing: it's so much better than kale.
Not only is it an excellent source of iodine (which fights metabolic disruption and thyroid enlargement), but its aquaculture is carbon-neutral—to raise it (unlike kale), farmers require no fresh water, no fertilizer, nor even land. Instead, farmers impregnate ropes with kelp seeds and hang these over the sea floor; the kelp grows and siphons nutrients until harvest—which, coincidentally, is in the spring. Yes, it's fresh kelp season right now.
RELATED: Kelp: The Other Red Meat (Alternative)
Even better, kelp aquaculture is regenerative—it improves the quality of the water in which it is raised. As it grows, kelp generates oxygen and absorbs toxic excesses of carbon and nitrogen. In case you didn't realize it, greenhouse gases don't just pollute our air. Carbon dioxide also dissolves in our seawater, leading it to become increasingly acidic. Kelp aquaculture actually restores pH balance to our oceans.
Okay—sermon over. The other reason to eat kelp is that it's briny, subtly umami-inflected and compellingly textured. In the hands of Victoria Blamey, seaweed can be actively delicious. As a native of Santiago, Chile—where wild brown kelp has been eaten since before European colonization—Blamey is no kelp novice. Her experience shows in the deft acidity in this bright, tart and savory seaweed gremolata, a perfect spotlight for the big, briny Crowe's Pasture Oysters from Dennis, Mass., that she serves at Mena. This dish tastes like the sea in a slurp.
Recipe by Chef Victoria Blamey of Mena.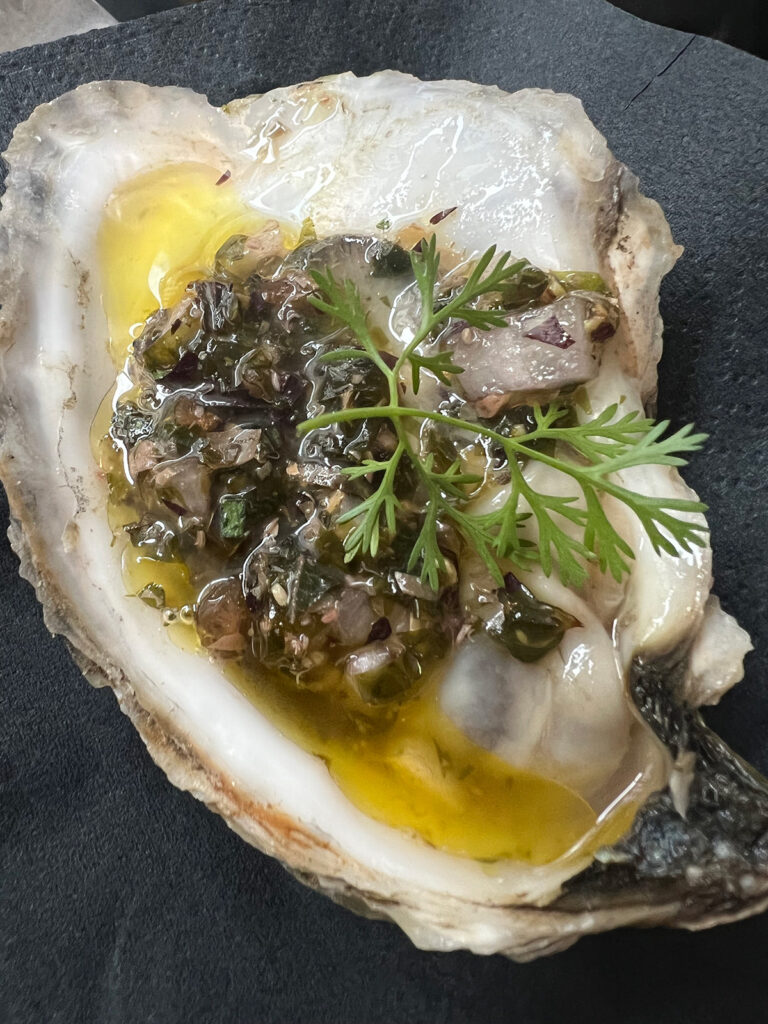 Ingredients
20 g sea lettuce
15 g salted capers, previously rinsed
5 g red shiso
5 g parsley
44 g Cochayuyo (Chilean seaweed)
2 g brined peppercorns
3 g lemon zest
100 g Chilean olive oil
1 g fermented white peppercorns
40 g white onion, cut into a brunoise
25 g lemon juice
15 g Gardener's vinegar (Lindera Farms Vinegar), if not available, use a dry (not sweet) vinegar
Directions
Rinse the sea lettuce and chop roughly, same as the salted capers. Set aside in a bowl.
Meanwhile, chiffonade the shiso and parsley. Add them to the bowl with the capers and continue on to chopping the Chilean seaweed, careful not to cut yourself since it can be quite slippery. Add to the rest of the ingredients in the bowl.
Brunoise the white onion and mix with the rest of the ingredients, including lemon zest, olive oil and lemon juice. Use to dress freshly shucked oysters.