Profession: Executive chef at Cadence
Lives In: Bed-Stuy
Working Toward: Consciousness in the Kitchen
When Pete Wells' wildly complimentary New York Times review of Cadence came out last August, Chef Shenarri Freeman took her all-vegan crew to celebrate at Eleven Madison Park—which, with its lofty windows and celestial, mile-high ceilings, is arguably the most elegant (mostly) vegan restaurant in the country. Turns out, visiting EMP's kitchen was not a Mecca experience for Freeman. She observes, "It's a silent kitchen—that's one thing. I like to play music and kind of jam out."
Cadence, one of Ravi DeRossi's Overthrow Hospitality restaurants, offers a warmer but no less sensual version of elegance. Its sound system plays hook-filled music that you listen to, and don't just hear, while the copper walls of its boxcar-narrow space shimmer in the reflected glow of candles. The wine list, which is sourced from all Black-owned wineries, presages that Cadence will offer a different take on soul food. Its marble dining bar overlooks an open kitchen, and there is obvious privilege in scoring one of Cadence's 12 seats. There is access, too. Freeman says, "In general, I'm always interacting with the guests."
Freeman's menu reflects her individualism. Not only does it sling a vegan version of soul food, but it offers a personal take on the cuisine that strays from the canon. Take Cadence's celebrated palm cakes, a riff on her mother's own riff on the crab cakes of Freeman's Richmond, Va., childhood. Her mother used salmon instead of Chesapeake blue crab. Freeman uses hearts of palm, whose leaves mimic flakes of flesh; she binds it with aquafaba, and the seasoning—kelp and Old Bay—evokes both ocean and region.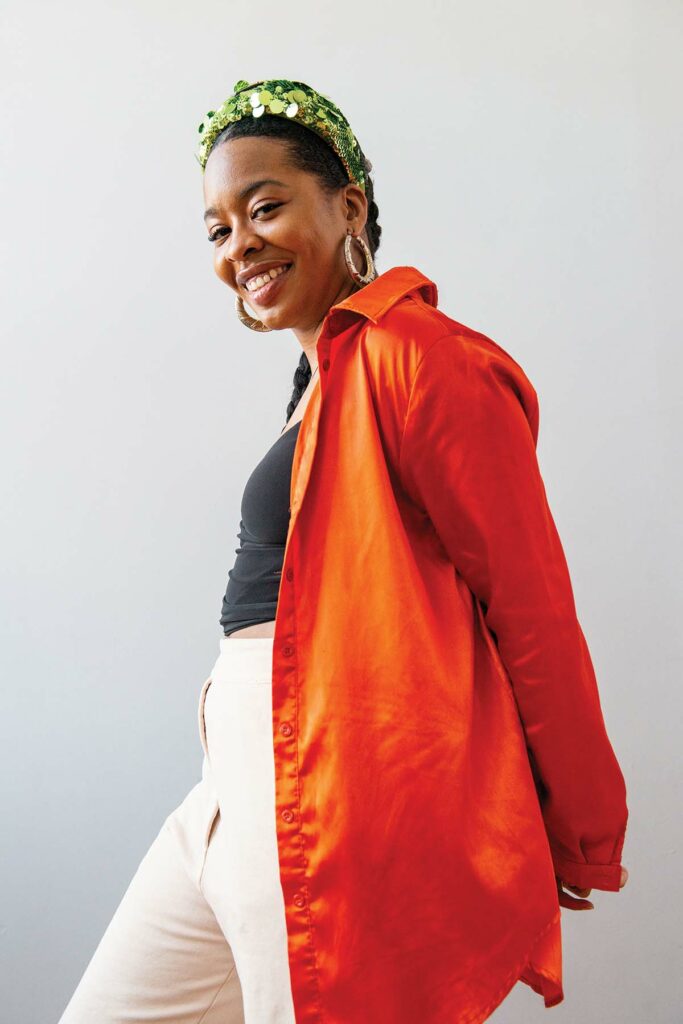 Then there is the deep-fried lasagna: twin tubes of breaded pasta dressed in Bolognese sauce and filled with magically textured pine nut ricotta. Is lasagna soul food? It is to Freeman—and who can question that? She explains, "We took it from the Italians and kind of, like, adopted it. Lasagna is probably one of my mom's number one dishes to this day." She continues, "OK, we're not going to technically make it the same way, but we're going to make it Southern by frying it."
That dish is unique on Cadence's menu because its Bolognese sauce uses two Impossible brand ersatz meats (beef and Italian sausage). Otherwise, Freeman uses no processed food and no soy. The cakey, ricotta-like texture in the lasagna's pine nut filling is achieved without molecular help from powders or gels; it's just pine nuts, chickpea miso, lemon juice, salt, pepper and water. Freeman doesn't guard her secrets. "I think it's important to have those conversations, especially, with people that are interested in talking about the ingredients or how I cook something—like, 'Hey, this is kind of easy. You can do this at home.'"
RELATED: How Stefano Diaz Is Fostering Community Through Butchery
Having come out of the Institute of Culinary Education with a degree in Health Supportive Culinary Arts (and, before that, completing her undergraduate degree in physical therapy at Howard University), Freeman could righteously school diners on the health benefits of veganism. Instead, she has a way of stripping down veganism to its most reasonable, elemental ideas. She explains, "When you're thinking about eating animals and eating meat, the animal is the middleman for the protein. Because cows, on their regular diet, they're grazing on green grass. Pigs aren't eating other animals unless we make them—they're getting their protein from vegetables, grains and nuts. You know, why pay a middleman? "
By the close of 2021, Cadence had landed on most of New York City's year-end "Best" dining lists—it was also included in Esquire's 2021 "Best New Restaurants in America." In February, Freeman was nominated for the James Beard Foundation's 2022 "Emerging Chef" award. Freeman is cognizant of those honors, but it's quieter praise that moves her. "Bryant Terry came here," she says of the African American James Beard Foundation Leadership Award winner, food justice activist and vegan chef. "And he sat me down and said, 'Hey, I've been doing this for over 20 years, and I've been looking for something like this around the entire world that whole time.'" She marvels, "You know, to be praised by someone that you look up to that's been doing this for almost longer than you've been alive—it's just mind blowing."
This story originally appeared in the Spring '22 issue of Edible Manhattan and Edible Brooklyn. To be the first to see stories like this, subscribe to our print magazine here.