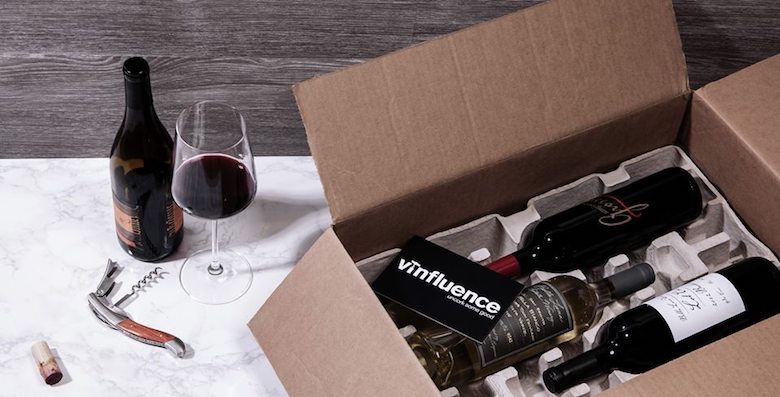 Editor's note: We kicked off our first annual Food Loves Tech event last summer in Chelsea—here's a recap. We're bringing a taste of the food and farming future back this year, but just across the East River at Industry City. Leading up to the event, this story is part of an ongoing series about technology's effects on our food supply.
There's no shortage of wine delivery programs, but a new one, Vinfluence, seems to capture the zeitgeist confluence of wine lovers taking the leap into the business, subscription services, good works and small producers. The company, started last October by Shannon Westfall, a former worker in finance, not only delivers to your door wine you're not likely to find on the shelves of your friendly neighborhood wine shop, it also will donate a percentage of profits to your choice on her list of three nonprofits.
"I picked charities that will hopefully have an impact," says Westfall, "and if customers have too many to pick from, it costs more to process the checks." The causes, which receive 20 percent of proceeds, are City Harvest, Sustainable Harvest International and Fiver Children's Foundation. Westfall's husband sits on Fiver's board. "It focuses on character development, literacy and community engagement," says Westfall. So far 500 children have finished the New York-based program.
So let's get to the wine. For its monthly shipments, Vinfluence features one producer who then picks three wines. The package comes with a comprehensive full color brochure that gives the wineries' histories, info about each bottle, recipes and how Westfall discovered the producers.
This goes back to a 2009 Napa Valley vacation. She and her husband rented bikes in Calistoga and were blown away by the tiny wineries where families offered tastes of their entire line. "The winemaker, Vincent Arroyo, was out in front of his winery with a card table set up with a dozen wines open for tasting. He almost looked like a Santa Claus—with a big white beard. He was very jolly and welcoming." she says.
The experience led her farther afield to Oregon and Washington; Vinfluence currently works only with domestics wines from the West Coast, but expansion to the East Coast is not out of the question. Westfall keep her selections in line with farming that not only expresses terrior, but helps preserve the environment. "I like wineries that prioritizes sustainable practices and have a light footprint," she says.
https://www.instagram.com/p/BOp9IfQDGk1/
The sample box I received contained three new-to-me wines: Chateau Guthrie 2015 Red Blend from Napa; Bucklin Old Hill Ranch 2013 Ancient Field Blend from Sonoma; and Judge Palmer 2013 Sauvignon Blanc from the Alexander Valley.
Vinfluence is not cheap: A monthly box of three wines is $100, and six bottles can be had for $200. But, if you break it down to $33.33 per bottle and it's just two of you and you want something special to share for dinner, well, be glad you're not paying $18 per glass for a wine that might have been opened last Thursday.
All were good, interesting and worth the money. The Judge Palmer, however, stood out. It's not quite an orange wine, but the must does stay on the skins long enough to impart a little color and just enough texture to make it really interesting. Sur-lie aging (where the wine sits on the dead yeast cells before bottling, a typical practice for muscadet from the western Loire Valley) heightens that. I've never had anything quite like it. Westfall pairs it with a recipe for truffle mushroom flatbread.
https://www.instagram.com/p/BOs-5FkgxzJ/
The wine was first made in 2013, says Palmer Emmitt, who owns the winery with Michael Scorsone and whose bench-sitting grandfather supplied the name. "It's a distinct style from an orange wine," says Emmitt. "It was bottled three years ago now, and it just keeps getting better and better."
Currently, the wine is only available at the winery just outside Healdsburg and in three states. New York isn't one :o( But you can order it online.
Vinfluence featured Judge Palmer in March, and Emmitt says it definitely boosted sales. All fulfillment is done by the winery, so Westfall never takes possession of the wine, except for maybe some bottles she takes home after visiting the winery for "research." She learned about his wine, says Emmitt, from a wine blogger in Colorado who had visited the tasting room.
This system, says Westfall, keeps the overhead lean so she won't have to be dipping into her savings for too long. "The whole idea," she says, "is to find the people who like to know the story that's in every glass."