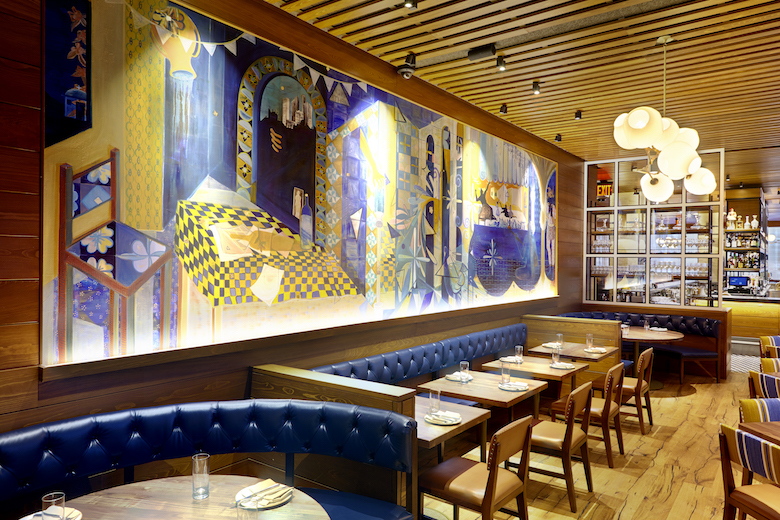 West 57th street has received plenty of love recently. Not only has the hot star architect Bjarke Ingels opened his VIA 57 West building, but the area now also have reimagined Greek food. Ousia, part of the Livanos Restaurant Group known for their flagship Oceana, has brought grandma's Greek food with a nice little contemporary twist to the world. And the neighborhood with relatively little restaurant options couldn't be happier.
"Ousia is a more contemporary approach to Greek cuisine, featuring dishes that are inspired by the flavors of the Mediterranean and aren't necessarily traditional," says general manager and bar program manager, Johnny Livanos. "While our focus is always on preparing quality food with top ingredients at both restaurants, expect the plating and presentation to be a little more playful at Ousia."
But they're not trying to reinvent the wheel—they are just doing what Greek cuisine does best: utterly simple, wholly delicious, wholesome and always fresh. But of course if you show this menu to your yiayia (grandma in Greek) she will raise her eyebrows, rub her chin and be utterly pleased that old favorites have been given a New York City revitalization. "Without being too esoteric, the Ousia menu taps into the amazing flavors and ingredients that make Mediterranean cuisine so popular." adds Livanos. 
For winter weather (or if a sniffle is coming along) avgolemono (a chicken soup with egg and dill) is perfect to start. But the finest advice here is to eat the way the Greeks on the islands eat: lots and lots of meze (starters). Have traditional hummus and add melitzanosalata (smoked eggplant and yogurt) and an edamame pistachio dip, all of which goes well with pita bread of course. And if you're feeling healthy they have a crudité option too.
But don't stop here. Take a breather with a roasted peppers and manchego cheese flatbread and sample their selection of Greek cheeses (one of those underrated delights you discover whilst traipsing around the Greek islands). One of the things the Greeks know better than anyone: lamb chops. (You might feel inspired to watch the movie, "My Big Fat Greek Wedding" for some hysterical stereotypes before coming to dine.) End of your night with a classic baklava, which they do as a trio.
They also of course do excellent wines from Greece, something else that's unique and not often found in New York. "The goal of our beverage program at Ousia is to offer a diverse selection of wine, beer, cocktails and spirits that will pair well with our cuisine," says Livanos. "As we are a Mediterranean restaurant that emphasizes flavors from Greece, our wine list will take a similar approach as it highlights the indigenous varietals of Greece and includes notable selections from Spain, Italy and France."
Next up for Ousia will be the little to-go area on the side of the restaurant, perfect if you're driving upstate and you want to grab a delicious frappé (the way the Greeks make iced coffee with Nescafe and lots of ice) and a pastry or two (think semolina custard pie called galaktoboureko). "Our goal is to provide an exciting and unique experience to the far west side that the neighborhood can flock to," says Livanos. "While staying true to my family's Greek heritage, Ousia will not be overly ethnic and the menu and beverage program will reflect that same sentiment."
Photos courtesy of Ousia.