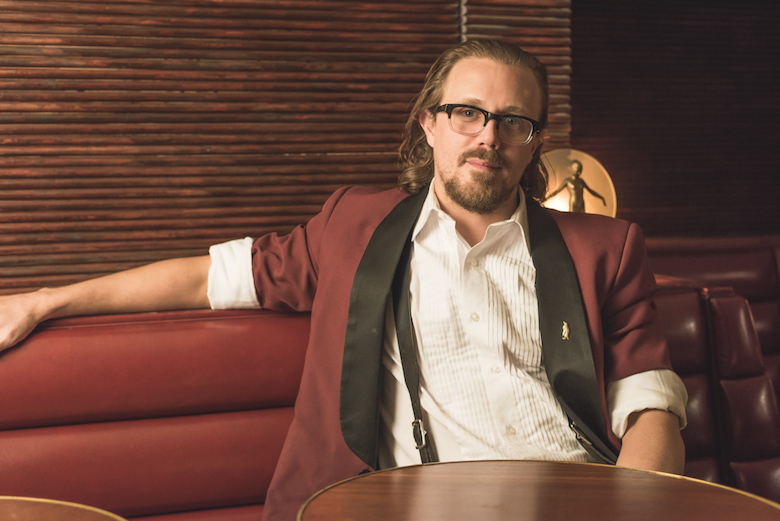 As we get ready for Good Spirits—happening this Thursday at Pier A—we're checking in with some of our favorite bartenders from around the city. Today we meet Jim Kearns, bar director and partner at The Happiest Hour and the subterranean Slowly Shirley. Both have completely different energies and aesthetics: At the former, you'll find a casual, lively bar worthy of its name; downstairs, you get the refined and quiet feel of a true cocktail lounge.
Kearns has been working in hospitality since 1993, when he was cooking, waiting and bussing tables in his native Arizona while pursuing photography. He moved to New York City in 2002, finding a job at the legendary Balthazar while studying at Pratt Institute. Since then, he's worked at some of the best bars in town: Pegu Club, Mayahuel, and even trained under Sasha Petraske at the shuttered Double Seven. Here, some more about the man whose go-to beer is a Miller High Life.
Edible Manhattan: When did you know you wanted to be a bartender?
Jim Kearns: I started bartending full-time in 2006, when I was working at Pegu Club. I've enjoyed watching bartenders work since I was a kid. I remember always being fascinated by their dexterity while being social and providing service to guests.
EM: What's the biggest inspiration for the drinks you create?
JK: Usually food and music are my main sources of inspiration. Songs are great sources of inspiration for drinks. You generally know what's going to go into a drink that way, and, most importantly, you have a name. I've always said that it's easier to come up with a drink for a name than a name for a drink.
EM: Which bar in New York City—aside from your own—is your go-to?
JK: I don't get out much, since I work five nights a week. I also think of bars in specific contexts, i.e., restaurant bar, dive bar, cocktail bar, etc. Since I live in Carroll Gardens and my wife and I usually stay close to home on our nights off, I most commonly end up at Frankies 457, Prime Meats, Leyenda and Clover Club.
EM: Do you have a favorite New York State spirit, wine or beer? What's your non-local favorite?
JK: My favorite New York State spirit would probably be anything made at New York Distilling Co. My non-local favorites would probably be Laird's Applejack, Wild Turkey 101º Rye and Elijah Craig Small Batch Bourbon.
EM: Give us a recipe for a cocktail that's easy to re-create at home
The Golden Delicious, which is available at Slowly Shirley:
Golden Delicious
3/4 oz Lemon juice
3/4 oz Honey syrup (3 parts honey 1 part water)
2 oz Laird's 7-1/2 Year Applejack
Glass: Rocks
Ice: I large cube
Method: Shake. Strain