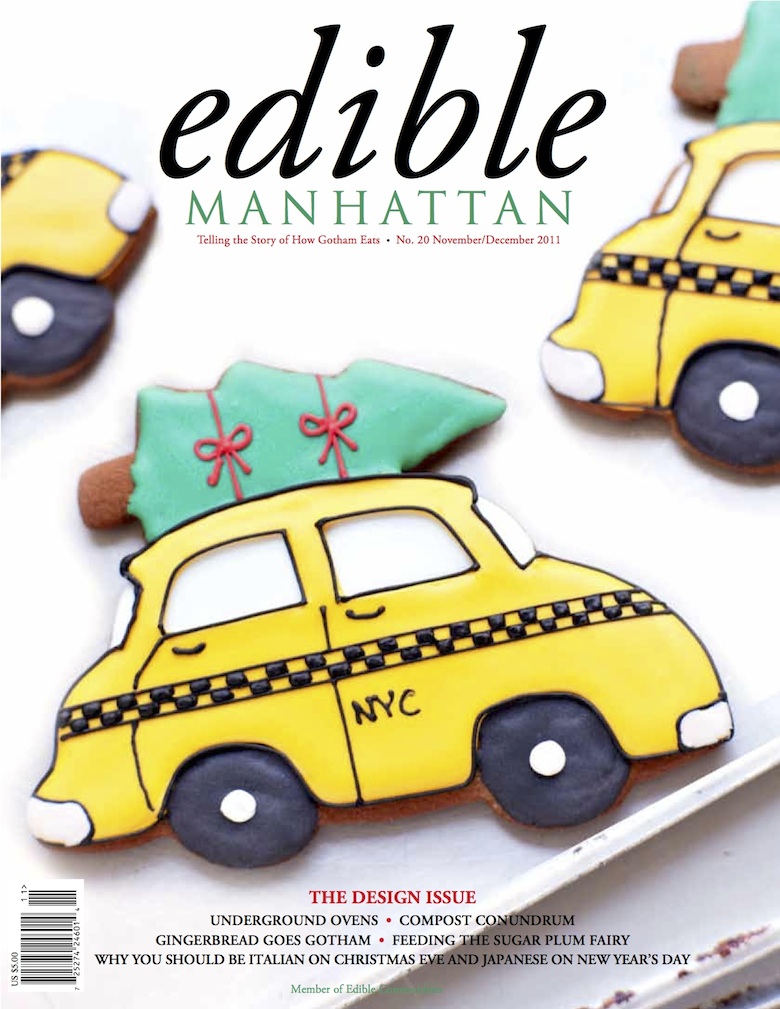 This is our official design issue, but I think you'll find it's a decidedly Edible take on that theme. No thousand-dollar ice buckets or bespoke chandeliers here, instead we've packed our pages with some of the city's most fascinating food-and-drink innovations, old and new.
We explore the hottest underground places to eat — not cocktail dens with unpublished numbers, but rather century-old subterranean ovens. Like the one the Bromberg brothers stumbled upon and invited an Italian artisan to inspect- he kissed it and exclaimed "beautiful," spent nearly two years restoring it to its original glory, and Blue Ribbon Bakery has kept the embers glowing nonstop since. Today, the oven turns out 2,000 loaves a day.
We profile a super-chic tableware shop in SoHo, but not one where a wayward elbow could land you in debtors' prison. Global Table stocks sophisticated finds like a cake plate that looks like a tree trunk or a platter whose pattern is inspired by Uzbeki textiles, but the prices are startlingly affordable. (And if you feel that a design issue must somewhere mention plastic mini-skirts, this story is for you.)
We ask an inspired architect to show us some of the most interesting wineshop designs in town. One store he visited is completely refrigerated, offering fleeces for customers to don while they peruse the chilled merchandise. In another shop he found a rubber floor – if you drop a bottle, it will bounce rather than break. Smart!
We cover one of the most exciting new kitchens in the whole region – not a tricked-out penthouse showcase but a gleaming upstate produce-processing center. Its owners spent $2 million building the state-of-the-art facility, which offers farmers easy access to top-quality equipment and freezers so customers can enjoy local beans and blueberries all winter long (Yes, they deliver to your neighborhood.)
We meet designers who have already created genius gadgetry. Not remote-control espresso makers but items you likely already own – namely the OXO peeler and the Built neoprene bags, both born in Manhattan.
We even got a design exposé- revealing the dirty truth about eco packaging. I was shocked to learn that in landfills, which is where most such sepia-toned wares wind up, even the most lovingly designed biodegradable cups and sporks produce harmful greenhouse gases. We've got the sanitation scoop on why recyclable plastics are often ironically the greener choise and how you can think outside the takeout box. 
It's all got me excited and inspired, looking with new eyes at everything I put up to my lips. Maybe we should have called it the ideas issue.