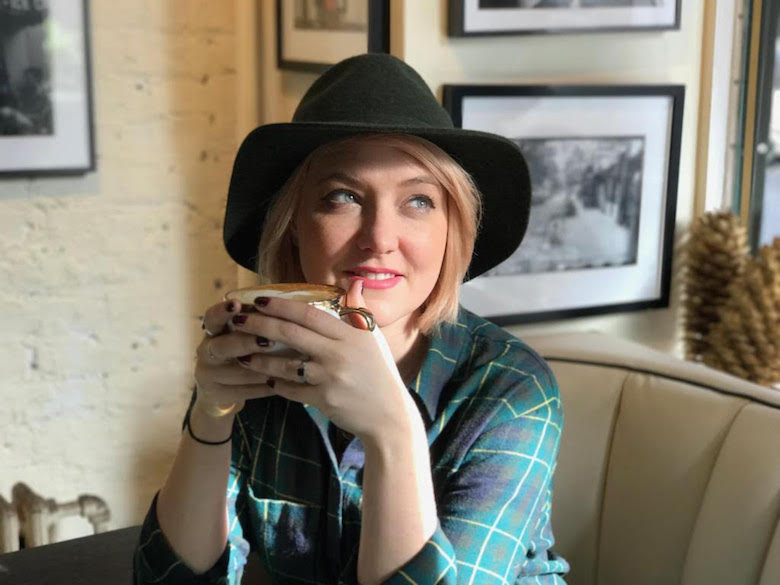 As we start to get ready for Good Spirits—happening March 2 at Pier A Harbor House—we're checking in with some of our favorite bartenders from around the city. Here we chat with Stacey Swenson, who made her way from Iowa to Chicago to New York City, where she's now head bartender and bar manager at the brilliant Dante in the West Village (the place to go to have Campari with breakfast, lunch and dinner).
Before making her way there in March of 2016, she worked at Booker & Dax (RIP) and American Whiskey—but it's at Dante that she feels most at home. "The aperitivo culture of drinking is one that I have fallen in love with," she says. "This bar suits me to a T. If I didn't work here, I would still be here several times a week."
Edible Manhattan: When did you know you wanted to be a bartender?
Stacey Swenson: I had tended bar in college and in my early twenties, then I left that to work a high-paying cocktail serving position at a Chicago steakhouse. Women weren't allowed behind the bar. After doing that for several years, I knew I wanted to do something more creative, but the cocktail scene had blown up in Chicago and I felt so behind and intimidated. It wasn't until I moved to New York City two and half years ago that I felt a real push to home in on my craft. This city has been a great motivator and I've had the pleasure of meeting and working with bartenders and hospitality professionals that have inspired me. So, in short, I knew I wanted to be a career bartender right after I graduated college in 2006.
EM: What's the biggest inspiration for the drinks you create?
SS: Seasonal ingredients from the farmers market and nostalgic flavors. I like to recreate flavor combinations that I loved as a kid. I've been trying to perfectly replicate the flavor or Dr. Pepper for years.
Which bar in New York City—aside from your own—is your go-to?
I love what Mace does, it's like no other cocktail program in the city. Also, I've never had a drink at Slowly Shirley that didn't impress me.
EM: Do you have a favorite New York State spirit, wine or beer? What's your non-local favorite?
SS: Ommegang Breweries makes some exceptional beers. They focus on Belgian styles, which I tend to gravitate to. With so many beer companies trying to out-hop each other, it's nice to see one that's focusing on the traditional styles.
Cedar Ridge Distillery, from my home state of Iowa, makes some great spirits. In particular, their single-malt whiskey is killer.
EM: Give us a recipe for a cocktail that's easy to re-create at home.
A lovely summer Spritz:
1 oz Blanco Tequila (gin or vodka works too!)
1 oz Cochi Rosso or Lilet rosè
2 oz fresh watermelon juice
Barspoon lemon juice
Pinch salt
Top with sparkling wine and club soda. Heighten this cocktail with a splash of absinthe and a sprig of tarragon.