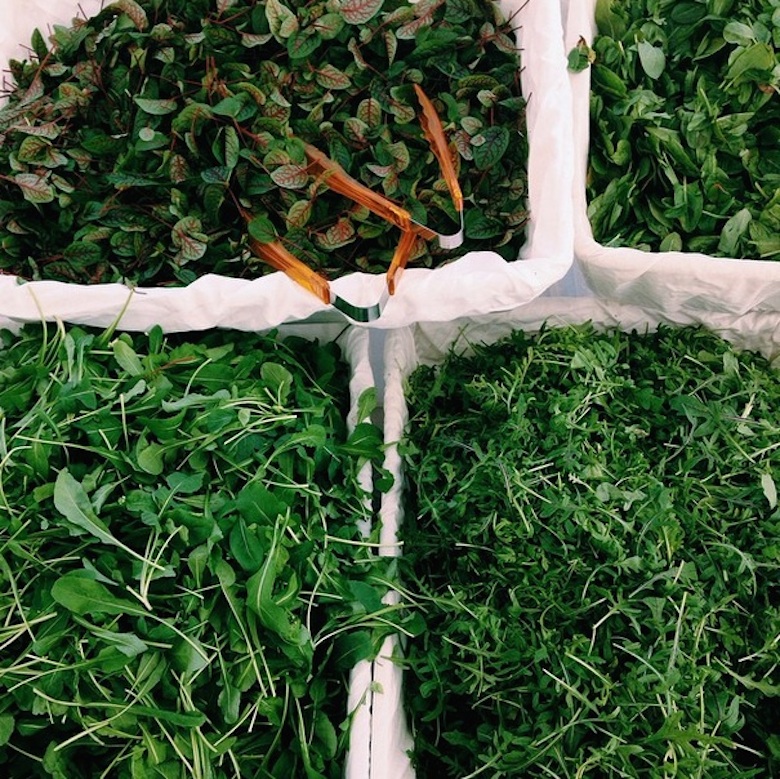 We believe harvest season is cause for celebration and in that spirit we're joining forces with Edibles statewide and the Greenmarket geniuses at GrowNYC to present our second annual Eat Drink Local week, September 26 to October 6. (Yes, that "week" is 11 days long, so get your appetites ready.) Dozens of  participating chefs, farmers, brewers and vintners are pitching in to host farm feasts, wine tastings, even an afternoon "Edible Institute" at the New School and Sotheby's first-ever heirloom-vegetable auction. Find the whole lip-smacking locavore lineup—including each day's official ingredient, from clams to cider—right here.
This year we've added a competitive component; we hereby put forth our first-ever EAT DRINK LOCAL CHALLENGE. During the 11-day festivities, our staff has vowed to tackle every last experience listed below. We'll document our efforts on our Facebook page, and invite you—make that dare you—to join in.
Whether you conquer a dozen of these dos or just one, tell us all about it at our two end-of-week parties, one in Manhattan and one in Brooklyn. Bring evidence of your efforts, be that a picture of you at an upstate orchard, the limerick that trip inspired, or a pie you baked from the Braeburn booty. There'll be prizes aplenty—may the best eaters win!
1. Hit a locavore eatery you've never tried before.
2. Shop at a Greenmarket you' ve never been to before. Get the map at grownyc.org.
3. Drink like a local! Swig libations from New York breweries and wineries. Bonus: make a farmy cocktail starring local herbs or produce.
4. Eat a fruit or vegetable you've never tried before. Hello kohlrabi!
5. Get to know a new local cheese. Bonus: Make yogurt, creme fraiche, butter or ricotta.
6. Eat a cut of meat you've never tried before. Bonus: eat a species you've never tried before. Double bonus: hunt.
7. Cook local grains. Bake bread, boil wheat berries, make polenta or just pop some popcorn.
8. Swap out sugar for local honey or maple syrup.
9. Churn market bounty into ice cream or sorbet.
10. Cook your cast-offs! Think corn cob stock, sauteed beet tops, and pickled watermelon rinds.
11. Preserve! Pickle cucumbers, can grape jelly or freeze pesto.
12. Forage! Go on a guided hunt for wild mushrooms, search for blackberries in the hills near Fort Tryon, take home ginkgo nuts from Central Park, pick
purslane from the cracks in the sidewalk.
13. Shuck your own clams, mussels, scallops or oysters.
14. Make a dish using the Native Americans' three sisters: Corn, beans and squash.
15. Check out a cookbook from your local library.
16. Compost your kitchen scraps. Find drop spots at: nyccompost.org.
17. Ponder the gospel according to Berry: Read a great food book. (Peruse our favorites below.)
18. Visit a farm, orchard, dairy, winery or brewery.
19. Drink only local water—it's called "tap," people.
20. Throw a party, and have each guest bring something inspired by this list.
Document your experiences, and tell us all about on Facebook, Twitter via Flickr, and at our prize-filled culmination celebrations–at Chelsea Market on Oct. 4 and at the Knitting Factory on Oct. 7!
Our Few of our Favorite Food Books for EDL Inspiration
(In the spirit of Eat Drink Local week, we might suggest you buy 'em from a locally owned, independent bookstore.)
The United States of Arugula, by David Kamp
Eat Here, by Brian Halweil
Appetite City, by William Grimes
What to Eat, Food Politics and Safe Food, by Marion Nestle
It's a Long Road to a Tomato, by Keith Stewart
Heirloom, Notes from an Accidental Tomato Farmer, Tim Stark
Paradox of Plenty, by Harvey Levenstein
Eating in America, by Waverly Root
Taste of America, by Karen Hess
Much Depends on Dinner, by Margaret Visser
Photo credit: Instagram/carolange13