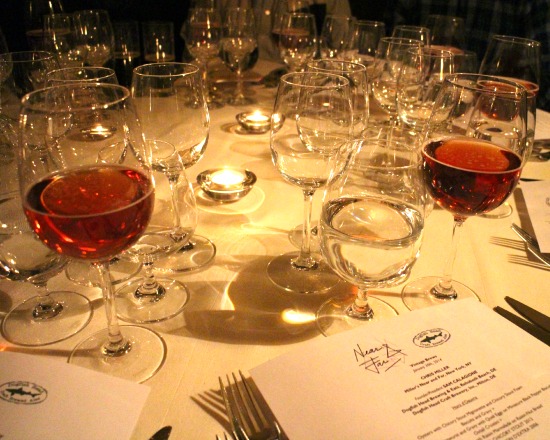 Last Thursday, Chris Miller of Miller's Near & Far, successfully made his debut at the James Beard Foundation in collaboration with Sam Calagione of Dogfish Head Craft Brewery. The hors d'œuvres and six-course meal were paired with vintage craft beers from Calagione's personal collection, otherwise known as "Sam's Stash."
Chef Chris Miller, a native New Yorker, opened his first solo restaurant Near & Far in 2013. Near & Far, located in the Lower East Side, specializes in American comfort food through the lens of a post-apocalyptic diner. "Blade Runner had a huge impact on me." One can see the futuristic influences in the decor, food presentation and menu at the restaurant. Miller's menu changes seasonally according to what's available locally.
Brewmaster Sam Calagione — a three-time nominee for the James Beard Award who was influenced by Alice Waters and James Beard — wanted to join and participate in the conversation of defining what is American cuisine. Calagione looked to the culinary landscape for inspiration in creating new recipes that differ from the traditional styles of beer.
Three months prior to the dinner, Miller experimented with different combinations to find the perfect dish to pair with each craft beer, focusing on the flavors and ingredients in the beer. When asked where Miller got his inspiration for the menu, "everything came from the beer. People usually think it's hard to cook with beer, but Dogfish Head beer is unlike regular beer. They're more like wine because of their complexity and dimension."
Each dish and craft beer pairing complemented one another by highlighting a shared ingredient. Calagione and Miller did an excellent job in celebrating the marriage of food and beer.
Here's a copy of the menu:
Hors d'oeuvres (paired with Dogfish Head Chicory Stout 2013 and Dogfish Head Raison d'Extra 2006):
• Oysters with Chicory Stout gastrique mignonette and Chicory Stout foam
• Biscuits and gravy: heirloom Italian pork bratwurst and gravy with quail eggs on miniature black pepper biscuits
• Oxtail crostini: beer-braised oxtail with raisin marmalade on raisin nut bread
Dinner:
• Chicory salad with country ham, pears, pecorino, and Dogfish Head Midas Touch vinaigrette — Dogfish Head Midas Touch 2013
• Hamachi crudo with Dogfish Head Sixty-One reduction, beer-pickled fennel, crispy shallots and citrus — Dogfish Head Sixty-One 2013
• Poached wild Long Island striped bass with celery root, leeks, celery, citrus, striped bass chicharrónes and Red & White "beer" blanc — Dogfish Head Red & White 2007
• Seared duck breast with braised endive, dates, smoked potato gratin and Dogfish Head Olde School Barleywine jus — Dogfish Head Olde School Barleywine 2005
• Beer-braised short ribs with glazed root vegetables, barley risotto, Dogfish Head World Wide Stout demi-glace and orange gremolata — Dogfish Head World Wide Stout 2005
• Dark chocolate spoonbread with Dogfish Head Fort caramel and raspberries — Dogfish Head Fort 2006