It's one thing to say a sandwich is great. It's quite another to declare it "the best thing that has happened to my mouth, ever. Sorry to everyone I've ever kissed." This tweet — via @akateisakate, 1/9/14, 11:57am — is just one example of the rabid response inspired by the sandwiches served all day long at Num Pang. One Yelper wrote a full-length song about the sandwiches. And if I listed the orgasm references, I'd fill the pages of this magazine.
The men behind this 50 shades of salivating, Ratha Chaupoly, 42, and Ben Daitz, 39, are noticeably handsome, though together the Cambodian transplant and New York Jew make a rather unusual pair. Chaupoly has the look of a hip-hop star with his hoodie and sideways-worn baseball cap, while Daitz, with his salt and pepper hair hidden under a trim fedora, might be an emerging playwright.
The old friends met 20 years ago at Clark University and both soon landed in serious food: Chaupoly started out in the front of the house at the Elephant Walk in Massachusetts and then moved to New York City, where he joined Blue Water Grill, then Asia de Cuba and eventually became general manager and wine director of Fleur de Sel. Daitz, who followed up his degree in political science from Clark with a cooking degree from the CIA, began his career staging at Bouley, Daniel and Le Cirque. He cooked at San Francisco's Michelin-starred La Folie with Roland Passot, at Tabla with Floyd Cardoz, at Danube with Bouley and finally in Brooklyn at Rose Water and then at the Michelin-starred Saul.
When Chaupoly decided to open Kampuchea, a Southeast Asian spot of his own on the Lower East Side, Daitz volunteered to help — even though he was opening the Prospect Heights gastropub the Vanderbilt, with business partner Saul Bolton at the time.
Soon after opening Kampuchea in 2006, bánh mì were flying out the door. The economy was in the tank, and even the city's most diehard foodies were looking for some affordability. Daitz and Chaupoly saw the future, and it looked like a sandwich.
The road from Kampuchea to Num Pang started out with the most critical foundation of any sandwich: the bread. "A typical bánh mì is tons of white flour, and it's more of a shell," said Chaupoly. "It can be hard. I didn't want something that was going to cut the roof of my mouth or that would leave me hungry 15 minutes later." They tirelessly tested recipes until they came up with a true wonder bread: the world's most flawless bánh mì vehicle. Baked to their specifications in Long Island City, it's chewy but light, has a slight sweetness and is sturdy enough to support Num Pang's roster of saucy fillings, without being brittle. That's one brilliant innovation in the science of bread.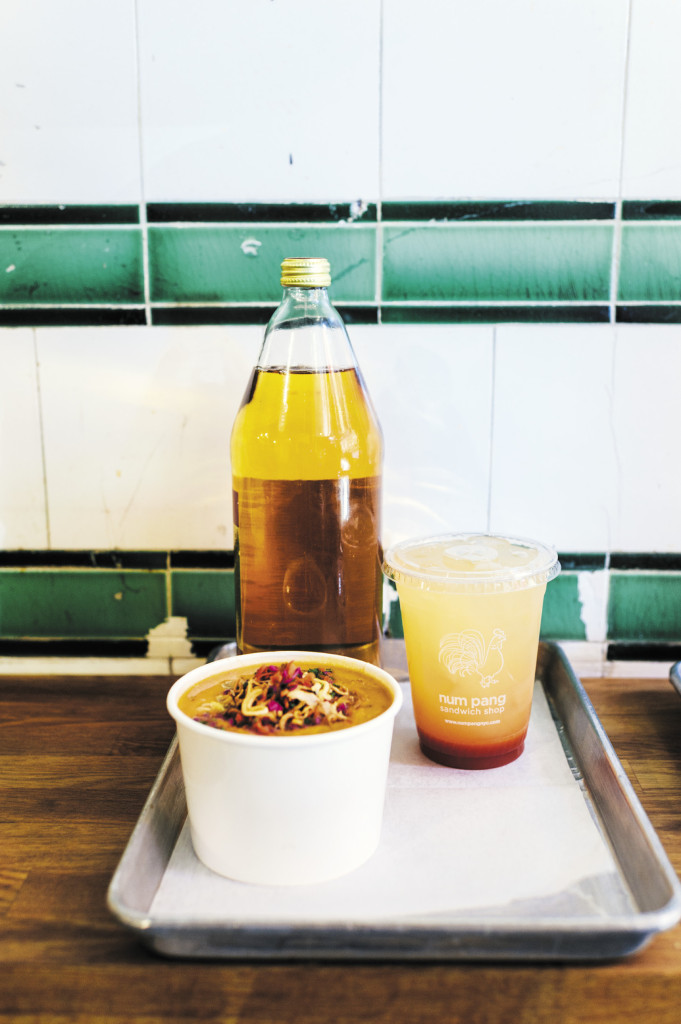 Once the recipe was perfected, they masterminded the Asian toppings. "We wanted to hit salty, sweet, crunchy, creamy, spicy and tart," said Chaupoly. That's why every Num Pang sandwich starts with the same formula: chili mayo (heat and creaminess), cucumbers (freshness and crunch), pickled carrots (tartness and crunch) and cilantro (liveliness).
In March 2009, the duo opened a 10-seat shoebox off of University Place called Num Pang ("sandwich" in Cambodian) and marked their territory with blaring hip-hop and reggae on the speakers and striking graffiti murals on the walls. The menu was short and sweet — just eight reimagined riffs on the classic bánh mì. Replacing the slippery cold cuts and squishy pâté were brilliant fillings like grilled skirt steak with crushed coriander and peppercorn, roasted cauliflower with Chinese and Thai eggplant spread, fried black pepper catfish and pulled Duroc pork. To drink, they offered thirst quenchers like homemade blood orange lemonade and watermelon juice.
The two had a hunch that the sandwiches would be popular. But they had no idea that the lines would snake down the block and that the sandwiches would sell out every day for three months straight.
The success was exhilarating — and exhausting. Daitz and Chaupoly were working 16 hours a day, seven days a week, and still their measly 150-square-foot kitchen could not keep up with demand. To boost production, they took to hauling pounds of pork back to their own apartments and cooking it overnight for service the next day.
Less than five years later, Num Pang now serves between 600 and 800 sandwiches a day, and the lines still rival those at Shake Shack. But Daitz and Chaupoly no longer schlep home the pork. Their operation — named "New York's Quietest Restaurant Empire" by the smart folks at New York magazine — now includes Midtown East (2011); NoMad (2012); Chelsea (2013); Times Square (2013); and soon World Financial Center (2014). The menu now features salads, rice and noodles, and an expanded selection of sandwiches like ginger barbecue brisket with pickled cabbage, five-spiced glazed pork belly with pickled Asian pear, and roasted salt and pepper Japanese yam with Swiss chard.
And while every single sandwich is made fresh to order, from the beginning Daitz and Chaupoly enforced an almost Soup Nazi-esque policy at Num Pang. "We were very disciplined with our no substitutions policy," said Daitz. "We did not budge."
Today, the policy still stands, although they do offer a choice of soy- or yogurt-based chili sauce instead of the traditional mayo, and are working on a new quinoa-based bread. "We have come to realize that if you can create the same experience in a healthier manner, that's OK," said Daitz.
But they do deviate from the classics — on their own terms. Seasonally, the guys run specials like summer's peach and bacon: a sun-ripened peach slathered in a Guinness bacon glaze, then grilled and served with hand-cut bacon, sautéed jalapeños, and green onions. It's as popular as Pope Francis. "Once it comes on, no one eats anything else," said Chaupoly.
No doubt, the success of Num Pang is due in large part to their fantastic flavors. "Num Pang hits that sweet spot of being affordable and interesting. It capitalizes on friendly Asian flavors — sweet spicy umami — in a very comforting American format: the all-holy sandwich," said Raquel Pelzel, the former food editor at Tasting Table and the author of 14 cookbooks. In fact, Pelzel is currently working on a cookbook proposal for Num Pang, which will not be a sandwich book. "It's about all the great flavors and components of the sandwiches, which are really built on regular everyday ingredients," she said. "People are going to freak out."

But there's more to this story than great ingredients on a roll. The difference at Num Pang comes from the kind of rigorous detail, serious passion and almost fanatical precision that goes into every aspect of the operation from the service (informative and welcoming), to the takeout containers and flatware (biodegradable). These are the lessons Chaupoly and Daitz learned at the knee of some of the finest chefs and restaurateurs in the country.
"The values we've learned from fine dining are all here," said Daitz. "It may be a fast-casual restaurant, but we want to serve great food and make our guests happy down to the smallest detail."
Those values go beyond food and service. In 2012, they launched their "Guest Chefs Give Back" program in which top toques create a Num Pang sandwich to be served for one month. One hundred percent of the proceeds from that sandwich gets split between a charity chosen by Daitz and Chaupoly and another chosen by the chef. The program has raised $65,000 for not-for-profits like Tuesday's Children and Food Bank NYC and has included chefs like Mario Batali, Michael Anthony, Dan Kluger and Floyd Cardoz. "If we can give back to charity and have fun doing food we love," said Daitz, "it's a win-win."
But despite the fast growth, daily lines out the door and Twitter-gushing, Num Pang still flies under the mainstream radar. Even as Bon Appétit declared their sandwiches "one of the top 25 things to eat in 2012," The Village Voice awarded them "Best Sandwich of 2013," and Zagat has ranked them among the best of the city every year since opening, if you were to ask 10 people if they'd heard of Num Pang, you'd probably find six who'd answer: "Num what?" But Daitz and Chaupoly see that market gap as an opportunity.
"It's exciting to us that there is so much more room for growth," said Daitz. "We want to have everyone love our sandwiches as much as our regulars." I guess you could say they have an "I'll have what she's having" strategy: orgasms for all.