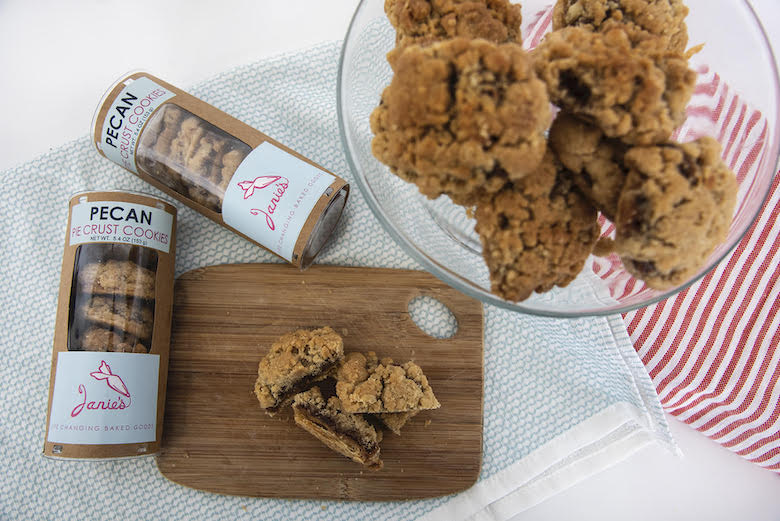 Beneath the tracks of the rumbling Metro-North train in East Harlem, the smell of something sweet lingers in the air. It suggests there is more than just parking and railroad tracks at the intersection of 114th Street and Park Avenue.
This is the site of Hot Bread Kitchen Incubates (HBKI), a culinary incubator run by Hot Bread Kitchen, the training and placement program for women facing profound barriers to employment. Members of HBKI are primarily women- and minority-owned start-ups hoping to grow their food businesses. This is where I met Janie Deegan, founder of bakery Janie's, for the first time. 
Deegan has been a part of HBKI for over a year, where she bakes traditional American desserts with a twist. But she is best known for her original recipe: the pie crust cookie. To make it, a disk of flaky pie crust is topped with a layer of pie filling (flavors range from sticky pecan to sweet-tart strawberry rhubarb) then topped with a chunky, sugary streusel. It's all the pleasures of pie in just a few bites, and it's brilliant. 
As we talked about the peaks and valleys of her life to date, Deegan held my gaze steadily. When she told me that eye contact was once a struggle for her, it was hard to believe. "I was lost," she said. "I spent 25 years running away from myself, thinking I needed to be someone else for you to like me."
After graduating from a rigorous college conservatory program, Deegan found herself on a tumultuous path that involved substance abuse and homelessness. "I wasn't working in the industry, I felt like an imposter. I had no pride linked to something I did," she said. A security net of loving family and friends drew Deegan back, motivating her to take control of her life. 
But the road to recovery did not end at sobriety. Deegan needed purpose. Baking had been a form of self-expression as a child, and it became a form of self-care as an adult. "I needed a creative outlet," she said. "There was no way I was going to say sober without having that."
So, for a handful of years, Deegan baked. She started by baking for people close to her and only considered selling anything after receiving an unsolicited order for a birthday cake. Eventually, she tried selling pies via Facebook. When half of her orders came from strangers, Deegan had the momentum—and the confidence—to do more. 
On the eve of her 30th birthday, after a year of baking as a side gig, Deegan challenged herself to quit her day job as a nanny and commit to baking full-time. Around this time, she engineered the pie crust cookie (the idea was an off-the-cuff request from her now-fiancée). It was a clarifying moment for Deegan.
The initial response to the cookie, from customers as well as industry insiders, was so positive that Deegan knew she had to eventually phase out custom cakes and holiday pies to focus on the pie crust cookie (she's not there yet and is currently fulfilling holiday pie orders). Her ambition was clear, "I could own a café or I could be the owner of a cookie empire." 
Deegan has spent the last two years applying for, and winning, scholarships, enrolling in programs like HBKI and generally taking counsel wherever she can get it. In building her business skills, she received the most compelling advice of all: to share her story.
"I didn't believe it had a place in business," she explained. But the resounding message was that Deegan had a relatable and encouraging story that people would want to hear. "I get to be 100 percent my authentic self and that's an asset for my business."
Though support from the HBKI community has been invaluable, Ms. Deegan is considering her next steps. She recently signed a contract with Balducci's and King's, an East Coast chain of gourmet food markets (there is a Balducci's on West 56th Street). The hope is that the pie crust cookies will be in stock in time for the holidays. 
After pausing to reflect, Deegan's voice softens and she looks me square in the eyes to say, "how amazing that I could build that for myself."