When Keith Cohen took over Orwashers Bakery bakery in 2008, he aimed to put the shine back on the near century-old bread-baking business. Moving from a day job at the sizable Tribeca Oven, which was going national with par-baked breads, he took the snug Upper East Side shop and bakery on as a labor of love, seeking to modernize production at Orwashers without compromising the bakery's reputation for quality. He swapped out standard flours for those made from regional grains and collaborated with local fermenters, and now, in the bakery's centennial year, he and his team are preparing to open their own state-of-the-art public "lab."
At the onset of his ownership, the 78th Street and 2nd Avenue shop ran much as it had since its founding in 1916 by Hungarian immigrants: Bakers still mixed, proofed, shaped and baked downstairs, while upstairs, the retail counter buzzed with an eager clientele. Cohen describes it as the traditional European model for economizing space but says that 21st-century economies of scale, along with modern-day issues of parking and traffic, called for making a break.
In 2012, Cohen relocated production to a Hunts Point commissary kitchen, where new facilities and equipment allowed for a consistency difficult to achieve in the cramped basement quarters. Cohen managed to scale up while keeping quality, even improving it, as the operation maintained the traditional baking techniques and the UES retail shop continued to thrive.
Despite the advantages, Cohen felt something was lost in the move and missed baking on the premises. "I wanted to put the soul back into what we do," he says. Taking two steps into the future and one step back into the past, Cohen decided to recognize this landmark year by reuniting production and retail at a new space on the Upper West Side. It's a bread shop and café that will include what Cohen proudly refers to as the "bread lab."
Seeking a similar demographic to the shop's current loyal following, Cohen headed across Central Park and landed at 81st and Amsterdam. Completely transformed from what was formerly a pet store, the corner spot now boasts wraparound windows where mottled light streams in on counters and bar stools, café tables and chairs. Cheerful yellow wainscoting lies beneath display cases of sandwiches and refreshments, while baskets of fresh-baked bread line the walls behind. Beyond the front of shop, floor-to-ceiling chicken-wire glass set in custom metal framing separates retail from bakery—the baking in full view of coffee-sipping clientele, who can now enjoy indoor or outdoor seating while basking in the aroma of freshly baked bread while watching the kitchen.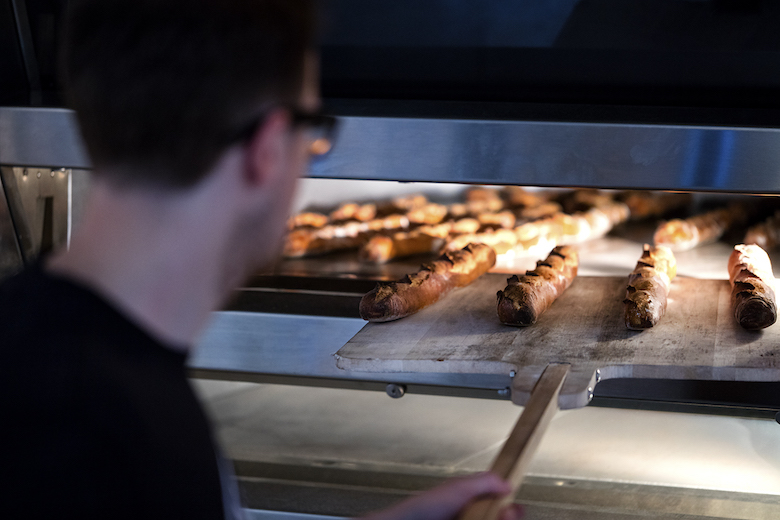 The Orwashers' bread lab is for both production of the shop's classics and for continuing to experiment with new ideas, a key component to the shop's success. Early defining experiments of Orwashers' breads include switching to flours made from locally grown grain, which are highly variable (read: extremely frustrating for precision-oriented bakers) but can yield unparalleled depth, complexity and nuance. Later fruitful experiments led Cohen to collaborate with local vintners and brewers. Inspired by a practice going back to the early Egyptians, Cohen used yeast from the grapes of Channing Daughters' vineyards to activate the starters in an Artisan Wine Bread series and later used that of Brooklyn Sixpoint Brewery to make a Craft Ale Bread.
More recently, in 2013, Cohen crossed the Atlantic to a small town in Chartres, France, where he and his general manager studied under a master baker to perfect their baguette. "The baguette changed a lot. Going to France and seeing the way they operate there and spending more intimate time with bakers. It's amazing, there is a brotherhood. You just know," says Cohen. The results don't lie—New York magazine calls this new iteration the city's best baguette.
Not only will guests soon see these and other breads-in-the-making but have the opportunity to learn some of these skills, too: Orwashers hopes to eventually extend their knowledge to the community by offering baking classes. Also on the horizon is a much-anticipated line of sourdough bagels with traditional seasonings like poppyseed and everything. Orwashers won't get silly on us with rainbows and colors, and much like he's done with the bakery, you can count on him to reimagine what classics can be.