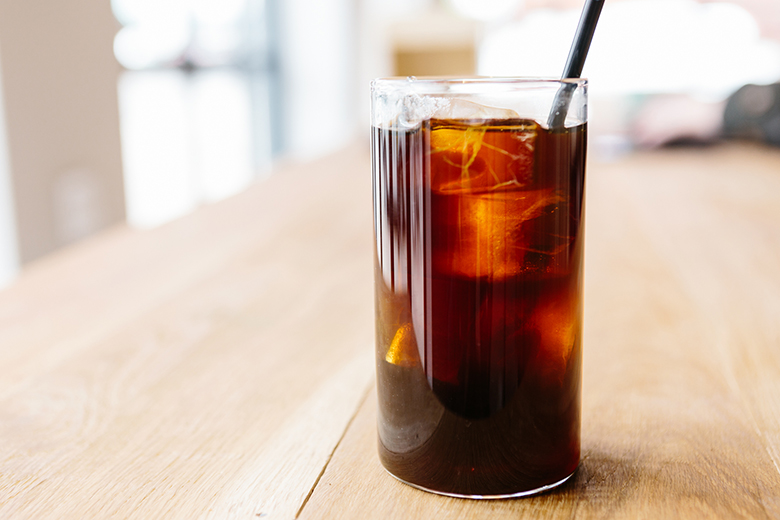 East One Coffee opened their latest location in Chelsea earlier this July, and this one goes in a different direction from their sit-down food service location in Brooklyn. The coffee shop is an inviting and Nordic chic inspired—simple, with a lot of open space, two walls of floor to ceiling windows, tables for groups, single seating, and even a middle standing table for groups on the go. 
Selina Ullrich, their director of coffee, served me a pour over coffee that was rich and smooth, served with a small glass of sparkling water to cleanse my palate. Ullrich focuses on finding unique coffees from Africa and Latin America, especially those that have gone through an interesting fermentation processes. My cup of coffee in particular came from a Antiochia, Colombia, from a farm called El Encanto. Many of the other coffee beans are in bags that name the farms they're from. 
Two new food menu items at this location, where noma alum Will Ono is helming the kitchen, are the grilled banana bread with a caramelized piece of banana on top and a side of espresso whipped butter. The bread itself isn't overly sweet, and neither is the butter, so it pairs well with the sharp caramel and the fruit. Another menu item worth trying is the Perfect Start Wrap with scrambled eggs, bacon and housemade salsa guasacaca.. It's served with a side of purple pickled cauliflower that's sour and pairs well with the the smoky green guasacaca. East One Coffee provides a texture-filled, rich experience, and there's enough variety to make everyone happy.