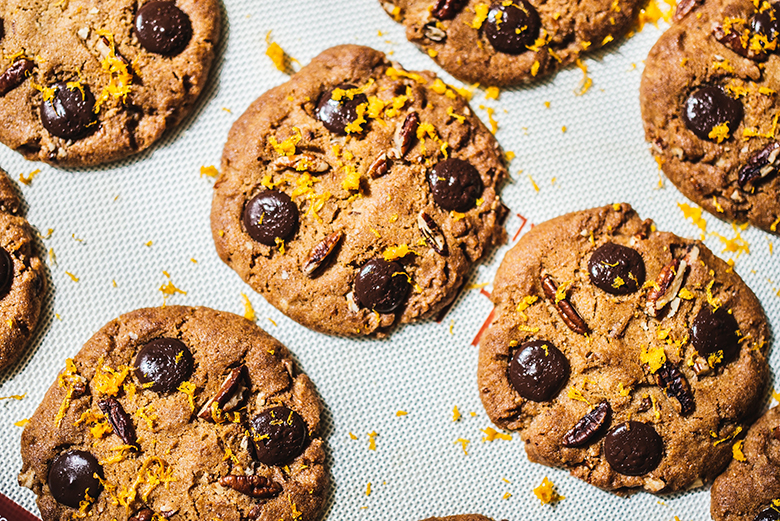 Cooking is a necessity, sure, but serving up a homemade meal is also about creating memories, joy and even confidence. Whether you're in a cooking rut, need to break-up with Seamless or want a fun activity to do with your best friend, your partner or your kid, these nearby cooking classes are for you.
https://instagram.com/p/Bu_dHselYSr/
Haven's Kitchen
109 W. 17th St., Chelsea
Expect classes like: "Knife Skills 101," which covers basics from technique and sharpening to "Middle Eastern Mezze," where you'll learn how to make dips, savory pastries and salads.
Average price: $135
Alison Cayne started Haven's Kitchen near Union Square in 2012 with a singular focus: to make the planet better through cooking. It's certainly a lofty goal, but one they work hard at while still managing to have a good time.
https://instagram.com/p/BuEOppFj25V/
Joe Coffee
131 W. 21st St., Chelsea
Expect classes like: Learn latte art in "Milk 2," how to roast beans at the Pulley Collective during "Explorations in Roasting," or get your barista certification with the "Monthly Barista Course," Joe Coffee's longest-standing classes to date.
Average price: $100
From 2-hour-long classes for $60 to 6-hour-long classes for $150 to at-home classes where the bean expertise comes to you, Joe Coffee has coffee classes for every skill level.
Want Even More Coffee Classes? Check Out 3 Coffee Shops Offer Classes That Will Make You an Espresso Master
https://instagram.com/p/BtVvdxDhFvc/
Mille-Feuille Bakery
552 Laguardia Pl., Greenwich Village
Expect classes like: "French Macarons," where you'll get a hands education on making the French cookie.
Average price: $135
Following the popularity of their macaron classes back, which debuted in 2012, Mille-Feuille Bakery expanded their classes to include croissants and mille-feuille. Each class is taught by Parisian chefs who will send you home with a box of baked goods you'll likely consume before you even reach the subway.
https://instagram.com/p/BtMc4KilMGq/
Murray's Cheese
254 Bleecker St., Greenwich Village.
Expect classes like: "Wine & Cheese Pairing" to up your hosting game, go on an adventure with "Cheese Caves Tour & Tasting," or learn how to make your own cheese with "Burrata Making."
Average price: $100
Murray's sells a whopping 800,000 pounds of cheese per year. In other words they know their cheeses. And their passionate cheese team loves sharing their knowledge whether its helping you pick out the perfect variety for a spring picnic or teaching customers how to pair a variety of cheeses with wine, whiskey or beer at one of their regular classes.
https://instagram.com/p/Bsdngn0BMO8/
Oceana's Greenmarket Tour & Cooking Class with Executive Chef Bill Telepan
109 W. 17th St., Chelsea
Price: $100
Ever want to learn how a chef shops Union Square Greenmarket? Oceana executive chef Bill Telepan teaches a cooking class (next one is June 15, followed by a TBD fall date) where he introduces guests to the Greenmarket vendors that supply ingredients to the restaurant, before taking the group back to Oceana for a cooking class and meal.
https://instagram.com/p/BvB5XF5nsYK/
Taste's Bud's Kitchen
109 W. 27th St., 10FL., Chelsea
Expect classes like: Date-night classes, including "Handmade Pasta," where couples are encouraged to bring their own beverages, to "Pretzel Twist Workshop," for the budding chefs (ages 2–5) in your life.
Average price: $79
Looking for more kids cooking classes? Check Out Sprouts Cooking Club
Helaina Hovitz, Victoria Marin and Bridget Shirvell contributed to this article.